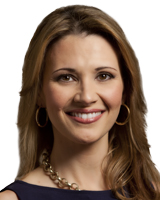 Growing up, the roads and I have had a close relationship. I'm flooded with memories of my tireless mother fighting Los Angeles' infamous rush hour gridlock to take me to ballet class every day after school. We shared those many precious hours by talking about our day, eating our meals on the run and singing to our favorite songs on the radio.

Those long car rides and hard work in the ballet studio opened up tremendous opportunities for me. For one, they brought me to the majestic city of San Francisco where I studied at the renowned San Francisco Ballet School when I was 14. Two years later, I moved to Manhattan to study at the School of American Ballet where I trained and performed until I decided to return to L.A. and attend college.

Before graduating with a degree in Journalism from the University of Southern California, I interned at the local NPR affiliate, KPCC, where my proudest moment was being one of the few to gain access to President Clinton at his book signing and reporting live for the very first time. I continued my career in news at CBS Radio in Los Angeles where I was a writer, producer, reporter and editor covering hundreds of stories ranging from crime to the arts. There, I won a Golden Mike for my coverage of the deadly Metrolink crash in Chatsworth, CA, of which I later reported on its fourth anniversary for KCBS/KCAL-TV where I had made the jump from radio to television.

But, life isn't all work and no play. I've been to the powdery shores of the Riviera Maya to the bustling bazars of Istanbul. My love of travel and discovering new cultures and people keep me in search of the next adventure. But, when I'm home, my community is most important to me. I assist the Loaves and Fishes organization which collects food for low income families, as well as volunteer for Meals on Wheels where I deliver food to the homebound elderly. I'm also a proponent of rescuing animals, particularly Boxers, which are nothing short of angels on four legs!

Thank you San Francisco for having me back in your dynamic and beautiful city! I love hearing from my neighbors, so if you have a story idea, question or comment, find me on Facebook and Tweet me anytime.

Leyla Gulen is the weekday morning traffic reporter and feature reporter for ABC7 News.
---