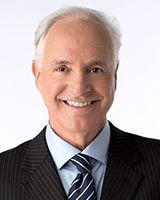 I always told my Dad I could do two things well: catch a football and talk trash. I've managed to make a career of both.

I landed in the Bay Area in 1978 as a wide receiver for the San Francisco 49ers after graduating from Florida State University. I was fortunate to be a part of the city's first Super Bowl Championship team in 1982. My 49er claim to fame: I got hurt so Dwight Clark could play and make the most iconic catch in San Francisco history.

I ended my NFL career with the St. Louis Cardinals in 1984 and finished my pro career in 1985 with the Oakland Invaders of the USFL as a player-coach. I'm a two-time Hall of Famer -- Leon High School and Florida State. Still waiting for the NFL to call.

So on to that trash talking, also known as radio & TV.

After my eight year NFL career I ended up at KFOG Radio as their Rock and Roll Sports Director&and then on KNBR as the morning drive sports anchor. KGO Radio soon came calling and I switched gears to be their pre-game host and sideline reporter on game day. That led to weekends here on KGO Television in 1994 and it's been my home ever since.

My background as a pro athlete gives me a special insight to professional sports that other sportscasters don't have. I've covered Super Bowls with the 49ers and Raiders, World Series titles with the A's and Giants, playoff runs with the Sharks and Warriors and post season bowl games with Cal, Stanford and San Jose State. Reporting live from the Giants' World Series Parade took me right back to 1982.

But sports is more than wins and losses... I've always been partial to the underdog stories and love to highlight them in my reporting. People really relate to them.

I've been in the Bay Area for more than 35 years. Everyone calls me "Shu". Along the way I have been recognized for my work with several awards for reporting. When I'm not covering sports you can find me on the golf course, giving my time to several charities, and enjoying life with my wife and daughter in Marin County. And oh, yeah, talking trash.

Get sports updates on Twitter and share your sports stories with me on Facebook. Let's talk some trash!

Mike Shumann is an Emmy award winning sports anchor for the ABC7 Weekend News at 5, 6 and 11.

Shumann donates his time to several charities and community organizations. While in the NFL, Shumann was the honorary chairman of the Northern California Special Olympics and a board member of the San Francisco Youth Tennis League. He's now on the Board of YTEC, an organization that works with disadvantaged teenagers, and contributes his time to different charity events as a Motivational Speaker and Master of Ceremonies.
---