Ah, back-to-school. The time honored tradition of leaving precious Summer memories and stepping through the doors of your academic institution, rejuvenated with the dreams of what a new school year could bring. But Hollywood has tackled the back-to-school fantasy many times, with only a certain group of studious flicks proving worthy of a cum laude cinematic distinction. Here are back-to-school movies that earn an A+.
1. Grease
Tap to see video if you're viewing on news app.
"Grease" is the quintessential back-to-school movie. A Summer romance. A beautiful student anxious about her new high school surroundings. A macho greaser wearing a tough guy facade for his criminally negligent friends while hiding his love for the innocent cheerleader. And drag races, high school dances, and end of the year carnivals were only frosting on top of this musical cake. "Grease's" message is a little bit slippery on morals, but it proves with the start of any school year, you can be a whole new person.
2. Animal House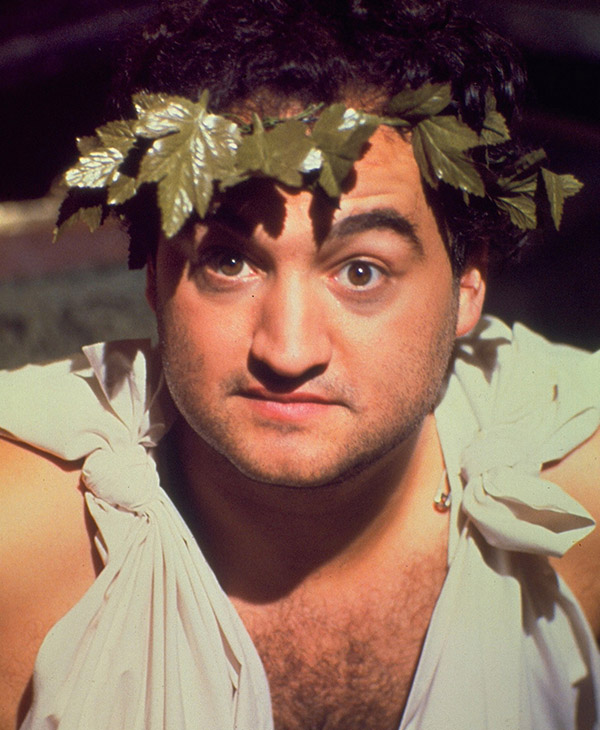 Did "Animal House" raise incoming freshmen's expectations for college a bit too high? Probably. But the classic undergraduate comedy satirized the fraternity lifestyle while simultaneously praising it. But John Belushi reigns the valedictorian of humor as Bluto, a gluttonous seven-year-senior and eventual U.S. Senator beloved by his Delta Tau Chi brothers and loathed by the Faber College administration. Plus "Animal House" made "Shout!" a must play at any wedding, Bar Mitzvah, or just any social gathering in general.
3. Harry Potter and the Sorcerer's Stone
Tap to see video if you're viewing on news app.
Harry Potter had arguably the anxiety-filled first day of school ever. Not only was Harry heading off to a new school with no friends or any sense of familiarity, but he's expected to perform spells and fly brooms with the simple flick of a wand. But Harry Potter took his new supernatural surroundings in stride, making the Gryffindor Quidditch team his first year and defeating his first incarnation of Voldemort (oh sorry, you-know-who.) For any kid who just wanted to hide underneath their invisibility cloak on the first day of school, Harry, Ron and Hermione were welcome new friends.
4. Mean Girls
Tap to see video if you're viewing on news app.
Written by SNL alumni and comedy guru Tina Fey, "Mean Girls" quickly became a cult classic, fetching a huge audience of students and grads who could oh-so relate to the back talk and back stabbing of high school. "Mean Girls" was clever but also earnest, a refreshing twist on the high school comedy.
5. Never Been Kissed
Tap to see video if you're viewing on news app.
Regardless of whether your high school experience was fantastic or a fail, everyone holds some nostalgia towards their high school years. And journalist Josie "Grosie" Geller got a chance to relive her not-so-fond memories, quietly reporting on the comings and goings of South Glen High School while yearning to get her illusive first kiss.
6. The Karate Kid
Tap to see video if you're viewing on news app.
Wax on, wax off. Ralph Macchiao crane-kicked his way to stardom in this classic 80's movie, with Pat Morita starring alongside as the infinitely wise martial arts master Mr. Miyagi.
7. Toy Story 3
Tap to see video if you're viewing on news app.
Aside from Woody and gang's escape from a psychotic daycare center, "Toy Story 3" was also an earnest look on at a young man making the big leap to college. Any parent immediately relates to the sorrow felt by Andy's mom when her little boy's room is all packed up and ready to go. Try to watch that last scene without bawling like a baby.
8. Dead Poets Society
Tap to see video if you're viewing on news app.
After the tragic passing of Robin Williams earlier this month, a high level of interest was renewed in the actor and comedian's "Dead Poets Society." While a group of prep school boys are instructed to conform and follow the rules, one rabble rouser teacher John Keating inspires them to seize the day and live life to the fullest. Oh captain! My Captain!
9. Billy Madison
Tap to see video if you're viewing on news app.
Unconventional and certainly immature, "Billy Madison" may not be the most educated of Adam Sandler's movies, but it definitely remains one of his funniest. Soon to be heir of a valuable hotel enterprise, Billy Madison must go back through grades K-12 in order to win his dad's respect and the keys to the company. Event though Billy is much older than the recommended age for elementary students, he still goes through the typical grade school punches: lack of friends, crush on his teacher, bullied by an entire family, but still comes out on top. Chlorophyll? More like BOREophyll.
10. High School Musical
Tap to see video if you're viewing on news app.
The "High School Musical" series may have been originally intended for the tweens, but there's just something so lovable and entertaining about Zac Efron and Vanessa Hudgen's academic musical ensemble.
11. Legally Blonde
Tap to see video if you're viewing on news app.
Elle Woods proved that Law School was prettier in pink, defying her snotty classmates' expectations and kicking butt in court. Plus we could relate to Elle, leaving her life and friends at home for the scary, unfamiliar halls of Harvard, only to come out on top.
12. Ten Things I Hate About You
Tap to see video if you're viewing on news app.
Heath Ledger is most remembered for his role as the psychotic Joker in "The Dark Knight," but he and Julia Stiles became teen comedy staples after starring in "Ten Things I Hate About You." A clever modern day adaptation of Shakespeare's "The Taming of the Shrew," this flick showed that expectations can be broken any school year, while providing one raucous performance of Frankie Valli's "Can't Take My Eyes Off of You."