To those unfamiliar, "Guardians of the Galaxy" may just seem like a weird comic book sci-fi movie about a talking tree and a raccoon fighting enemies in space. And they're kind of right, as Marvel's latest movie vehicle diverges onto a whole new irreverent interplanetary tangent. But after rave reviews from critics and fans alike, "Guardians" is making a strong case to become the new overlords of the Marvel universe.
Even though ABC Owned Television Stations is part of the same company as Marvel and Disney, we're genuinely excited on our own to see this movie too. Here are six reasons why you should (and one why you shouldn't) see "Guardians of the Galaxy," which opens Friday.
1. Chris Pratt
There's only been a few rare instances where an actor completely syncs up with their comic book character. Robert Downey Jr. as Tony Stark. Heath Ledger as The Joker. And now Chris Pratt as Peter Quill / Star-Lord. Pratt has all the necessary comedic charm and leading man swagger to thrust this movie into a whole new universe.
2. Dynamic supporting cast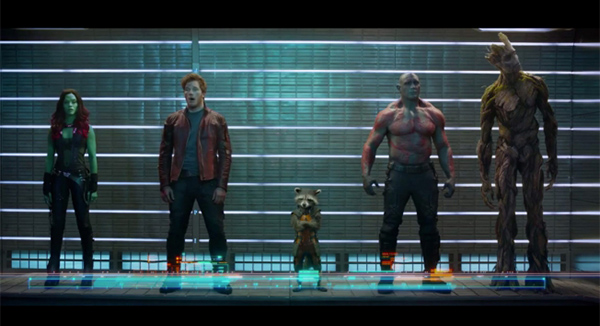 But Pratt isn't the only star of the show in "Guardians." Vin Diesel plays a talking tree named Groot. Bradley Crooper voices a mammal appropriately titled Rocket Raccoon. Dave Bautista channels Drax the Destroyer, and Zoe Saldana is switching out her "Avatar" blue for a new alien green as Gamora. These four heroes plus Peter Quill are the members of the Guardians of the Galaxy. Lee Pace plays Ronan, the primary antagonist who seeks to retrieve the orb that Quill steals.
3. Good humor and great direction
Marvel has always been good at seamlessly combining action and comedy. But "Guardians" amps up the thrills and laughs tenfold, becoming the most exciting and funniest Marvel vehicle to date. It helps that "Guardians" director James Gunn has written and directed films in a mesh of different genres, including "Scooby-Doo," "Dawn of the Dead," and "Slither," giving his space directorial adventure a bold and distinctive voice.
4. Visual effects
No comic book movie would be well done if it didn't include mind-blowing visual effects. But "Guardians" is just an explosive treat for our eyes from out of this world, incorporating the most advanced display of technological cinematic wonder seen yet in a Marvel flick. Even beyond the action, just the futuristic, space landscape that the movie takes place in is carefully crafted and keen to detail. "Guardians" will easily rank amongst the most advanced comic book and sci-fi flicks of its time.
5. Didn't see the past Marvel movies? Not a problem.
Marvel does a pretty good job at keeping their movie storylines understandable even if audiences haven't seen each flick. Case in point: "The Avengers," where each hero was given enough backstory before launching into full Loki-battle mode. And while the backstory to "Guardians" connects to the extended Marvel universe in several ways, this is probably the best Marvel film that serves as a stand-alone.
6. Did see the past Marvel movies? Even better.
For those moviegoers who love to wait for the recurring Marvel post-credit sequence, "Guardians" is the film where all those little pieces fall into place, and where you see what Marvel plans to do with its expansive universe in the coming years.
1. Why you shouldn't see "Guardians of the Galaxy" this weekend:
"Guardians" operates like a hybrid of the "Indiana Jones" and "Star Wars" films, so if you aren't a fan of those franchises then you might want to stay away. And while the right for raccoons to bear arms has fallen off our political radar lately, many moviegoers still may not be ready to watch a raccoon operate an automatic weapon onscreen.
Check out the trailer for "Guardians of the Galaxy" below. What are you looking forward to most about the movie?