An Iowa farmer sent home from the Bachelorette will now have his turn to make the calls.
This morning ABC announced that Chris Soules will be the next Bachelor. Sporting his signature sheepish grin, Chris brought roses out to the ladies of "Good Morning America." Chris then said he was humbled by being selected first for the Bachelorette and now as the Bachelor.
"Coming from a small town," he said. "I never expected to have this happen."
Chris was optimistic about the upcoming season. He said his experience as a Bachelorette contestant helped him understand what the women vying for his heart will be going through, and he will try his best to help them open up and be themselves.
Season 19 of The Bachelor will air in January. Click through the gallery above for photos from Chris' social media, and learn about his quest to find love in the ABC videos below.
Chris has never been shy about his love for his Iowa roots. In his
intro video for last season's Bachelorette
, he explained that he is a fourth-generation farmer, but it's hard to find love when you live on a farm.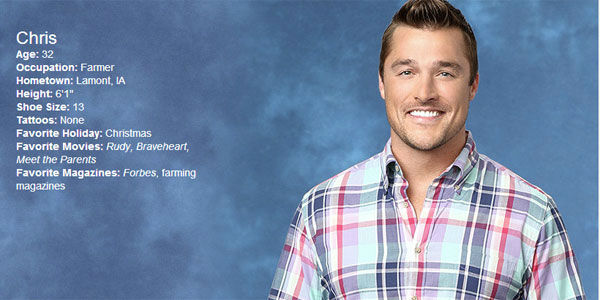 Chris quickly became known for his romantic gestures, like the letters he wrote as Bachelorette Andi's "secret admirer."
When JJ said he couldn't be happy for other men succeeding on the show, Chris told him off.
"Sit there and be sour grapes," he said. "Your true colors will shine."
Tap to see video if you're viewing on news app.
Andi was emotional about her decision to send Chris home, calling him kind, smart and successful.
So why did she let him go? "Blame it on Iowa," she said, explaining she couldn't see herself living there with him.
Tap to see video if you're viewing on news app.
Do you think Chris will make a good Bachelor? Do you think he will find the love of his life this season? Give your two cents in the comments.