BOSTON (KGO) --
Twin brothers in Boston are doing well after a rare and risky delayed delivery in which their mother gave birth to them 24 days apart.
Doctors say the challenge began when Lindalva Pinheiro da Silva went into labor only 24 weeks into her pregnancy. Though they tried to stop the contractions, a very premature Alexandre was born four days later. He weighed 745 grams, which is roughly 1 pound and 10 ounces.
Da Silva said her husband, Ronaldo Antunes, could hold Alexandre in the palm of his hand.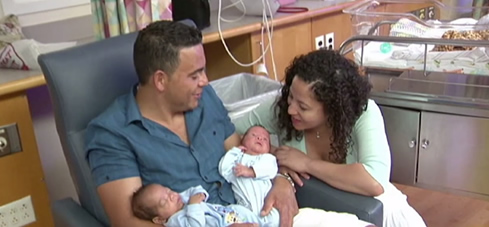 "They brought him to me to give him a kiss," said da Silva, recalling the whirlwind delivery after just three painless pushes. "He was crying, but he was very tiny and I was very scared. I said to my husband, 'He's too tiny.'"
Doctors placed him in intensive care and told the new parents it was time to consider keeping baby number two in da Silva's womb a little longer.
Three weeks after her first delivery, the contractions started again. A healthy Ronaldo was born 24 days after his brother, weighing a full pound more than Alexandre.
"That time made a crazy difference," said da Silva. "He was born like a regular baby. He didn't need a breathing tube or anything."
Now, three months later, the twins weigh more than 6 pounds each.
"They're my miracle babies," said da Silva of her growing boys. "Ronaldo because he stayed inside, and Alexandre because he's a survivor."
(ABC News contributed to this report)