MORGAN HILL, Calif. (KGO) --
ABC7 News viewers have come through in a big way for a horse rescue group that was facing a financial crisis. In October, we told you the Equine Rescue Center was in danger of shutting down. Now, thanks to many of you, it's a very different story.
We met one happy horse named Haddie. Once neglected and afraid to come near anyone, now she's strutting her stuff and posing for holiday photos. Deborah Vasquez was originally planning to give Haddie a temporary foster home at a stable in Palo Alto, but then she fell in love.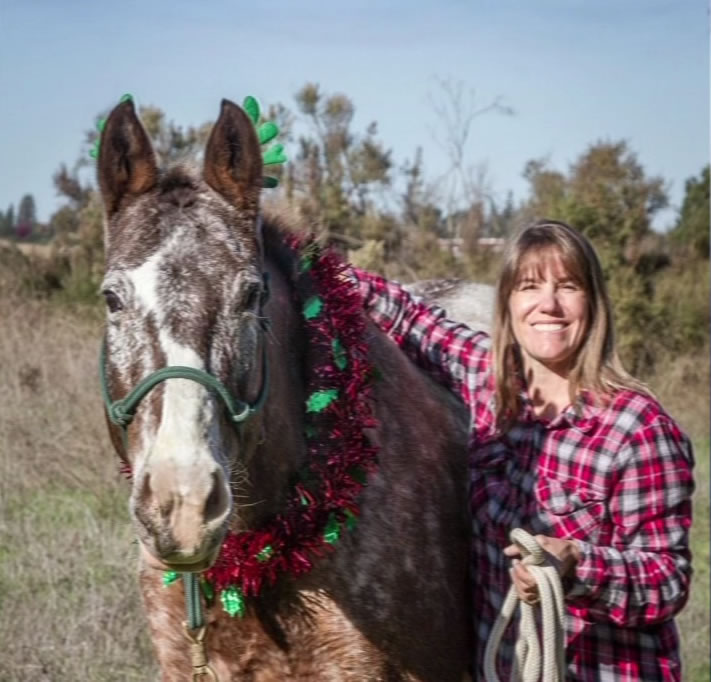 "It's permanent now. A few months after that, I adopted her," Vasquez said.
Haddie is just one of many success stories made possible by the
Equine Rescue Center
, south of Hollister.
Equine Rescue Center founder Monica Hardeman said, "We're kind of the rescue group that will take the ones that nobody will take."
The center is a haven for abused and abandoned horses. They are rehabilitated and adopted out. Or if that's not possible, they get a permanent home at the sanctuary.
VIDEO: ABC7 News viewers help save horses at Equine Rescue Center
The entire operation is run with donations and staffed by volunteers, but this fall the center was in crisis with hay prices soaring because of the drought. Hardeman announced they had to raise $50,000 or shut down and many of you responded.
"We have had a huge outpouring from the ABC7 News viewers," Hardeman said.
Hundreds of donations large and small came into the center's
GoFundMe page
and in the mail.
"I have received so many wonderful letters of support. I have had phone calls, I have had people reach out to us, just to let us know that what we are doing is important," Hardeman said.
The response still makes Hardeman emotional. Now the center has met its goal and will stay open which Hardeman says is the best feeling in the world.
VIDEO: Equine Rescue Center in need of donations
Much of the donated money will be used for an irrigation system, since the property has four wells on it.
Once the irrigation is ready, the rescue center will grow food for the horses and cut down on hay bills. And there's one more piece of good news -- the 350-acre rescue center happens to be to home to some San Joaquin kit foxes, which is one of the most endangered species in California.
Hardeman explained the kit foxes "live off the endangered kangaroo rat, which we have colonies of them, and so the goal is to make the Equine Rescue Center a wildlife habitat for these endangered animals."
Hardeman is working with the U.S. Fish and Wildlife Service on the project and may be eligible for federal funding.
VIDEO: Rescued horses thriving, rescue group in crisis
"That's pretty awesome," Hardeman said.
Of course, the center still needs donations to keep up with day-to-day expenses. But all in all, it's a great holiday season, thanks to the volunteers and ABC7 News viewers.
For more information on the Equine Rescue Center
click here
.
If you would like to make a donation to the Equine Rescue Center check out their
GoFundMe page here
.
Click here to see all of our stories on the Equine Rescue Center