SAN FRANCISCO (KGO) --
While the Super Bowl game is just that one day Feb. 7, there will be nearly three weeks of impact in San Francisco.
The NFL is promising its golden anniversary Super Bowl will reach new heights. And the host city, San Francisco, will reap the benefits and face some challenges.
They expect up to one million people to pour into San Francisco. Those who attended a meeting at the port on Thursday learned that life as they know it is about to change.
WATCH VIDEO: SF to crack down on mobile food vendors for Super Bowl
The Super Bowl at Levi's Stadium in Santa Clara is of course just one day, but San Francisco residents know the impact will be almost three weeks because of security measures and traffic.
"San Francisco traffic downtown is already a challenge," said David Perry with the Super Bowl 50. "This is going to be a challenge times four."
The official mantra is -- don't drive if you don't have too.
A map shows the street closures that will go from Jan. 23 to Feb. 12 around the Super Bowl City at the foot of Market Street and the NFL experience at the Moscone Center.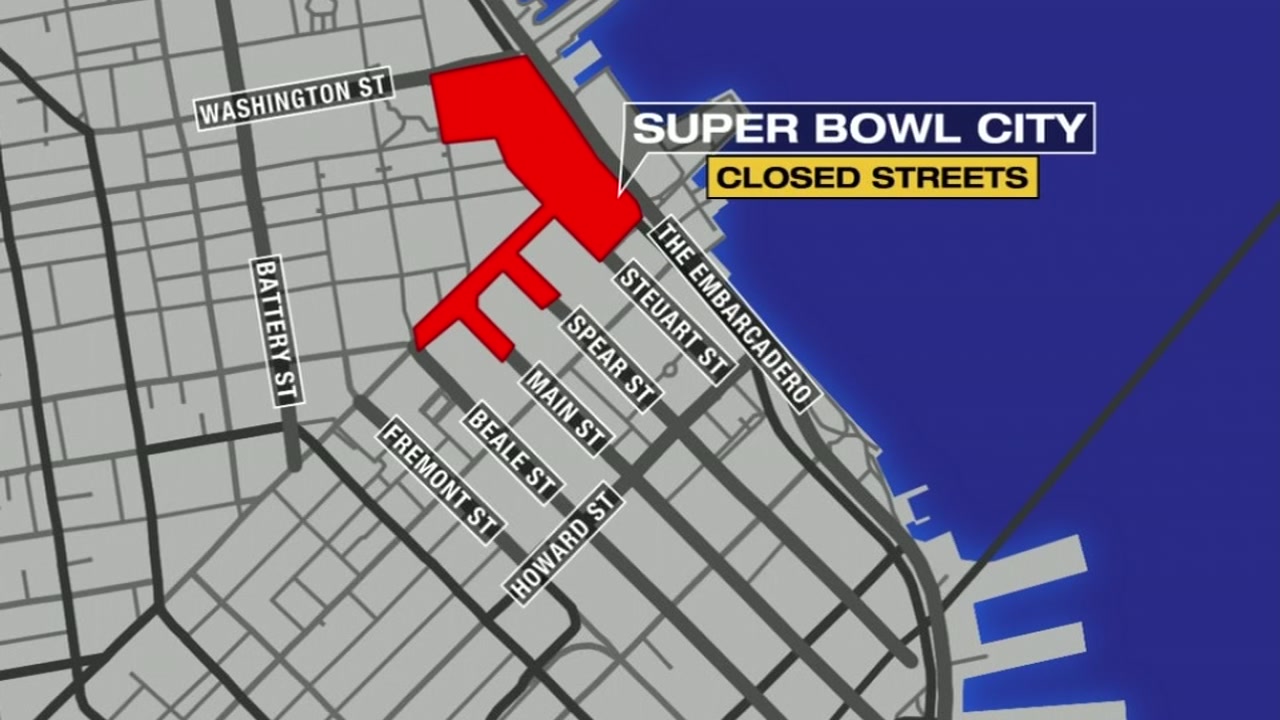 Add to that Muni lines that will be rerouted. ABC7 News learned Thursday that it's so fluid, some changes may even take place midstream.
"Were planning in a way we've never planned before, but we do have good experience," said Candace Sue with the SFMTA.
Yes, the city has handled large events like the Pride Parade, but the Super Bowl festivities will be a high security event.
Meaning those who live near the footprint of Super Bowl City may need special credentials just to get into their neighborhood. And those who park cars in nearby garages like Embarcadero 4 will face daily bomb sweeps.
WATCH VIDEO: Passenger warns of luggage theft at SJ airport ahead of Super Bowl
"I do think it's an awfully long time to close streets and reroute commuters and really stress the residents," said San Francisco resident Barbara Reuter.
"I think if everybody pulls together, I'm sure we can get through this," said San Francisco business owner Doug Biederbeck. "I am looking forward to when it's over. But it's a great opportunity."
And when it's over the city and its residents will analyze the costs and the benefits.
Click here for full coverage of Super Bowl 50.