SAN FRANCISCO (KGO) --
Bay Area residents are reacting with concern, confusion and excitement ahead of
Super Bowl 50
as getting around the city will be challenging for the next couple of weeks.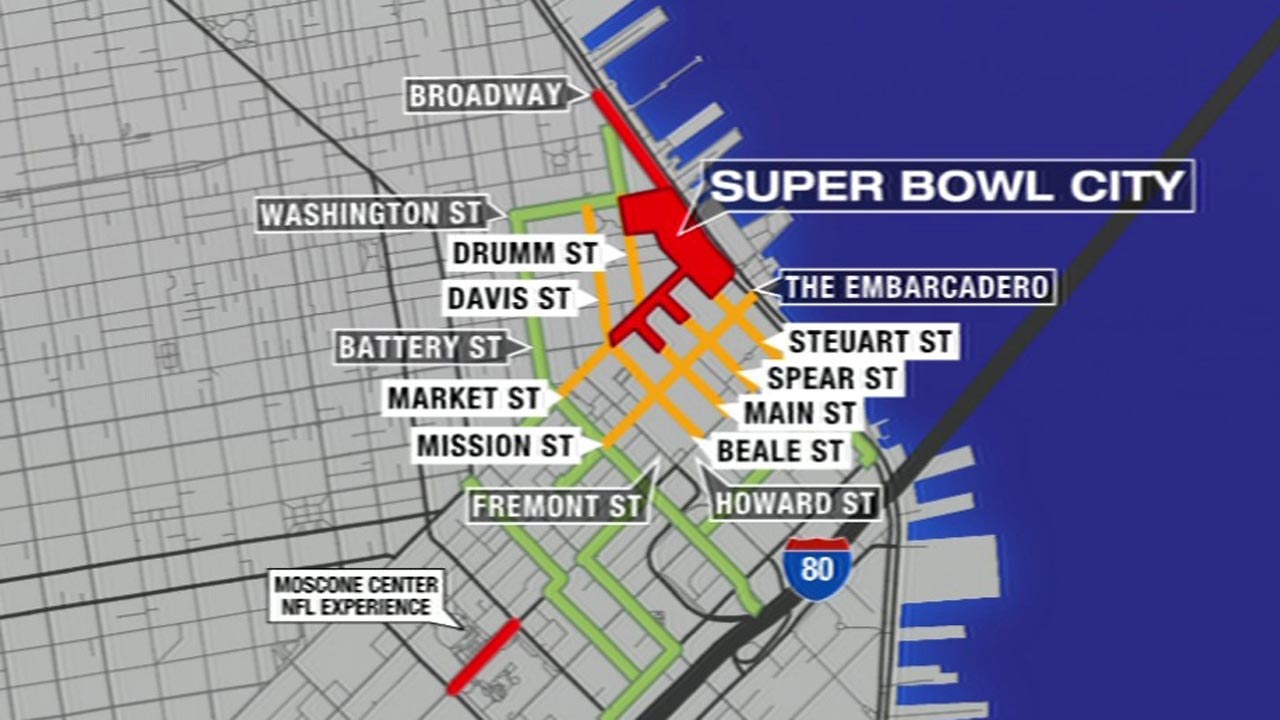 READ MORE: SFMTA gives tip on how to get around during Super Bowl 50
Southbound lanes of The Embarcadero near the Ferry Building down to Broadway are closed. Market Street from Beal to Steuart are also closed and a stretch of Howard Street near the Moscone Center will close starting Tuesday.
Officials said the road closures will be in effect for until February 12.
WATCH VIDEO:
Super Bowl City businesses, parking lots gear up for big crowds
The closures are to make way for the ultimate fan village that is beginning to take shape.
The foot of Market Street is barely recognizable, but the new Super Bowl City is. There will be two concert stages and even a football field for 1 million plus fans to gear up for the biggest game of all.
Millions of fans will get the ultimate experience on January 30 when it opens. "I hear they got some interesting performances, Alicia Keys, " a fan said.
Super Bowl City will be free to the public with four security checkpoints to enter.
Some people told ABC7 News that the street closures have been a little inconvenient.
Drivers are being warned about the rolling detours on southbound Embarcadero, which begin at Broadway onto Battery Street, across Market Street, into the Financial District and Bay Bridge approaches.
Starting Tuesday, Howard Street will be closed between Third and Fourth streets for the NFL experience at Moscone Center. "I think it's going to be crazy, hopefully employers will support their employees and allow them to work remotely. It's going to be tough for a little while," Heidi Wells said.
Maps are posted throughout the Financial District to help pedestrians find their way around Super Bowl City.
You're best route to the Ferry Building is a straight shot down Mission Street.
Starting Monday, San Francisco will have ambassadors out in force along the water front and the Financial District to answer questions and point commuters in the right direction.
With so many Super Bowl fans heading to the Bay Area, public transportation will be the best way to get to the city.
WATCH VIDEO: Controversial Super Bowl 50 signs erected in SF
Click here for full coverage of Super Bowl 50.