SAN FRANCISCO (KGO) --
After watching him on stage, it's easy to forget Darren Criss is not actually a troubled woman. The wig is off. The heels are stowed. The only evidence of the character he's playing in "Hedwig and the Angry Inch"-- the blue-glitter polish chipping off his nails.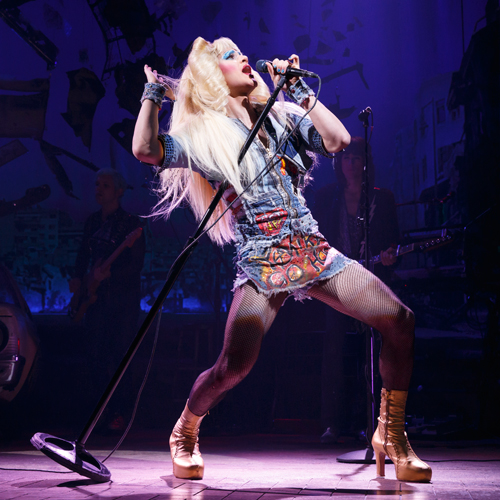 When you meet the real Darren Criss, it's not too far off the clean-cut singer you remember from the show "Glee," where he played a high school show choir star for five seasons. "As a straight, white, cisgender male I get to explore all these things that are completely not me," Criss said. "And what's cool is it glorifies both the power in that and the struggle in that."
Also, he gets to dress like a girl. "I look great. I should wear makeup and heels all the time. I look way better than I do as a dude." I wait for him to show me he's kidding. He's not. "My poor girlfriend, I'm like, 'Why are you wearing those heels?' She says, 'It makes me feel great.' And I absolutely understand that. I totally get it. It's powerful. It's empowering."
We are meeting in the lobby of SHN Golden Gate Theatre where Criss is launching the first ever tour of "Hedwig." He plays the lead, a punk rock performer from East Berlin born a boy but living as a woman with lots of personal baggage. In other words, exactly the opposite of Criss' experience starring in school productions at San Francisco's St. Ignatius College Prep.
"I haven't had to deal with the infinite amount of sorrows that Hedwig has had to deal with. But I do know what it's like to grapple with knowing who you are and being curious and running into obstacles that can provide those answers."
For ninety minutes every show, Criss barely gets to take a breath. When he's not jumping off speakers, he's doing costume changes on stage and entertaining the audience he directly addresses throughout the show. As he says, "There is no fourth wall."
Having played her on Broadway and now in his hometown, he's become very comfortable in Hedwig's heels. It made me wonder about the next logical step: A contestant on RuPaul's Drag Race.
"Oooh... no, those queens are fierce," he said. "They would crush me. I wouldn't even make it pass the audition process."
"Hedwig And The Angry Inch" plays at SHN Golden Gate Theatre through October 30.