CHICAGO, Illinois --
United Airlines CEO Oscar Munoz has apologized for the treatment of a passenger
seen in video being dragged off plane
, saying "No one should ever be mistreated this way."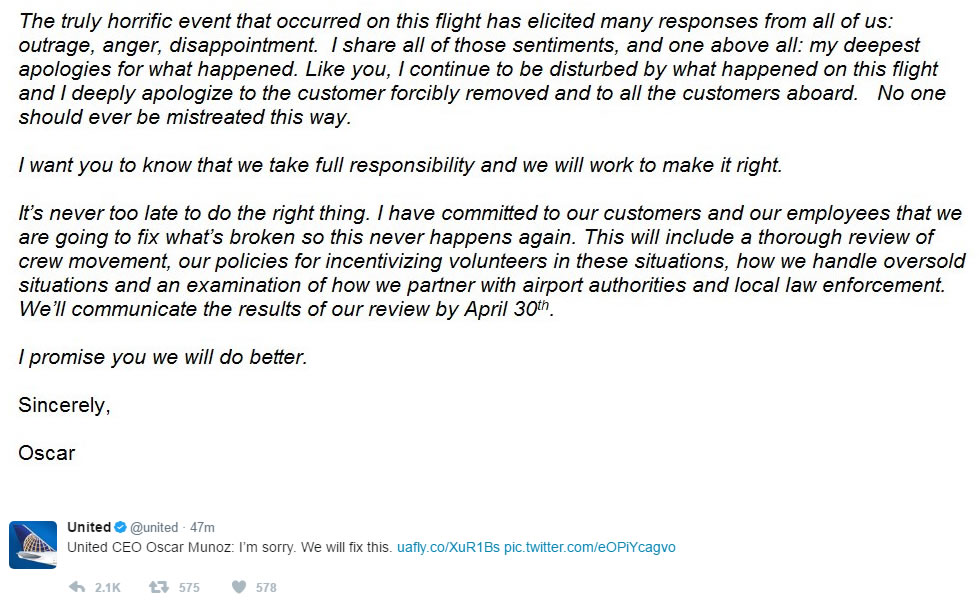 Munoz'
full apology was tweeted
by United on Tuesday.
The man was dragged from a full United Express flight by airport police in Chicago.
A person with knowledge of the Sunday evening flight who was not authorized to publicly release the information told The Associated Press that the passenger was David Dao, 69, of Elizabethtown, Kentucky. He did not return messages from the AP.
While screaming can be heard on the videos, nowhere is Dao seen attacking the security officers. In fact, he appears relatively passive both when he was dragged down the aisle of the jet and when he is seen standing in the aisle later saying quietly, "I want to go home, I want to go home."
When cellphone videos taken by other passengers first emerged, they generated widespread sympathy for Dao and sharp criticism of the airline.
RELATED: United passenger dragged off flight has criminal history
The chief executive of the airline's parent company initially released a statement saying only that United wanted to talk to the man. But Oscar Munoz later began defending his employees, saying in a letter that the passenger was being "disruptive and belligerent."
Airport officials have said little about the Sunday's events and nothing about Dao's behavior before he was pulled from the jet that was bound for Louisville, Kentucky. Likewise, the Aviation Department has said only that one of its employees who removed Dao did not follow proper procedures and has been placed on leave.
No passengers on the plane have mentioned that Dao did anything but refuse to leave the plane when he was ordered to do so.
On Monday, Chicago Mayor Rahm Emanuel called the altercation "completely unacceptable" and praised Aviation Commissioner Ginger Evans for taking "swift action." He promised that a city investigation would "ensure nothing like this ever happens again."
Sunday night's confrontation stemmed from a common air travel issue - a full flight. United was trying to make room for four employees of a partner airline, meaning four people had to get off.
RELATED: United Airlines slammed on Twitter for overbooked flight incident
At first, the airline asked for volunteers, offering $400 and then when that did not work, $800 per passenger to relinquish a seat. When no one voluntarily came forward, United selected four passengers at random.
Three people got off the flight, but the fourth, a man who said he was a doctor and needed to get home to treat patients on Monday, refused.
Three men, identified later as Aviation Department security officers, got on the plane. Two officers tried to reason with the man before a third came aboard and pointed at the man "basically saying, 'Sir, you have to get off the plane,'" said Tyler Bridges, a passenger whose wife, Audra D. Bridges, posted a video on Facebook.
One of the security officers could be seen grabbing the screaming man from his window seat, across the armrest and dragging him down the aisle by his arms.
Other passengers on Flight 3411 are heard saying, "Please, my God," ''What are you doing?" ''This is wrong," ''Look at what you did to him" and "Busted his lip."
"We almost felt like we were being taken hostage," Bridges said. "We were stuck there. You can't do anything as a traveler. You're relying on the airline."