NORRISTOWN, Pennsylvania --
A topless protester with "Women's Lives Matter" written on her body jumped a barricade and got within a few feet of Bill Cosby on Monday as the comedian walked into a suburban Philadelphia courthouse for the start of his sexual assault retrial.
RELATED: Bay Area Cosby accuser disappointed by mistrial ruling
The unidentified woman ran in front of Cosby toward a bank of TV cameras, but was intercepted by sheriff's deputies and led away in handcuffs.
#BREAKING Dramatic start to the day as we awaited Bill Cosby. Topless protester taken into custody after charging at the comedian as he walked into courthouse for sex assault retrial. pic.twitter.com/ZzOitqjlNm

— Jeannette Reyes (@6abcJeannette) April 9, 2018
Cosby seemed startled by the commotion as a half-dozen protesters chanted at him.
Cosby spokesman Andrew Wyatt praised deputies for their quick action, but urged court officials to increase security. "It's a different world. Things have changed," Wyatt told The Associated Press, referring to recent mass shootings and other episodes. "You never know who's going to want to make a name for themselves."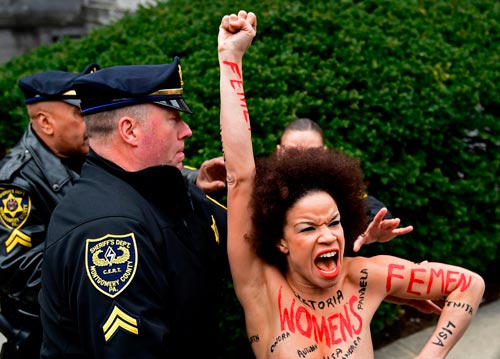 The disruption came ahead of opening statements, which were delayed while the judge sorted through allegations raised late Friday that a juror told a woman during jury selection that he thought Cosby was guilty.
Cosby's lawyers want the juror removed from the case.
PHOTOS: Bill Cosby in Pennsylvania court for sex assault case