VACAVILLE, Calif. (KGO) --
A newborn girl in Vacaville will have a great story to tell when she gets older. She was born on the side of Interstate 80 on Father's Day.
Alivia Bernardo was a surprise Father's Day gift -- a big surprise.
"It was fun. It was a fun Father's Day. It was nice excitement," father Stephen Bernardo said.
Stephen and Nicki Bernardo knew she was on the way, but Nicki had given birth to two sons, and she knew there would be a lot of waiting in the hospital.
Nicki said, "I was trying to put it off as long as possible and I'm really glad that we didn't."
Stephen coaxed her into the car, but while driving down Interstate 80, to the hospital in Fairfield, Nicki's water broke. Alivia was ready for the world.
"'Are you sure you want to pull over?' 'Yes.' So I pull over, throw on the hazards, run around the car, the baby's head is already starting to come out," Stephen said.
"Next thing I knew, she's was up on my chest and we were looking at each other like, 'Oh my gosh, we just had the baby in the car,'" Nicki said.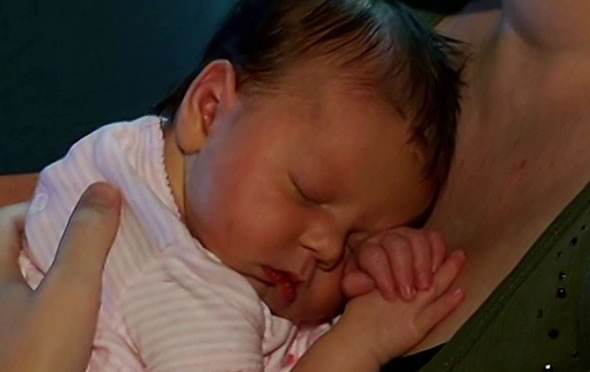 They were almost there, so Stephen decided to play ambulance driver too.
They cut the umbilical cord at the hospital and just like that they had a third child. So what about a fourth?
Nicki: "If we had a fourth one I would be a little scared because we'd just be sitting at home."
Stephen: "...With a catcher's mitt... just waiting."
Nicki: "...And oh, there's a baby."