Shooting suspect forces school lockdowns
Three San Jose schools are locked down this morning and police are asking residents to shelter in place as officers search for a suspect in a shooting that left a man with at least one gunshot wound, police said.
Police responded to a 911 call at about 5 a.m. in the 1700 block of Southwest Expressway and found the man with injuries that are not life-threatening, police said. The victim has been transported to a local hospital.
Blackford Elementary School, Valley Christian School and Del Mar High School are locked down as police search for the suspect.
Residents in the area are being asked to call 911 if they notice any suspicious activity.
Police are describing the suspect as a black man about 6 feet to 6 feet 2 inches tall, wearing dark clothing. When police canvassed the neighborhood after the shooting, they saw a person matching that description.
As police attempted to make contact, the man started running.
Police believe the suspect has a handgun and have set up a perimeter to continue their search.
====================================================
Floodwater rescue
Rescue crews are using a jet ski and a rubber boat to rescue four occupants of a vehicle who became stranded this morning in floodwater in west Sonoma County, according to the California Highway Patrol.
They were reported stranded at about 10:40 a.m. in the area of Valley Ford and Bloomfield roads, a Sonoma County fire and emergency dispatcher said.
They were waiting for the U.S. Coast Guard to respond as of about 11:15 a.m., the CHP said.
Two of the four stranded people have since been rescued from the water by rescuers using a jet ski and a rubber boat to get them, the fire dispatcher said.
Multiple vehicles were stranded in the area. The Marin County Fire Department, Cal Fire, The Bodega Bay Fire Department and Two Rock Fire Department all responded, the dispatcher said.
====================================================
Credit Union robbery arrest
Fairfield police have arrested a second man suspected of robbing a credit union earlier this month.
Two suspects with semi-automatic handguns robbed the Solano First Credit Union in the 1000 block of Union Avenue in Fairfield around 10:10 a.m. on Dec. 12 and fled in a vehicle, Lt. Stephen Crane said.
The suspects abandoned the vehicle, which was reported stolen, in the area of Washington Street and Bell Avenue where they were going to be picked up by another vehicle, Crane said.
One of the suspects ran through neighboring yards and escaped in another vehicle, but police arrested the second suspect near the abandoned vehicle.
He was identified as Maurice Hill, 41, of Sacramento, a convicted felon with a history of drug, weapons, theft, burglary and other arrests, Crane said.
Police found a firearm and other evidence from the robbery where Hill was arrested, and detectives later found the second vehicle used in the robbery, Crane said.
On Thursday morning, a SWAT team served search warrants at two residences associated with Hill in the 1300 block of Eisenhower Street and the 600 block of Kennedy Court in Fairfield, Crane said.
Police detained Gabriel Mosby, 55, and Ramona Hill, 45, both of Fairfield, at the Kennedy Court residence, Crane said. Mosby is a convicted felon with prior police contacts for burglary, theft, drug and robbery offenses.
Ramona Hill also is a convicted felon with prior police contacts for fraud, burglary, theft, perjury and other offenses, Crane said.
Mosby is suspected of being the driver of the second get-away vehicle and he was booked in the Solano County Jail for robbery and conspiracy, Crane said.
Ramona Hill was booked on suspicion of obstructing law enforcement and possession of drug paraphernalia, Crane said.
Maurice Hill also is a suspect in the armed robberies at a gas station in the 3300 block of North Texas Street in Fairfield on Sept. 10, at a check cashing store in the 2100 block of North Texas Street in Fairfield on Sept. 12 and in other armed robberies in the Bay Area, Crane said.
====================================================
Burning home rescue
Two Newark police officers rescued a 55-year-old woman from a burning home this morning, police said.
Newark police, along with the Alameda County Fire Department, responded to a report of a one-alarm fire at a house in the 6200 block of Joaquin Murieta Avenue at 12:25 a.m., police said.
Officers arrived to find smoke and fire coming out of the two-story home. Police said several people on the first floor unit, including a man being aided by neighbors, told police there was still a woman on the second floor.
Police said officers Andrew Musantry and Steven Losier rushed up to the second floor where they found a 55-year-old woman in a disoriented state.
The two officers, with the help of two more police officers, were able to bring the woman down the smoky stairs and out to safety, police said.
Musantry was hired in May as a lateral transfer from the San Jose Police Department, police said. Losier joined the United State Marine Corps in 2011 and was hired by the Newark Police Department in 2013, according to police.
The two residents in the home were transported to the hospital with injuries not considered life threatening, and police said the four officers who ran into the burning house were transported to the hospital for treatment related to smoke inhalation.
The officers have since been released from the hospital, police said.
Alameda County fire spokeswoman Aisha Knowles said she didn't know the extent of the damage caused by the fire but said the family was displaced and will be staying with family.
The cause of the fire is under investigation, Knowles said.
====================================================
San Leandro police shooting suspect Id'd
A woman who was fatally shot by San Leandro police in Oakland after she allegedly tried to ram an officer in a stolen truck has been identified by the Alameda County coroner as 27-year-old Guadalupe Manzo-Ochoa of Union City.
Oakland police, who investigated the incident, said Manzo-Ochoa was spotted driving a stolen car near Halcyon Drive and Dillo Street in San Leandro at about 7:55 p.m. on Dec. 7.
Two uniformed San Leandro police officers in separate marked patrol cars tried to pull her over and she initially stopped, but then sped away with officers in pursuit, according to police.
Manzo-Ochoa rammed one of the police cars on the way as officers chased her to the 9800 block of Springfield Street, a cul-de-sac in East Oakland, police said.
There, she rammed several parked cars and police cars, provoking San Leandro police officers to open fire, according to Oakland police.
Manzo-Ochoa was hit by gunfire and taken to a hospital, where she died two days later, police said.
A passenger in the car was also taken to a hospital for treatment but was quickly released. She was interviewed by police investigators but Oakland police haven't said whether she will face any charges. Oakland police couldn't be reached for comment today.
A San Leandro police officer was also taken to a hospital after the incident but was released after a short time.
Oakland police spokeswoman Johnna Watson said after the incident that San Leandro police officers fired weapons but Oakland officers did not. She declined to say how many officers opened fire or how many times Manzo-Ochoa was shot.
The shooting is under investigation by the Oakland Police Department's homicide section, the Alameda County District Attorney's Office and the San Leandro police Professional Standards Unit.
====================================================
New BART board president
Director Tom Blalock of Fremont was elected Thursday by his colleagues on the BART Board of Directors to serve as the board's president for the next year.
It's the third time that Blalock is serving as board chairman during his 20 years on the board.
Blalock said he is dedicated to expanding BART service further south and completing the Warm Springs extension in the southern part of Fremont is among the top priorities of his presidency.
Blalock said in a statement, "The opening of the extension next winter will be the culmination of more than 30 years of work by a lot of people. I've personally been working on the extension since 1983 because I know it's going to be a tremendous benefit to our customers in southern Alameda County and will pave the way for BART to Silicon Valley."
BART officials said the Warm Springs extension will add 5.4 miles of new track from the existing Fremont Station to a new station named Warm Springs/South Fremont Station. The new station will connect to BART's Silicon Valley extension when that project is completed in 2018.
Blalock said he's is also committed to continued focus on BART's "big three" capital projects: a new fleet of rail cars, constructing a new and expanded Hayward maintenance complex and modernizing the train control system to support more frequent train service.
BART directors also voted Thursday to elect Director Tom Radulovich of San Francisco to serve as their vice president.
Radulovich has been on the board since 1996 and served as its president in 2013, when workers staged two four-day strikes before an agreement was finally reached on a new contract.
As vice president, Radulovich is in line to become board president again at the end of next year.
Thursday was also the first board meeting for Director Nick Josefowitz of San Francisco. Josefowitz defeated James Fang, who had been on the board since 1990 and had been its longest-serving member, in the Nov. 4 election.
====================================================
Weather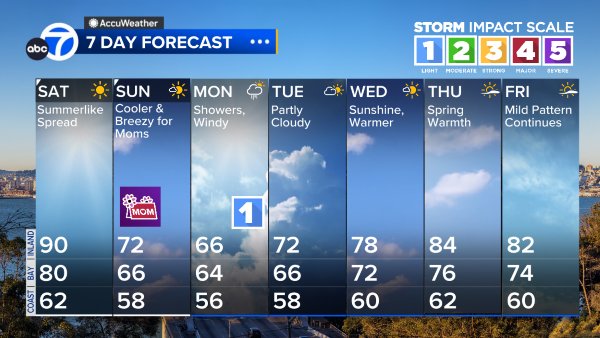 Tonight will be mostly cloudy with scattered showers likely. Overnight lows will be mainly in the low 50s. Tomorrow will be mostly cloudy and dry, but there's a chance of light rain or showers in the North Bay. Highs will range from upper 50s to low 60s. A drier and milder pattern will develop after Sunday.
Concord 59
Oakland 61
Redwood City 61
San Francisco 59
San Jose 61
Santa Rosa 57
Coast
Tonight: Scattered Showers
Lows: Low 50s
Tomorrow: Mostly Cloudy
Highs: Upper 50s
East Bay
Tonight: Scattered Showers
Lows: Low 50s
Tomorrow: Mostly Cloudy
Highs: Around 60
East Bay Valleys
Tonight: Scattered Showers
Lows: Around 50
Tomorrow: Mostly Cloudy
Highs: Upper 50s to Around 60
North Bay Valleys
Tonight: Scattered Showers
Lows: Upper 40s
Tomorrow: Chance of Rain
Highs: Upper 50s
Peninsula
Tonight: Scattered Showers
Lows: Low 50s
Tomorrow: Mostly Cloudy
Highs: Low 60s
South Bay
Tonight: Scattered Showers
Lows: Upper 40s to Around 50
Tomorrow: Mostly Cloudy
Highs: Low 60s
Sunday:
Chance of Early Morning Rain
Highs: Low 60s Coast to Mid 60s Inland