New charges against Corte Madera doctor in road rage-related attempted voluntary manslaughter case
New charges were filed this morning against a Corte Madera doctor whose road rage-related attempted voluntary manslaughter case was dismissed earlier this month in Marin County Superior Court.
James Stephen Simon, 71, was indicted on charges of assault with a deadly weapon and negligent discharge of a firearm, his attorney Charles Dresow said. Simon did not enter a plea and his next court date is Wednesday, Dresow said.
"He is ready to face these charges in court and exonerate himself again," Dresow said.
After a preliminary hearing, Marin County Superior Court Judge Kelly Simmons ruled Jan. 6 that Simon should not be held to answer to attempted voluntary manslaughter and assault with a firearm on 70-year-old William Osenton of Tiburon.
Both men were driving recklessly by braking and speeding up for a mile or two on Paradise Drive in Corte Madera in July 17, the Central Marin Police Authority said.
Simon drove into the garage of his residence in the 5000 block of Paradise Drive and Osenton tried to drive in behind him but the garage door closed on the hood of his vehicle, police said.
Simon then got a .357 caliber gun from his home and fired three shots, two of which struck Osenton in the abdomen, police said.
Simon's attorney Charles Dresow argued at the preliminary hearing that Simon acted in self-defense and had a right to defend himself, his wife and their home.
District Attorney Ed Berberian disagreed with the judge's ruling and said Simon's conduct was unreasonable under the law. He said Simon could have secured himself in his home and called police.
Berberian said his office would review its legal options that include refilling the charges or asking for a judicial review. He argued his case against Simon before a grand jury resulting in the indictment.
===================================================
Sureno gang member sentenced to 38 years in federal prison
A Sureno gang member who admitted to killing a man whom he mistook for a rival gangster in 2012 was sentenced Thursday in U.S. District Court in San Jose to 38 years in federal prison, the U.S. Attorney's Office reported.
Judge Edward Davlia handed down the sentence on Victor Manual "Silencer" Rodriguez, 26, of San Jose, who pleaded guilty last March to multiple felony charges, including the murder of 21-year-old Victor Mendoza, according to U.S. Attorney Melinda Haag.
Federal prosecutors allege that Rodriguez is a member of the Varrio Tami Lee Gangsters, or VTG, a subset of the Sureno criminal street gang in San Jose that is allied with another San Jose-based Sureno gang, Varrio Colonias Trece.
The two gangs, both controlled by the Mexican Mafia, or "Le Eme" criminal syndicate, cooperated in crimes including robbery, drug trafficking and murder and other acts of violence, such as seeking out and killing members of the rival Norteno gangs, tied to the Nuestra Familia gang organization, Haag said.
On Aug. 13, 2012, Rodriguez and co-defendant Jose Farias "Oso" Barajas, of the Colonias gang, were inside at car on Denair Avenue a block north of Tully Road in East San Jose on the hunt for Norteno members in retaliation over Norteno graffiti sprayed in territory claimed by the VTG and Colonias gangs.
Rodriguez then eyed Mendoza, who was in the driveway of Mendoza's residence near Letitia Street and though he did not know him, Rodriguez assumed Mendoza was a Norteno solely based on his appearance.
Rodriguez directed Barajas to turn around and pull up next to Mendoza, got out of the car, pointed a .38 caliber handgun and fired two shots at the victim at close range, striking Mendoza once in the head. Rodriguez and Barajas then drove away.
Mendoza died two days later. The victim was not a Norteno member and had been standing by himself in the driveway after returning home with his girlfriend from a trip to the veterinarian to care for their sick dog, prosecutors said.
Both Rodriguez, an undocumented alien, and Barajas were arrested on Oct. 3, 2012, and have remained in custody ever since, according to Haag.
In federal court in San Jose on March 26 last year, Rodriguez entered guilty pleas and was convicted of racketeering conspiracy, conspiracy to commit murder, possession or use of a firearm during and in retaliation to a crime of violence, use of a firearm in furtherance of a crime of violence resulting in murder and distribution of methamphetamine.
He and Barajas were indicted by a federal grand jury on the criminal counts following investigations by the FBI and the San Jose Police Department.
Davila will sentence Barajas, who has also pleaded guilty to the same charges, on March 26.
===================================================
Traffic stop led to the discovery of a loaded firearm in the man's vehicle
A man was arrested in Watsonville when a traffic stop led to the discovery of a loaded firearm in the man's vehicle, sheriff's officials said.
Omar Diaz, 39, of Watsonville, was arrested on suspicion of possession of a loaded firearm in a vehicle by a suspected active criminal street gang member, providing false information to an officer, driving unlicensed and on three felony warrants, including two assault with a deadly weapon and one for domestic battery, according to the Santa Cruz County Sheriff's Office.
Officers with the Santa Cruz County Anti-Crime Team Gang Task Force were on patrol around 4 p.m. when they stopped a vehicle at Riverside Drive and Walker Street for expired registration.
Sheriff's officials said the driver, identified as Diaz, disobeyed the officers' commands to stay in his vehicle and provided officers with a false name and identification card.
The officers were able to identify Diaz through fingerprinting and learned he had three outstanding warrants issued 10 years ago.
A loaded .38-caliber handgun was also located in the vehicle, and Diaz had a loaded .38-caliber magazine in his pocket, sheriff's officials said.
The gun seizure marked the third firearm seizure by the task force this year. The task force seized 26 firearms in 2014 and has seized 79 since 2012.
===================================================
Redwood City man kills witness set to testify against him
Alameda County sheriff's deputies arrested a Redwood City man Wednesday accused of killing a witness set to testify against him in a grand theft case in 2004, a sheriff's sergeant said.
Larry Fuller, 44, was arrested at about noon Wednesday on a murder warrant for the shooting, which occurred in Brentwood in Contra Costa County, sheriff's Sgt. Ray Kelly said.
The case against Fuller goes back to some work done on his car in late 2003 at a Castro Valley tire shop. Fuller sped off without paying his $2,700 bill and was later charged with grand theft.
A manager at the store, 36-year-old Sanjay Samy, was set to testify against Fuller in that case. But on Oct. 26, 2004, the day before he was scheduled to testify, Samy was shot dead outside of his home in the 2900 block of Haddington Court in Brentwood.
Fuller had prior felonies on his record and could have faced a lengthy prison stay if convicted in the theft case.
The case languished for more than a decade. Investigators suspected Fuller in the shooting, but lacked enough evidence to charge him.
He was arrested on an unrelated matter in 2009 and investigators announced an $81,000 reward in an effort to get more witnesses to come forward, but it took another five years to develop the case.
The sheriff's office's cold case unit kept at the case and finally obtained enough evidence for the district attorney's office to file murder charges against Fuller, Kelly said.
"Our cold case unit was able to bring closure to this case after 10 years," Kelly said. "Law enforcement will continue to pursue suspects no matter how long it takes, especially for the crime of murder."
Fuller is set to appear in court Friday afternoon in Oakland for arraignment.
===================================================
De Anza College attempted assault
A woman accosted by a man who tried to kiss and touch her Wednesday on the campus of De Anza College in Cupertino fought him off and emerged uninjured, according to the Foothill-De Anza Police Department.
The man approached the student victim Wednesday night as she walked on the south side of the community college campus near the De Anza Fujitsu Planetarium at 21250 Stevens Creek Blvd., campus police said in an alert posted on the college's website.
The student said the suspect grabbed her by the arm, pushed her against a wall, attempted to kiss and touch her inappropriately but fled after she punched him, according to police.
The woman, who was not hurt, reported last seeing the man fleeing on foot heading north toward the area of the Marjorie L. Hinson Campus Center, police said.
She described the man as 5 feet 5 inches to 5 feet 6 inches tall with short brown hair, bushy eyebrows. He was unshaven with a cut above his lip and strong body odor, according to officers.
He was wearing a black fleece zip-up hooded sweatshirt and blue jeans and told the victim his name was Alexander, police said.
Following the attack, Foothill-De Anza police said they were having all available campus police officers patrol the campus later Wednesday.
Police also stated that anyone who needed an officer to serve as an escort on campus during any weeknight may call the department at (650) 949-7313 and to call 911 for emergencies.
The department is also asking anyone with information about the event to call them at (650) 949-7313.
The Foothill-De Anza Police Department, which polices both De Anza and Los Altos Hill-based Foothill College, stated on its website that De Anza was rated the second-safest community college in California and the 11th best in the nation in 2013 by StateUniversity.com.
Foothill was ranked first in safety in California and second in the nation among community colleges by the website that year, according to police.
===================================================
Weather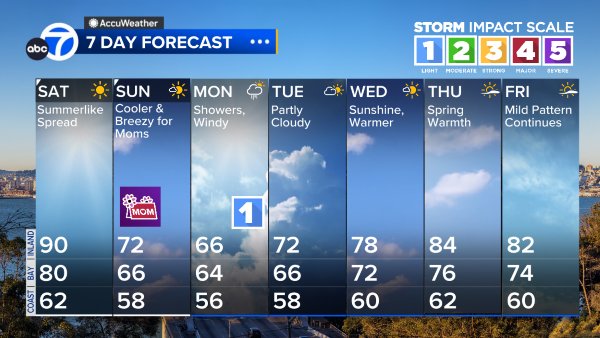 Tonight will be clear and breezy, with overnight lows mainly in the mid to upper 40s and some lower 50s near the coast and bay. Tomorrow will be sunny and warm with highs ranging from near 70 at the coast to lower and mid 70s inland. It will be sunny and mild to warm again Sunday, but afternoon temperatures will be just a few degrees lower than Saturday's highs.
Concord
71
Oakland
72
Redwood City
68
San Francisco
67
San Jose
69
Santa Rosa
73Coast
Tonight: Clear & Breezy
Lows: Around 50
Tomorrow: Sunny & Warm
Highs: Upper 60s to Near 70
East Bay
Tonight: Clear & Breezy
Lows: Upper 40s to Around 50
Tomorrow: Sunny & Warm
Highs: Lower 70s
East Bay Valleys
Tonight: Clear & Breezy
Lows: Mid to Upper 40s
Tomorrow: Sunny & Warm
Highs: Lower 70s
North Bay Valleys
Tonight: Clear & Breezy
Lows: Mid to Upper 40s
Tomorrow: Sunny & Warm
Highs: Lower to Mid 70s
Peninsula
Tonight: Clear & Breezy
Lows: Upper 40s
Tomorrow: Sunny & Warm
Highs: Upper 60s to Near 70
South Bay
Tonight: Clear & Breezy
Lows: Lower to Mid 40s
Tomorrow: Sunny & Warm
Highs: Around 70
Saturday:
Mostly Sunny & Mild
Highs: Mid 60s to Around 70 Inland