PetSmart employee burglary case
A former San Carlos PetSmart employee and her boyfriend have pleaded no contest to burglary charges for a series of break-ins at homes they learned were vacant when the residents' pets were boarded at PetSmart, San Mateo County prosecutors said today.
San Jose residents Ashley Lynn Kirk, 24, and Juan Carlos Ortega-Ramos, 25, entered the plea Monday to 11 counts of residential burglary in exchange for no more than 20 years in prison for Ortega-Ramos and no more than 10 years in prison for Kirk, according to the district attorney's office.
They were first arrested in September 2013 for the burglaries but were released without charges until a warrant was issued for their arrest in January, according to the San Mateo County Sheriff's Office.
They were both arrested in Discovery Bay on Jan. 13.
Kirk would learn of vacant homes when pets were checked in at the PetSmart at 1225 Industrial Road and the couple would then ransack the homes, stealing electronics, jewelry and even a silver Porsche 991 from a Portola Valley home.
The couple entered the plea Monday before San Mateo County Superior Court Judge Susan Etezadi. Ortega-Ramos also pleaded no contest to a gang enhancement for being a Norteno gang member, prosecutors said.
The couple remain in custody under $500,000 bail and are due for sentencing on Nov. 6.
====================================================
Lewd act with child sentence
A Salinas man will be sentenced to 20 years in prison after entering no contest pleas to seven counts of lewd acts upon a child, according to the Monterey County District Attorney's Office.
Maurillo Gonzales, 21, entered his pleas Monday as jury selection was about to begin before his trial on charges of repeatedly sexually abusing a girl who was 10 and 11 years old at the time, Deputy District Attorney
Megan Carter said.
A sentencing hearing before Judge Pamela Butler in Monterey County Superior Court in Salinas has been set for Oct. 17, when Gonzales will receive a stipulated prison sentence of 20 years and will have to register as a sex offender for the rest of his life, Carter said.
The acts of molestation Gonzales was charged with involved the same victim in Monterey and Santa Cruz counties between 2012 and this year, prosecutors said.
====================================================
Drug deal arrest
Santa Rosa police on Monday afternoon arrested a Sacramento County man suspected of killing a San Rafael man during a drug deal last month.
David Espinal, 46, was booked into Sacramento County Jail and is the second suspect arrested following the Aug. 31 fatal shooting of Max Weinreb, 21, at the Vagabond Inn on Cleveland Avenue in Santa Rosa, police said.
Espinal and Donald Paul Parker, 35, of Vallejo, were in a room at the motel to buy marijuana from Weinreb and another unidentified man, Santa Rosa police Lt. Dave Linscomb said.
The deal somehow went wrong and Espinal shot Weinreb several times in the torso, Linscomb said. Weinreb died at the scene and Parker and Espinal fled with a large quantity of marijuana in a red sedan.
Parker was arrested last Wednesday in Vallejo, Linscomb said. He was charged with murder and is scheduled to be in Sonoma County Superior Court on Wednesday.
====================================================
Oakland Homicide ID
A man shot and killed in East Oakland on Monday night has been identified as 21-year-old Frank Denard, police said today.
Denard was shot and killed in the 1300 block of 76th Avenue near International Boulevard at about 8:10 p.m., according to police.
He was found suffering from a gunshot wound there and was pronounced dead about 10 minutes later.
Police have not announced any arrests in the case.
It was Oakland's second homicide in two days. Reginald Beamon, 28, of Oakland, was found suffering from a fatal gunshot wound at 6:16 a.m. Sunday in the 8200 block of Bancroft Avenue, police said.
Police arrested a 21-year-old man in connection with Beamon's death but have not released his name.
====================================================
Car carrier fire
A car carrier truck full of Mercedes-Benz cars about to go to auction burst into flames this morning in Hayward, a fire captain said.
The fire was reported at 6:58 a.m. at an auction yard at 29901 Industrial Parkway SW, fire Capt. Don Nichelson said.
The truck was parked between two other car carriers and was carrying eight Mercedes cars. The fire started in the truck's engine compartment and spread to the other two trucks, Nichelson said.
The truck's driver was sleeping in the cab when the fire started, but managed to escape safely.
It took firefighters about 15 minutes to control the blaze. All three trucks were damaged, as well as four of the cars they were carrying, Nichelson said.
Investigators are still working to determine the exact cause of the fire. No one was injured.
====================================================
49ers' game arrests
Santa Clara police arrested 31 people for mainly alcohol-related misdemeanors at the San Francisco 49ers' game Sunday at Levi's Stadium, down from the previous large event at the field, a police sergeant said today.
Police made fewer arrests during the 49ers-Chicago Bears NFL game than the 45 people arrested, also mostly for alcohol-fueled offenses, at a soccer match at Levi's that pitted Mexico's national team against Chile on Sept. 6, Lt. Kurt Clarke said.
"It was a good day" Sunday for a game attended by about 70,000 football fans, Clarke said.
"We could have been a lot busier," he said. "Thirty-one is not a lot. We want people to come and enjoy themselves, but we want fans to behave."
The arrests Santa were mainly on suspicion of being drunk in public, a misdemeanor, while inside and outside of the stadium, Clarke said.
Officers have to arrest people whom they can see are "unable to take care of themselves or others" because of their level of intoxication, Clarke said.
Two other arrests were more serious, including one person on suspicion of DUI who backed their car into someone else's, then got out and assaulted the driver of the other car, according to Clarke.
Police also arrested a man on suspicion of assaulting a female in a domestic violence incident that is being reviewed by the Santa Clara County District Attorney's Office to determine if the man should be charged with a felony, police said.
Clarke said that Santa Clara police confer in advance with stadium representatives at Levi's Stadium to estimate how many police officers and staff will be needed based on the type of event there.
The 49ers' next game at Levi's is against the Philadelphia Eagles on Sept. 28 and then the Kansas City Chiefs on Oct. 5. The stadium will host four local high school football games on Oct. 10 and 11 and then the University of Oregon versus University of California at Berkeley college football contest on Oct. 24.
====================================================
Weather
Tonight will be mostly clear early, with increasing high clouds overnight. Low temperatures will be mainly in the upper 50s to around 60. Tomorrow will be partly cloudy early, with clouds increasing by evening, and a chance of showers tomorrow night. Afternoon highs will range from upper 60s at the coast to mid 80s inland.
Concord
82
Oakland
74
Redwood City
79
San Francisco
72
San Jose
80
Santa Rosa
80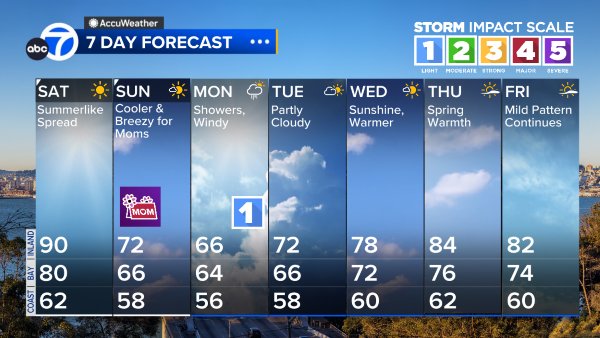 Coast
Tonight: Increasing High Clouds
Lows: Upper 50s
Tomorrow: Partly Cloudy & Mild
Highs: Upper 60s to Around 70
East Bay
Tonight: A Few High Clouds
Lows: Upper 50s to Near 60
Tomorrow: Mostly Sunny & Mild
Highs: Mid to Upper 70s
East Bay Valleys
Tonight: Mostly Clear
Lows: Upper 50s
Tomorrow: Mostly Sunny & Warm
Highs: Low to Mid 80s
North Bay Valleys
Tonight: Increasing High Clouds
Lows: Mid 50s
Tomorrow: Mostly Sunny/Mild to Warm
Highs: Around 80
Peninsula
Tonight: A Few High Clouds
Lows: Upper 50s to Near 60
Tomorrow: Mostly Sunny & Mild
Highs: Mid 70s to Near 80
South Bay
Tonight: Mostly Clear
Lows: Upper 50s
Tomorrow: Mostly Sunny & Warm
Highs: Upper 70s to Mid 80s
Thursday:
AM Showers/Partly Cloudy PM
Highs: Mid 60s Coast to Low 80s Inland