Oakland demonstrations
Oakland police arrested 92 people Tuesday during the second day of demonstrations that lasted over six hours and breached two freeways, according to police.
The demonstrators were protesting a grand jury's decision to not indict Ferguson, Missouri, Officer Darren Wilson in the shooting death of 18-year-old Michael Brown on Aug. 9.
Police arrested 43 people on Monday, and said three officers were injured Tuesday night. The California Highway Patrol said on Tuesday that protestors were throwing bottles and rocks at officers.
About 300 to 400 protesters briefly blocked Interstate Highway 980 around 6:30 p.m., according to the CHP. By 7 p.m., protesters had shut down an off-ramp to Interstate Highway 880 at Broadway before the group snaked its way through West Oakland and marched up Telegraph Avenue.
Several protesters lit dumpsters on fire and the windows of businesses were smashed along the street.
One group climbed over a fence and rushed onto the on-ramp to Interstate Highway 580 near 35th Street. Police quickly surrounded the group and ushered them off the freeway.
While some got away, others were arrested and several dozen protesters were cited. Police said the protesters were arrested for "a variety of crimes."
CHP officials said one firearm was recovered while groups set fires and vandalized police cars.
Josh Pollack, a property manager in Oakland, said it was the "craziest" protest he had ever seen.
"I'd say it's been pretty successful," Pollack said.
Pollack said he saw police fire rubber bullets at protesters.
Several flash grenades went off, but Pollack said he didn't know whether they were thrown by protesters or the police.
At one point, protesters swarmed a police cruiser, but the officers, clad in riot gear, dispersed the crowd.
Late in the evening, officers wearing riot gear formed a line stretching across 55th Street and Martin Luther King Junior Way.
"I wanted to send a message that black lives matter, all lives matter," said Sarah Norr, a protester from South Berkeley. "I think people are really hopeful. I'm really proud of the East Bay."
====================================================
SF shooting
Police are investigating a shooting that injured six people in San Francisco early this morning.
Officers responded to Mission and 13th streets at 12:46 a.m. to reports of a shooting, according to San Francisco police Sgt. Monica MacDonald.
Four victims were found, two of which were suffering from life-threatening injuries, McDonald said.
After all victims were transported to San Francisco General Hospital, an additional victim walked into the hospital.
Police are unaware of the status of the fifth victim, according to McDonald.
The sixth victim involved in the incident was driven to a local hospital outside San Francisco, McDonald said.
Anyone with any information about this incident is urged to call San Francisco police at (415) 558-5400
====================================================
Weather causes flight delays
Inclement weather on the East Coast is causing flight delays as travelers head home for the Thanksgiving holiday, a San Francisco International Airport spokesman said.
Travelers flying to Newark, Boston, New York and Philadelphia can expect delays ranging from 73 minutes in Boston to more than 3 hours in Newark, according to the Federal Aviation Administration's website.
SFO spokesman Doug Yakel said the FAA will often impose a delay program when bad weather reduces an airport's capacity to receive aircrafts.
"It's just like metering lights on the freeway," Yakel said.
Yakel recommended travelers check in with their airline before heading to the airport.
The FAA also logs the delays expected for each airport at http://www.fly.faa.gov/ois/.
====================================================
SF attorney pleads guilty
An attorney with a San Francisco law firm that focuses on employment law has pleaded guilty to felony hit-and-run and misdemeanor vehicular manslaughter for striking and killing a bicyclist in Dublin two years ago and then fleeing the scene.
Spencer Freeman Smith, 35, who lives in San Ramon, entered his plea in Alameda County Superior Court on Tuesday.
When Judge Kevin Murphy sentences Smith on Feb. 20, he will have the discretion to place the attorney on probation or send him to state prison for up to four years.
Smith was arrested on May 17, 2012, after Dublin police identified him as the owner of a recently-purchased black 2012 Mercedes-Benz CLS550 connected with a crash on Dougherty and Fall Creek roads two days earlier that claimed the life of 57-year-old Bo Hu, who was visiting from China.
Dublin police said Smith's car suffered extensive windshield and front-end damage and was missing parts that were recovered at the scene of the crash.
The website of Smith's law firm, Smith Patten, says he has "earned a reputation for being one of the top young employment litigators in Northern California" and has settled seven-figure cases with some Fortune 500 companies as well as six-figure settlements with and other Fortune 500 companies.
The website says Smith has represented a wide range of clients in many different types of situations: whistle blowing, wage-and-hour law, retaliation, sexual harassment, wrongful termination and gender, disability, race, sexual orientation and age discrimination.
====================================================
Chinatown bank robbery
Police are investigating a bank robbery carried out by two men in San Francisco's Chinatown on Tuesday morning.
According to police, two bank robbers entered a bank in the 1000 block of Grant Avenue near Pacific Avenue at about 9:35 a.m.
The suspects ordered everyone inside the bank to get down on the floor. One suspect displayed a handgun while the second suspect went to the bank's lower level to rob the contents of a vault, police said.
The suspects fled the scene in an unknown direction following the bank robbery and have not been arrested, according to police.
Police said the suspects were both described as men either in their 20s or 30s.
No injuries were reported and police did not say with how much money the robbers made off.
====================================================
Petaluma mayor re-elected
Petaluma Mayor David Glass, who was losing his re-election bid to City Councilman Mike Harris by 211 votes three weeks ago, has been re-elected, according to the final election results released Tuesday.
Glass, 66, defeated Harris, 43, by 84 votes.
Harris had 50.6 percent of the vote late on election night and finished with 49.6 percent. Glass had 49.1 percent and finished with 50.1 percent.
It is Glass' third term as mayor since 2003.
In Healdsburg, planning commissioner Jeff Civian, 58, was leading Brigette Mansell, 53, by 10 votes on election night for one of the two City Council seats. Mansell, a high school teacher, won that seat by 40 votes, according to the final results.
The results of Measure S, a special parcel tax for fire and emergency services in the Monte Rio Fire Protection District, came close to passing with two-thirds approval but still fell short.
It was trailing with 64.4 percent of the vote on election night and finished with 65.5 percent, according to the final results released by the Sonoma County Registrar of Voters Office.
Sixty percent of Sonoma County's registered voters cast ballots in the election.
====================================================
UC Berkeley sexual assault
Police responded to a report of a sexual assault that occurred in a University of California at Berkeley dormitory Monday afternoon.
The incident occurred around 6:30 p.m. Monday in the Griffith Residence Hall, according to University police.
The victim, an 18-year-old student, was followed into the building by the suspect, who "tailgated" in behind her, police said.
After following the victim into a stairwell, the suspect reached under her skirt and grabbed her buttocks, according to police.
The suspect fled the building after the assault, and the victim was not physically injured during the encounter.
University police searched the area, but were unable to locate the suspect.
The suspect is described as a black male in his 20s, 6 feet tall with a thin to medium build, wearing medium length dreadlocks, a red bandana, a dark hooded sweatshirt and pants with tattered sneakers.
Anyone with any information regarding this incident is asked to call University police at (510) 642-6760.
====================================================
Bay Area wood burning ban
Persistent stagnant weather is forcing the Bay Area Air Quality Management District to issue a ban on wood burning for the San Francisco Bay Area today.
The ban prohibits residents from burning wood, commercial fire logs and other solid fuel either indoors or outdoors for 24 hours. The ban is known as a Spare the Air Alert.
Violating the ban can result in fines of $500 and more, if the resident has been caught violating the ban previously. For the first offense, violators have the option of taking an awareness class in lieu of paying a $100 fine.
"We think the social cost of PM (particulate matter) pollution is in the billions of dollars" each year in the Bay Area, BAAQMD spokesman Aaron Richardson said. Richardson said PM pollution is linked with 2,800 premature deaths each year in the Bay Area.
Wood smoke is linked with respiratory illnesses and heart attacks.
"Persistent stagnant weather continues to trap wood smoke pollution in the region," BAAQMD executive officer Jack Broadbent said. "Wood smoke ... contains many of the same toxins as cigarettes."
According to the BAAQMD, cool stagnant weather coupled with light winds will continue Wednesday causing pollution to build to unhealthy levels.
The fine particulate matter in wood smoke is small enough that it can be inhaled deeply into the lungs and can enter the bloodstream, Richardson said.
Besides people with respiratory illnesses, wood smoke is especially harmful to seniors and children, according to the BAAQMD.
Bay Area residents and businesses are banned from using fireplaces, woodstoves, pellet stoves, outdoor fire pits or other devices that burn wood, except in homes where woodstoves or fireplaces are the only source of heat.
The Winter Spare the Air season started Nov. 1 and goes through Feb. 28, during which time residents and businesses must check whether the BAAQMD has issued a Spare the Air alert.
To check, call (877) 4-NO-BURN or visit www.baaqmd.gov or www.sparetheair.org.
====================================================
UC tuition hikes
Students and activists protesting tuition hikes at the University of California at Berkeley vacated their occupation of a building on campus early this morning, according to university police.
The group, which has taken on the moniker "The Open UC at Berkeley," has been occupying Wheeler Hall since the evening of Nov. 19. They left the building at 3 a.m. today, said UC police Lt. Eric Tejada.
Tejada said there have been no altercations with protesters and no one has been arrested during the seven-day occupation on Berkeley's campus.
"There was some vandalism done in the building -- some spray painting and things like that," Tejada said. "But, other than that, there's been nothing."
The group of demonstrators did not say when or if they would return to their occupation of Wheeler Hall.
"We, the Open UC at Berkeley, no longer feel the need to inhabit the Wheeler Commons at all times in order to assert our right to this space, this campus and this public institution," said a statement issued on the Facebook page, TheOpen UC. "See you Monday!"
Students began occupying Wheeler Hall on Nov. 19 after a UC Board of Regents committee voted 7-2 in favor of a tuition hike that would increase tuitions by as much as 5 percent annually over the next five years, despite opposition from prominent public figures, including Gov. Jerry Brown and Lt. Gov. Gavin Newsom.
Brown has argued that the university system needs to find ways to control its expenses rather than raise tuition.
On Thursday, the full Board of Regents voted 14-7 in favor of the tuition hike, drawing further protests from students attending the meeting.
Under the tuition proposal, a 5 percent hike would raise tuition for in-state students by $612 to $12,804 in the 2015-16 school year, according to UC President Janet Napolitano's office. Tuition for out-of-state students would increase by more than $1,700 to about $36,820.
====================================================
Chanel crash, burglary
Two suspects remain at large after crashing a vehicle into an upscale designer boutique in San Francisco's Union Square before burglarizing the store of handbags early this morning, police said.
Officers received a report of the burglary on Maiden Lane near Grant Avenue at about 3 a.m., police said.
Based on the preliminary investigation, police said that after crashing the vehicle into the building, causing a glass window to shatter, the passenger of the vehicle got out and stole handbags from the store.
An employee at the Prada store said the burglary took place at the Chanel boutique. However, an employee at Chanel refused to comment on the incident this morning.
Police said the suspects were seen driving a white vehicle. Police said they are working to release more information about the vehicle as well as suspect descriptions.
====================================================
Richmond suspected DUI
A Richmond woman was arrested on suspicion of driving under the influence of drugs or alcohol after allegedly running a red light and causing a crash that left several other drivers with minor injuries, according to police.
Police said around 3:05 p.m. Monday, the suspect ran a red light from the westbound Interstate Highway 80 off-ramp at Pinole Valley Road, crashing into another car and causing two more cars to collide.
The driver who ran the red light, identified as 46-year-old Teresa Calloway, fled the scene on foot but was located a short distance away, according to police.
She was arrested for on suspicion of DUI causing injury and felony hit-and run.
Calloway and the three other drivers involved in the crash were treated for minor injuries at the scene.
The suspect was later taken to county jail in Martinez.
====================================================
Mineta surveillance video
Mineta San Jose International Airport released surveillance video Monday of a 39-year-old man arrested Sunday after he entered the tarmac of a private aviation facility and allegedly stole an airport vehicle, a spokeswoman said.
The suspect, Miguel Zaragoza, was booked Sunday on suspicion of possession of a stolen vehicle and trespassing into the Santa Clara County Jail, where his bail was set at $30,000, according to San Jose police and jail records.
At about 10:15 a.m. Sunday, an unauthorized person was reported on the tarmac of Atlantic Aviation, a private air transport facility on the non-commercial west side of the San Jose airport, airport spokeswoman Rosemary Barnes said.
Atlantic Aviation employees contacted and escorted the person, later identified as Zaragoza, from the general aviation ramp to the lobby of the facility's passenger terminal and called San Jose police, Barnes said.
But Zaragoza fled the building onto a public parking lot of the Atlantic terminal, where he spoke to an airport maintenance employee doing landscaping work and requested the worker to drive him to the commercial airline terminals on the east side of the airport, she said.
When the employee refused, Zaragoza got into the worker's vehicle, turned on the engine and drove onto Coleman Avenue toward the commercial terminals, police and airport officials said.
He exited the vehicle and entered the lobby of the airport's Terminal B, where airport employees and San Jose police stopped him and officers placed him under arrest, according to Barnes.
No one was injured and the incident did not affect flights at the airport, Barnes said.
San Jose airport officials on Monday released seven segments of security videos from Zaragoza's activities there.
The first of the segments showed a rooftop view of the maintenance vehicle allegedly being driven by the suspect and followed by vehicles driven by airport employees, according to airport officials.
In subsequent video clips, the suspect vehicle can be seen driving out of the airport's rental car facility toward Terminal B, then Zaragoza himself is seen running inside the terminal's ticket lobby, walking in front of a ticket counter and then being detained by airport employees and contractors.
The final two segments show San Jose police arriving and arresting the suspect at the curb outside the terminal, officials reported.
====================================================
Weather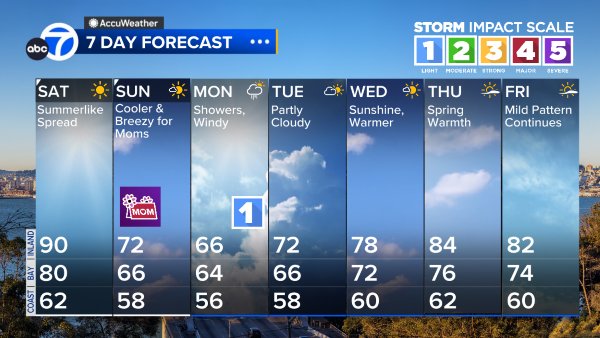 Tonight will be clear and cool, with low temperatures ranging from upper 30s in the North Bay valleys to low and mid 40s elsewhere. Tomorrow will be sunny and mild, with highs ranging from upper 60s at the coast to mid 70s inland. Tomorrow will also be another Spare the Air day, so remember that wood burning is unlawful. Our weather will remain mild and dry through Thanksgiving Day, but we can expect a rainy pattern this weekend and early next week.
Concord
70
Oakland
72
Redwood City
73
San Francisco
69
San Jose
73
Santa Rosa
71Coast
Tonight: Clear & Cool
Lows: Mid 40s
Tomorrow: Sunny & Mild
Highs: Upper 60s
East Bay
Tonight: Clear & Cool
Lows: Mid 40s
Tomorrow: Sunny & Mild
Highs: Low 70s
East Bay Valleys
Tonight: Clear & Chilly
Lows: Low 40s
Tomorrow: Sunny & Mild
Highs: Low 70s
North Bay Valleys
Tonight: Clear & Chilly
Lows: Upper 30s to Around 40
Tomorrow: Mostly Sunny & Mild
Highs: Low 70s
Peninsula
Tonight: Clear & Cool
Lows: Mid 40s
Tomorrow: Sunny & Mild
Highs: Low to Mid 70s
South Bay
Tonight: Clear & Cool
Lows: Low to Mid 40s
Tomorrow: Sunny & Mild
Highs: Mid 70s
Thursday:
Partly Cloudy & Mild
Highs: Mid 60s Coast to Low 70s Inland