Four-alarm fire in SF Mission District
San Francisco firefighters remain on the scene this morning of a four-alarm fire that killed one man and all but destroyed a Mission District building housing dozens of apartments and businesses Wednesday evening, fire officials said.
The fire at the corner of 22nd and Mission streets killed one man and injured seven other people. Six were transported to a hospital, including a firefighter who suffered dehydration and five civilians who suffered minor to moderate injuries. One person declined to be taken to the hospital, fire officials said.
Reports of the blaze came in at 6:46 p.m. and arriving firefighters found flames shooting from the side of the building.
Investigators are looking into reports from residents that fire escapes were blocked and fire alarms in the building malfunctioned, complicating evacuations, according to the fire department.
Surrounding buildings were evacuated as well Wednesday evening in case the fire spread.
The man killed by the fire managed to evacuate, but the injuries he suffered were so severe that he died at the scene, police said.
The building was left uninhabitable by the damage. Firefighters remain there this morning to make sure no flames flare up again, according to the fire department. Streets in the area are still blocked off for the fire crews.
At least 40 residents of the building stayed at an American Red Cross shelter on the City College of San Francisco campus at 22nd and Bartlett streets Wednesday night, police said.
The cause of the blaze remains under investigation and could take weeks to determine, fire officials said. However, police said arson does not appear to be a factor in the blaze.
San Francisco Municipal Transportation Agency officials announced this morning that 14-Mission buses have been rerouted onto South Van Ness Avenue between 14th and 26th streets due to the fire. Buses on the 49-Mission line have also been rerouted onto South Van Ness Avenue between 14th and 26th streets.
===================================================
Woman shot in SF Bayview District
A 32-year-old woman who was fatally shot, reportedly in front of her children, in San Francisco's Bayview District on Tuesday afternoon has been identified.
San Francisco resident Maria Soza was shot and killed in the 1200 block of Revere Avenue near Ingalls Street, according to the medical examiner's office.
A ShotSpotter gunshot detection system alert was activated at the intersection at 4:15 p.m. Tuesday, San Francisco police Officer Grace Gatpandan said.
Moments later, police received a 911 call reporting that a female had been shot there.
Gatpandan said witnesses reported that Soza's children saw their mother get struck with gunfire.
Arriving officers found Soza suffering from multiple gunshot wounds on the sidewalk near the intersection, Gatpandan said.
The officers performed CPR on her and transported her to San Francisco General Hospital, where she died of her injuries, according to Gatpandan.
At 4:24 p.m., less than 10 minutes later, two shooting victims were reported in the 200 block of Bayshore Boulevard.
According to an employee at The Old Clam House restaurant, located at 299 Bayshore Blvd., the female victim drove the male victim to the restaurant and then came into the restaurant to get help.
The employee, who declined to be named, said she called 911 and emergency crews responded to the restaurant.
The male victim, identified as 38-year-old San Francisco resident Donte Glenn, was taken to San Francisco General Hospital, where he succumbed to his injuries.
Police said the female victim also suffered gunshot wounds but is expected to survive.
The two crime scenes are possibly related and remain under investigation, police said.
Anyone with information about the shootings is asked to call the Police Department's anonymous tip line at (415) 575-4444 or to text a tip to TIP411 with "SFPD" at the start of the message.
===================================================
Crash involving 1940s-era car
One person died and one person was injured in a crash involving a 1940s-era vehicle early this morning in eastern Contra Costa County, according to the California Highway Patrol.
Officers responded to a report of a rollover crash on Sunset Road near Byron Highway in the unincorporated area of Knightsen around 2:30 a.m., CHP officers said.
The 1948 Plymouth Deluxe was traveling east on Sunset Road, approaching Byron Highway when the driver lost control of the vehicle, officers said.
The Plymouth veered off of the roadway and overturned several times, ultimately ejecting two occupants, CHP Officer John Fransen said.
Fransen said one of the occupants died and the other was transported to Sutter Tracy Community Hospital.
He said the incident is still under investigation and he wasn't sure if drugs or alcohol contributed to the crash.
Fransen said he does not yet have any information regarding the condition of the surviving victim.
Any witnesses to the crash or anyone with information regarding events that led up to it are encouraged to call the Contra Costa office of the CHP at (925) 646-4980.
===================================================
Redwood City man kills witness set to testify against him
Alameda County sheriff's deputies arrested a Redwood City man Wednesday accused of killing a witness set to testify against him in a grand theft case in 2004, a sheriff's sergeant said.
Larry Fuller, 44, was arrested at about noon Wednesday on a murder warrant for the shooting, which occurred in Brentwood in Contra Costa County, sheriff's Sgt. Ray Kelly said.
The case against Fuller goes back to some work done on his car in late 2003 at a Castro Valley tire shop. Fuller sped off without paying his $2,700 bill and was later charged with grand theft.
A manager at the store, 36-year-old Sanjay Samy, was set to testify against Fuller in that case. But on Oct. 26, 2004, the day before he was scheduled to testify, Samy was shot dead outside of his home in the 2900 block of Haddington Court in Brentwood.
Fuller had prior felonies on his record and could have faced a lengthy prison stay if convicted in the theft case.
The case languished for more than a decade. Investigators suspected Fuller in the shooting, but lacked enough evidence to charge him.
He was arrested on an unrelated matter in 2009 and investigators announced an $81,000 reward in an effort to get more witnesses to come forward, but it took another five years to develop the case.
The sheriff's office's cold case unit kept at the case and finally obtained enough evidence for the district attorney's office to file murder charges against Fuller, Kelly said.
"Our cold case unit was able to bring closure to this case after 10 years," Kelly said. "Law enforcement will continue to pursue suspects no matter how long it takes, especially for the crime of murder."
Fuller is set to appear in court Friday afternoon in Oakland for arraignment.
===================================================
Teens plead not guilty to birthday party shooting
Three Santa Rosa teens pleaded not guilty in Sonoma County Superior Court today to the fatal shooting of a 15-year-old boy and attempted killing of three other people at a birthday party in Windsor last June.
Flavio Ramos Caballero, 18, Oscar Gustavo Aguilar, 17, and Duane Darcell Morgan, 17, are charged with murder for killing Nathaniel Torres of Windsor on June 22. They are being held under no bail in Sonoma County Jail.
Sergio Quiroz, 21, of Santa Rosa, is charged with being an accessory. His preliminary hearing is scheduled for Friday.
The other unidentified victims were 17, 21 and 24 at the time of the shooting.
Caballero, Aguilar and Morgan were arrested in Sonora, a state in Mexico, on Oct. 20. Morgan returned to Sonoma County and Caballero and Aguilar were taken to Pima County Jail in Arizona. They fought extradition but returned to Sonoma County in December.
All three are scheduled for a court hearing Monday to set a date for a preliminary hearing that is expected to be held in April at the soonest, defense attorneys said.
===================================================
Broken water main in SF
Crews in San Francisco have fixed a broken 8-inch water main near the Panhandle this morning that prompted the closure of a nearby Department of Motor Vehicles office, according to the city's Public Utilities Commission.
The incident was reported around 5 a.m. in the vicinity of Baker and Oak streets. Water service was cut to three adjacent blocks and crews hope to have service restored by 11:30 a.m., SFPUC spokeswoman Alison Kastama said.
Water from the broken main got into the DMV office located at Baker and Fell streets.
"We do know there was some flooding into the DMV, but I haven't been able to verify how bad that is," Kastama said.
The DMV confirmed their San Francisco office is closed this morning because of flooding and that they hope to reopen the office by this afternoon.
Officials with the claims division of the San Francisco City Attorney's Office are at the scene to assess the extent of the damage, according to Kastama.
There is one lane of eastbound traffic closed on Oak Street and crews hope to have it reopened by this afternoon after the dig site is filled and the street surface gets patched, Kastama said.
She said the cause of the water main break is under investigation but may be related to the age of the pipe.
"We're managing 1,250 miles of pipe in the city and they vary in age from 1903 onward," Kastama said.
===================================================
De Anza College attempted assault
A woman accosted by a man who tried to kiss and touch her Wednesday on the campus of De Anza College in Cupertino fought him off and emerged uninjured, according to the Foothill-De Anza Police Department.
The man approached the student victim Wednesday night as she walked on the south side of the community college campus near the De Anza Fujitsu Planetarium at 21250 Stevens Creek Blvd., campus police said in an alert posted on the college's website.
The student said the suspect grabbed her by the arm, pushed her against a wall, attempted to kiss and touch her inappropriately but fled after she punched him, according to police.
The woman, who was not hurt, reported last seeing the man fleeing on foot heading north toward the area of the Marjorie L. Hinson Campus Center, police said.
She described the man as 5 feet 5 inches to 5 feet 6 inches tall with short brown hair, bushy eyebrows. He was unshaven with a cut above his lip and strong body odor, according to officers.
He was wearing a black fleece zip-up hooded sweatshirt and blue jeans and told the victim his name was Alexander, police said.
Following the attack, Foothill-De Anza police said they were having all available campus police officers patrol the campus later Wednesday.
Police also stated that anyone who needed an officer to serve as an escort on campus during any weeknight may call the department at (650) 949-7313 and to call 911 for emergencies.
The department is also asking anyone with information about the event to call them at (650) 949-7313.
The Foothill-De Anza Police Department, which polices both De Anza and Los Altos Hill-based Foothill College, stated on its website that De Anza was rated the second-safest community college in California and the 11th best in the nation in 2013 by StateUniversity.com.
Foothill was ranked first in safety in California and second in the nation among community colleges by the website that year, according to police.
===================================================
Super Bowl at Levi's Stadium
A delegation from the Bay Area is in Arizona for the Super Bowl this week learning all they can in preparation for hosting the big game themselves at Levi's Stadium in Santa Clara next year.
The group of about 18 people with the Super Bowl 50 Host Committee joined a few dozen public safety officials from San Francisco and Santa Clara on the trip to Glendale, Arizona, to see how that city is handling the crowds and attention, host committee spokeswoman Stephanie Martin said from Arizona today.
The Bay Area committee is well into its planning stages at this point after being chosen in 2013 to host the 50th Super Bowl. This will be the second Super Bowl committee staff has attended -- they traveled to East Rutherford, New Jersey, last year with a much smaller staff.
But visiting Arizona grants even more perspective as it is the third Super Bowl held in the Phoenix metropolitan area.
Martin said today that the committee has already learned a lot about logistics, security, transportation and creating an excellent fan experience from their hosts in Arizona and expect to learn even more as Sunday's game approaches.
Today, the festivities are really kicking off with the opening of "Super Bowl Central," a free fan village with entertainment, music, shopping and other activities. Martin said the village was unique to Arizona and included a climbing wall reminiscent of the Grand Canyon.
"This is a tremendous opportunity to showcase everything the Bay Area has to offer," Martin said.
The committee has also been attending fireworks shows and the lighting of the Super Bowl roman numerals. They have been taking photos of everything and gathering all the information they can.
Martin said she and her fellow committee members will be watching the New England Patriots take on the Seattle Seahawks on Sunday, but she's isn't sure whether they'll be watching the game live at University of Phoenix Stadium.
The committee's CEO Keith Bruce has attended numerous Super Bowls, Martin said. Sunday's will be his 13th.
Bruce previously was president of San Rafael-based Sportsmark Management Group, a firm that coordinated hospitality programs for the Olympics and the Super Bowl.
===================================================
Man takes himself to hospital after being shot
A man took himself to the hospital Wednesday night after suffering a gunshot wound in East Oakland, according to police.
Officers responded to the 1400 block of 46th Avenue, just north of International Boulevard, at 8:41 p.m. to follow up on reports of gunfire.
The victim's age and city of residence could not be verified, but police said he's listed in stable condition.
No arrests have been made in the shooting. Investigators said the suspect was not known to the victim, according to police.
Anyone who witnessed or has information about the shooting is asked to contact the Oakland Police Department's felony assault unit at (510) 238-3426.
===================================================
Weather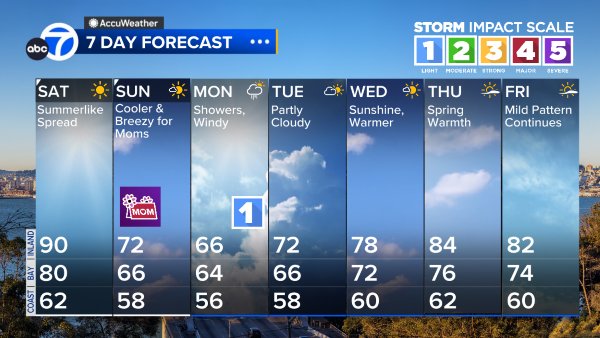 Areas of fog will develop overnight with patches of dense fog possible for the morning commute. Otherwise, Friday will be a sunny day, but with noticeably cooler conditions near the coast. On Saturday, dry offshore winds will develop and bring warmer weather to the coast and bay. There is still no rain in sight for at least a week.
Concord
68
Oakland
67
Redwood City
65
San Francisco
64
San Jose
65
Santa Rosa
70Coast
Tonight: Areas of Low Clouds & Fog
Lows: 40s
Tomorrow: Low Clouds Linger
Highs: Near 60
East Bay
Tonight: Areas of Fog after Midnight
Lows: Mid 40s
Tomorrow: Turning Sunny
Highs: Mid 60s
East Bay Valleys
Tonight: Patches of Fog after Midnight
Lows: Lower to Mid 40s
Tomorrow: Sunny & Mild
Highs: Upper 60s
North Bay Valleys
Tonight: Clear & Cool
Lows: Lower to Mid 40s
Tomorrow: Sunny & Mild
Highs: Mid 60s to Low 70s
Peninsula
Tonight: Areas of Fog after Midnight
Lows: Mid 40s
Tomorrow: Turning Sunny
Highs: Mid 60s
South Bay
Tonight: Areas of Fog after Midnight
Lows: Lower to Mid 40s
Tomorrow: Turning Sunny
Highs: Mid 60s
Saturday:
Sunny & Warmer
Highs: Upper 60s to Low 70s