New bill ensures rape kits tested promptly
A new law that has been signed by Gov. Jerry Brown will help address the backlog of rape kits that are sitting untested on police evidence shelves throughout the state, Assemblywoman Nancy Skinner, D-Berkeley, said today.
Speaking at a news conference outside the state building in downtown Oakland, Skinner said Assembly Bill 1517, which she authored, "will help ensure that criminal evidence contained in rape kits is tested promptly and more rapists are caught and convicted."
After a sexual assault, a victim undergoes an invasive physical examination to gather forensic evidence.
Alameda County Assistant District Attorney Teresa Drenick, who joined Skinner at this morning's news conference, said leaving that evidence untested in "unconscionable" but happens far too often.
According to Skinner, Los Angeles County had more than 12,000 untested rape kits in 2008 and Alameda County had a backlog of 1,900 untested kits in 2012.
The bill stipulates that sexual assault forensic evidence must be sent to a crime lab within five days after it is booked into evidence by a law enforcement agency.
The crime lab would then have to process the evidence and upload DNA profiles to the Combined DNA Index System, or CODIS, within 30 days.
Drenick said AB 1517 will help ensure that "all rape kits are tested in a timely manner and will be entered into a national database so perpetrators can be identified, arrested and prosecuted."
Drenick said it is also important to process rape kits in cases where a suspect has been identified because often a suspect in one case can be linked to other cases through DNA evidence because many sex offenders tend to be repeat criminals.
Assemblyman Rob Bonta, D-Oakland, who helped sponsor the bill, said, "Every day that rape kits remain untested in storage is another day that a rapist is on the street potentially attacking another victim."
====================================================
Gang member arrested
A 24-year-old suspected gang member has been arrested in connection with a shooting into an occupied car in Richmond last year that narrowly missed the victims but caused them to crash, police said today.
Dorian Mathis, an alleged member of Central Richmond's "Deep C" gang, was arrested Monday evening after a police officer spotted him with three other suspected gang members in a car in the 900 block of Pennsylvania Avenue, Richmond police spokeswoman Sgt. Nicole Abetkov said.
The officer tried to stop the car but the driver drove away, heading north into the Triangle Court housing complex where the car stopped and its occupants ran away, Abetkov said.
More officers and a California Highway Patrol helicopter were called and later found Mathis in the 1200 block of Sanford Avenue, along with a 17-year-old boy who had been in the car and was armed with a handgun, the sergeant said.
The boy was taken into custody on suspicion of illegal possession of a gun and Mathis was arrested on an outstanding warrant for attempted murder.
The warrant stemmed from a shooting on June 8, 2013, Abetkov said.
Mathis allegedly fired at two people inside a car in the 5000 block of Hartnett Avenue, missing them but causing them to crash the car.
One of the victims inside the car believed he had been shot but later realized he had been hit by a shard of glass, Abetkov said.
The occupants suffered injuries in the crash but were not hit by the gunfire.
Police were able to identify Mathis as the suspected shooter and forwarded the case to the Contra Costa County District Attorney's Office, which later obtained a warrant for his arrest.
He was taken to county jail in Martinez, where he is being held on $2.3 million bail.
====================================================
Armed man stole cash and lottery tickets from gas station
San Rafael police said an armed man stole cash and lottery tickets from a gas station early Tuesday morning.
The clerk of the Shell station at 950 Del Presidio Blvd. said he was outside of the station near the gas pumps when he saw a male inside the store around 3:35 a.m. Tuesday, police Lt. Dan Fink said.
When the clerk went into the store, the male customer pulled a handgun from his waistband and demanded cash and lottery tickets, Fink said.
Before he fled, the suspect ordered the clerk to go to the back of the store and wait five minutes before calling police, Fink said.
The suspect is a black man in his late 30s to mid 40s who is approximately 5 feet 11 inches tall, weighs 190 pounds and has dreadlocks or braids, Fink said.
The suspect was wearing a black hat with "Oakland" written on it, dark sunglasses and a white tracksuit, Fink said.
The clerk did not see the suspect arrive or flee in a vehicle.
Police are asking anyone with information about the robbery to call them at (415) 485-3000 or Crime Stoppers at (800) 222-8477.
====================================================
Police investigating spike in burglaries in East Palo Alto
Police are investigating a spike in burglaries occurring in the south end of Palo Alto, including one that happened last week.
Fifteen residential burglaries were reported in September, with the most recent reported incident occurring on Sept. 24 in the 3000 block of Cowper Street between 11:45 a.m. and 2 p.m., police said.
The suspect removed a screen from an open and unlocked bathroom window and ransacked the residence, stealing jewelry, cash, and small electronic devices, according to police.
After the burglary, a witness saw the suspect leave the house and enter a tan-colored sedan that was parked nearby. Police have released a sketch of the suspect and are asking for the public's help in identifying him.
Investigators said they do not know whether the suspect involved in the Sept. 24 case is responsible for any of the other recent burglaries.
Burglars seem to be targeting specific areas within Palo Alto, most recently Cowper Street, Greer Road, Louis Road, Webster Street and others, according to police.
Although the amount of burglaries committed is lower than the total for 2013 year-to-date, the increase in specific residential neighborhoods has prompted police to remind the public to remain alert and call 911 to report any suspicious behavior.
Anyone with information about the recent burglaries is asked to call Palo Alto police's 24-hour dispatch center at (650) 329-2413.
====================================================
Concord's Naval Weapons Station to get self-driving cars
Self-driving cars will soon be zooming around Concord's Naval Weapons Station under an agreement with Mercedes-Benz to use the station's vehicle testing facility, Contra Costa Transportation Authority officials announced today.
The car company will start using the site later this month to test out its "autonomous driving vehicles" and new transportation technology including traffic signals designed to communicate with self-driving cars, CCTA officials said.
Mercedes-Benz has been licensed to use a new test site at the shuttered weapons station located off of Port Chicago Highway in North Concord as part of an agreement with the CCTA, the city of Concord and the U.S. Navy.
CCTA officials say the facility's 2,100 acres of testing area and nearly 20 miles of paved roadway make it an ideal spot to test out the cutting-edge technology.
"We can use the test site in Concord, California to run simulation tests with self-driving vehicles in a secure way, including specific hazardous situations," said Dr. Axel Gern, head of autonomous driving at Mercedes-Benz
Research & Development North America, Inc.
"Taken in conjunction with the results of our test drives on public roads, these tests will help us with the ongoing development of our autonomous cars," Gern said.
Mountain View-based tech giant Google has been testing out its own fleet of self-driving cars.
But Concord city officials and other area leaders are hoping the agreement with Mercedes-Benz will draw more high-tech companies to Contra Costa County.
"This partnership is indication that we're moving forward in the 21st Century economy," Assemblywoman Susan Bonilla, D-Concord, said in a statement.
"I'm confident that this is the first of many partnerships that will spark transportation innovation and smart growth in Contra Costa and hopeful that the city of Concord can one day be viewed as a transportation technology hub where high-tech jobs for residents are plentiful," Bonilla said.
In June, the Concord City Council selected four companies with experience converting former military bases into large housing and commercial projects as potential master developers for the Concord Naval Weapons Station property.
The property is still owned by the U.S. Navy but is set to be transferred to city ownership in 2015.
====================================================
Weather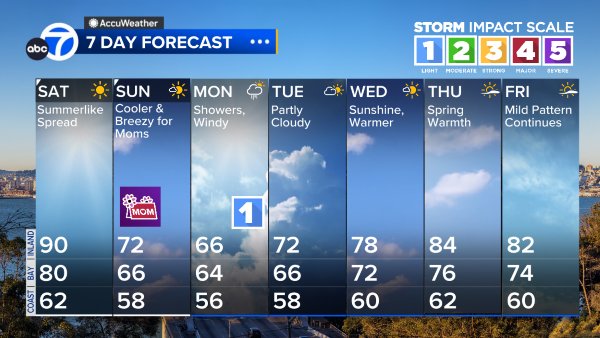 Tonight will be clear and mild, with low temperatures mainly in the lower 60s. Tomorrow will be sunny and hot, with highs ranging from mid 80s at the coast to upper 90s inland. A heat advisory has been issued for the Bay Area from noon tomorrow until 9 p.m. Friday. The risk of heat-related illness will be elevated, so strenuous outdoor activity is not recommended.
Concord
93
Oakland
87
Redwood City
92
San Francisco
86
San Jose
92
Santa Rosa
93Coast
Tonight: Clear and Mild
Lows: Near 60
Tomorrow: Sunny and Warm
Highs: Mid 80s
East Bay
Tonight: Clear & Mild
Lows: Lower 60s
Tomorrow: Sunny & Hot
Highs: Upper 80s to Lower 90s
East Bay Valleys
Tonight: Clear and Mild
Lows: Lower 60s
Tomorrow: Sunny and Hot
Highs: Mid 90s
North Bay Valleys
Tonight: Clear
Lows: Mid to Upper 50s
Tomorrow: Sunny and Hot
Highs: Lower 90s
Peninsula
Tonight: Clear and Mild
Lows: Lower 60s
Tomorrow: Sunny and Warm
Highs: Mid 80s
South Bay
Tonight: Clear and Mild
Lows: Upper 50s to Lower 60s
Tomorrow: Sunny and Hot
Highs: Lower to Upper 90s
Friday:
Sunny and Hot
Highs: Mid 80s Coast to Upper 90s Inlandto Around 90 Inland