Winner-take-all World Series game
This evening's winner-take-all World Series Game 7 will be broadcast live at San Francisco's Civic Center Plaza, the mayor's office confirmed today.
The Kansas City Royals staved off elimination with a 10-0 victory over the San Francisco Giants in Game 6 Tuesday night, tying the series 3-3 and forcing tonight's elimination game.
Game 6 was also shown on a Jumbotron screen in front of City Hall and San Francisco police said there were no major problems or arrests among the hundreds of people who had gathered there.
Police, including Chief Greg Suhr, were there before the game confiscating alcohol, which is not allowed at the event.
Police are also prepared with extra staff if the Giants win and celebrations get destructive after the game, as they did in 2012 when fires were lit in the streets, businesses werevandalized and a San Francisco Municipal Railway bus was destroyed.
Patrols will primarily be watching for illegal activity in the city's South of Market neighborhood and Mission District, where most of the rioting happened in 2012.
Game 7 is scheduled for 5:07 p.m.
====================================================
Fatal Berkeley shooting
East Bay Regional Park District police are investigating a fatal shooting on Tuesday night near the Berkeley Marina.
Berkeley police initially responded around 8 p.m. Tuesday to a disturbance in the area of the Sea Breeze Market and Deli at 598 University Ave. near the entrance of the McLaughlin Eastshore State Park.
EBRPD police officers also responded and found a male victim on the ground suffering from a gunshot wound. He was pronounced dead at the scene, park police said.
Witnesses in the area reported hearing multiple gunshots, seeing two suspects running north along the frontage road and then seeing a vehicle fleeing in the opposite direction, according to police.
Authorities searched the area by ground and air but did not find any suspects. Numerous spent shell casings and a handgun were found at the scene, police said.
EBRPD police are handling the investigation into the fatal shooting and are working with the Alameda County coroner's bureau to identify the victim.
Anyone with information about the case is asked to call the department's investigations unit at (510) 690-6549 or police dispatch at (510) 881-1833.
====================================================
Social worker teen sex allegations
The director of the San Mateo County Human Services Agency said today she is "horrified" by allegations that one of her employees was arrested on suspicion of having sex with a 16-year-old girl he was supposed to help.
It was not the first accusation of inappropriate conduct against Department of Children and Family Services social worker Manuel Sedillo, according to agency director Iliana Rodriguez.
San Mateo County sheriff's deputies arrested Sedillo, 38, of Santa Clara, at about 12:15 p.m. Tuesday in Palo Alto on suspicion of unlawful sexual intercourse with a person under 18, oral copulation with a person under 18, sexual penetration with a person under 18, and disseminating sexual imagery to a person under 18 years old.
Earlier this month, sheriff's officials said a 16-year-old girl reported she had been having sex with her prior social worker assigned by the San Mateo County Department of Children and Family Services.
Deputies said they opened an investigation with the support of Children and Family Services and found evidence corroborating the girl's claims.
Rodriguez said her agency, which oversees Children and Family Services, first placed Sedillo on administrative leave on July 15 after receiving information regarding an alleged inappropriate relationship with another youth in his caseload.
Rodriguez said the incidents were alleged to have occurred in another county. Once she received the reports, Rodriguez said she immediately placed Sedillo on administrative leave and contacted law enforcement for a "rigorous investigation."
"I was shocked and just horrified when I heard these allegations in July," Rodriguez said.
She said the subsequent criminal investigation and an investigation by an external child welfare agency was deemed inconclusive. Regardless, Rodriguez said she found other issues with his job performance and did not reinstate him.
She said she issued a termination notice on Oct. 6 and Sedillo resigned on Oct. 24. Sedillo has been employed by the county since 2001 and with the department since 2006, Rodriguez said.
She said she could not disclose the age of the other alleged victim or the county in which the crimes were alleged to have occurred because they are now part of the new, ongoing investigation.
The department, along with law enforcement, is investigating Sedillo's full caseload to see if any other victims are found. She said she could not estimate how many cases he might have handled during his eight years in the department.
"We will not tolerate any misconduct," Rodriguez said. "It's unfortunate because social workers' goal is to support children and families and the image this leaves is really disheartening to the entire profession.
This is not what the profession is about."
Sedillo was booked into San Mateo County Jail and later posted $400,000 bail, deputies said. He is scheduled for arraignment on Dec. 1.
Sheriff's officials said they are concerned about the possibility that other girls may have been victimized.
Anyone who may have been victimized or who may have information about the case is asked to contact Detective Dan Hoss at (650) 363-4066 or dhosssmcgov.org or Detective Jesse Myers at (650) 363-4050 or jrmyerssmcgov.org.
====================================================
Boys and Girls Club embezzlement
A former employee of the Boys and Girls Clubs of Sonoma Valley was scheduled to be arraigned today in Sonoma County Superior Court for allegedly embezzling nearly $9,000 from the organization.
Robyn Lieberman Cabrera, 37, of Santa Rosa, allegedly set up a Boys and Girls Clubs PayPal account and transferred $6,300 to her personal account, Sonoma County sheriff' Sgt. Cecile Focha said.
Cabrera also made unauthorized online purchases on the PayPal account and had the items shipped to her home, Focha said. The total loss was estimated at $8,780.
Cabrera was the director of finance and human resources for the Boys and Girls Clubs of Sonoma Valley between January 2005 and January 2014, when she resigned, Focha said.
She was booked Friday into Sonoma County Jail on suspicion of embezzlement and grand theft and posted $10,000 bail.
The alleged embezzlement was discovered during an internal audit to the sheriff's office on Aug. 14, Focha said.
====================================================
Sonoma County Measure M
Sonoma County voters on Nov. 4 will consider Measure M, a one-eighth cent sales tax for 10 years to restore and enhance library hours and services.
The measure needs two-thirds approval to pass.
Sonoma County Library Director Brett Lear said approval of Measure M will reopen the county's libraries on Mondays and expand evening and weekend hours.
The regional library system serves 500,000 residents at 13 locations, including 11 full-service libraries and two rural stations.
Approximately 2 million people visit the county's libraries each year and check out more than 3.5 million books, DVDs, audio books and e-books, Lear said. More than 60,000 children attend story times, events and education classes annually, he said.
Lear said 98 percent of library funding comes from property taxes and property tax revenue for the libraries declined during the Great Recession.
During that time, operating hours were reduced 25 percent, employees took unpaid furloughs, benefits were reduced and staff vacancies went unfilled, Lear said.
The 10-year life of the tax will allow the library system to find additional sources of revenue from community organizations and the private sector, Lear said.
====================================================
San Jose home robbery arrests
A man and his alleged female accomplice were arrested last week in connection with a July armed robbery of residents at a home in south San Jose, a police spokeswoman said.
Christopher Nguyen and Tiffany Nguyen, both 19 and from San Jose, were booked into Santa Clara County Main Jail on suspicion of robbery, false imprisonment, conspiracy to commit robbery and possession of a firearm during the commission of a robbery, according to San Jose police Sgt. Heather Randol.
San Jose police's MERGE unit apprehended the pair at 3:41 p.m. Thursday following an investigation into a July 30 home invasion robbery in the 7000 block of Anjou Creek Court, about a block south of Almaden Expressway, police said.
According to police, Christopher Nguyen broke a glass window and forced his way into the house while possessing two firearms.
A person sleeping inside the home awoke to the sound of the glass breaking, went to investigate and came face-to-face with the intruder, police said.
Officers said Christopher Nguyen then allegedly bound the victim with zip ties and ransacked the home while searching for valuables to steal before leaving the scene.
The Police Department's robbery unit conducted an investigation and determined that Tiffany Nguyen had served as the lookout for her cohort during the robbery, Randol said.
Anyone with further information about the case is urged to contact the robbery unit at (408) 277-4166. To leave an anonymous tip, people can call the Silicon Valley Crime Stoppers Tip Line at (408) 947-7867.
====================================================
Oakland mayoral election
Among the many issues in the 15-candidate Oakland mayoral election on Nov. 4 is the performance of incumbent Mayor Jean Quan during her four years in office and whether she deserves another term.
Quan acknowledged in an interview that, "I've made mistakes" but said she thinks she is "a stronger mayor" now than she was when she took office in January 2011.
Quan said she began her term at "a very tough time" because Oakland faced a large budget deficit and other problems but she thinks she has turned the city around and things are going in the right direction now.
Quan said that among her accomplishments are balancing the city's budget, reducing the city's homicide rate to its lowest level in 15 years and helping the Oakland Police Department comply with most of the reforms that were mandated in the 2003 settlement of a police misconduct lawsuit.
Quan, who faced two recall petitions early in her term, said, "I want to be judged by my results" and "I'd like a chance to finish what I started."
City Councilwoman Rebecca Kaplan didn't mention Quan's name but said she's running for mayor because she thinks Oakland needs strong leadership and the ability to get things done.
Kaplan, who finished third in the 2010 election with 21 percent of the vote in the first round of voting in the city's ranked-choice system and is the frontrunner in most pre-election polls, said Oakland has been budgeting for more public services, such as hiring more police officers and dispatchers and improving animal services, than the city has been receiving.
Kaplan said, "I would fix that immediately," Kaplan said.
City Councilwoman Libby Schaaf criticized Quan for being slow to fill vacant positions in the Police Department, which had its staffing decline from 831 officers six years ago to the low 600s earlier this year.
"My frustration is that the city wouldn't fill positions that were in the budget," Schaaf said. "You have to stay on top of it every day."
Quan said the number of officers will be increased to 715 on Friday when about 35 cadets graduate from the most recent of a series of police academies the city has held in recent years to boost the staffing level.
It will be the first time since 2010 that Oakland has had more than 700 officers, Quan said.
But Schaaf said she doesn't think the city would have that level of officers without an ordinance she sponsored earlier this year that requires it to fully staff the Police Department and alert the City Council
and the public when staffing numbers are falling behind projections in the
budget.
"The policy I wrote is pushing the administration to hire more police officers that are in the budget," Schaaf said.
Joe Tuman, a college professor and political commentator who finished fourth in the 2010 election with 12 percent of the vote, said Oakland police Chief Sean Whent has said the city should have at least 900 officers but the city "is nowhere near that."
Tuman said that although the number of homicides has dropped in the past year, the average number of homicides annually during Quan's term is still high and "public safety is still the top issue" when he talks to the city's voters.
Tuman said Oakland's public safety problem has less to do with homicides and more to do with other types of crimes, such as economic and property crimes, including assaults, robberies and burglaries.
Tuman said home burglaries may be down this year compared to last year but "they are still terrible numbers" and he attributes part of the decline to some neighborhoods hiring private security firms to patrol areas that the Police Department doesn't have the budget to patrol.
"There's a failure of the city to deliver public services," he said.
Tuman said he would get the funding to increase the staffing in the Police Department by "changing the culture at City Hall to make Oakland a more business-friendly place" because profitable businesses generate tax revenues for the city.
He said Oakland is home to many public agencies and non-profit agencies but it needs to attract more businesses that pay taxes.
Schaaf also criticized Quan's leadership style, saying the city has had five different city administrators and four different police chiefs during her tenure.
"There are a lot of people who have had the word 'interim' in front of their title," Schaaf said. "The city needs effective leadership."
Quan responded by saying that Deanna Santana was city administrator during most of her term and that this hasn't been an easy period to hire people. Henry Gardner is Oakland's interim city administrator.
Quan said it wouldn't be practical to hire a new permanent city administrator until after the election and Gardner is the "perfect" interim city administrator because he served in the position in the past for many years under previous mayors.
Kaplan said if she's elected mayor, she would work to have "a stronger future for everyone in the city" by emphasizing affordable housing and a Police Department "that bonds with all."
Kaplan said she would also like to require that the Police Department hire more Oakland residents and require businesses who get contracts with the city to hire more Oakland residents.
"I want economic opportunity for everyone in the city, including housing for everyone," Kaplan said.
Tuman said that in addition to hiring more police officers, he would like to address poverty in Oakland, improve housing and partner with the Oakland Unified School District to create more jobs for youths in the city.
Schaaf said she would also like to partner with the school district "to improve outcomes for kids."
Schaaf said, "I know Oakland can do better and can be safer, cleaner and take better care of its children."
Bryan Parker, a former health care and tech executive and former Port of Oakland commissioner, said he would focus on education and economic opportunities because there are "pockets of hopelessness in communities of color and among the poor.
Parker said the city must address the fact that only 40 percent of black and Hispanic males in Oakland graduate from high school and the unemployment rate in East Oakland and West Oakland is 30 percent.
Parker said voters should consider an "outside" candidate such as him "so Oakland can reach its full potential."
City Auditor Courtney Ruby said the city is wasting millions of taxpayer dollars and she has "the financial expertise to drive results" to make the city better.
One of the other top candidates for mayor is longtime civil rights lawyer and community activist Dan Siegel, who briefly served as a legal adviser to Quan before resigning in the fall of 2011 to protest the city's crackdown on Occupy Oakland protesters.
Siegel previously served as president of the Oakland school board and the Oakland Housing Authority commission.
The eight other candidates in the race are Jason "Shake" Anderson, Ken Houston, Saied Karamooz, Peter Liu, Patrick McCullough, Nancy Sidebotham, Charles Ray Williams and Eric Wilson.
====================================================
Sonoma County election
A five-term Windsor Town Council member and a former official in the U.S. Department of Agriculture under President Barack Obama are running for Sonoma County's 4th District Board of Supervisor seat in next week's election.
Deb Fudge, 58, or James Gore, 36, will take the seat of Supervisor Mike McGuire, who is running for state senator.
Fudge, who has the support of labor unions and environmentalists, said she has helped the town of Windsor transform "from an exit on the highway to a town with heart" during her years on the Town Council.
"Rather than pit agriculture vs. the environment or business interests vs. labor, we must work together to tackle problems," Fudge said in her ballot statement.
This is Fudge's third try for the 4th District seat. She has a master's degree in environmental planning, spent 18 years as an environmental manager and owns her own business, Wine Country Preserves.
Fudge is advocating for safe, reliable water for agriculture, businesses and residences and water conservation and reuse, the completion of the SMART commuter train in Marin and Sonoma counties, a proposed 0.25 percent tax for road repairs that will go before voters in March, a $15 per hour living wage for employees of companies that contract with the county and county employees, urban growth boundaries and shelters for women who are victims of domestic violence.
Fudge wants 10 percent of the road tax to go toward mass transit.
Fudge cites support from local nurses and the Sierra Club, state Assemblyman Jared Huffman, outgoing state Sen. Noreen Evans, Sonoma County District Attorney Jill Ravitch and Sonoma County Sheriff Steve Freitas, Supervisors Shirlee Zane and Susan Gorin, the Sonoma County Law Enforcement Association and former Congresswoman Lynn Woolsey.
Gore, a Sonoma County native, is a former assistant chief of the U.S. Department of Agriculture's Natural Resources Conservation Service, says he has led conservation efforts locally and nationally.
He currently owns and operates a small business as a consultant for agriculture and national resource management and economic prosperity in rural areas.
"As a former Peace Corps volunteer, fluent Spanish speaker, and small business owner, I'm committed to representing Sonoma County's diverse interests," Gore said in his ballot statement.
His five-point plan proposes job creation, protecting water resources, reforming pensions and fixing roads, maintaining public safety and strengthening schools.
Gore said he has refused to sign pledges that would commit him to vote on an issue without knowing the facts that should dictate a decision. He also advocates for more transparency and accountability in law enforcement.
Gore's supporters include the Sonoma County Farm Bureau, the Sonoma County Alliance, Windsor Town Councilmembers Bruce Okrepkie, Steve Allen and Robin Goble, four Healdsburg City Council and Cloverdale City Council members, the North Bay Association of Realtors, North Coast Builders Exchange, Santa Rosa Firefighters Association and Supervisor David Rabbitt.
Both candidates placed in the top two in the June primary election.
If Fudge wins, there will be three women on the five-member Board of Supervisors for the first time.
====================================================
Weather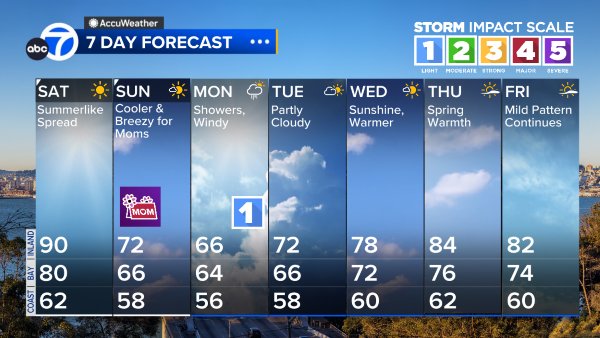 Tonight will be mostly clear early, with high clouds increasing overnight. Low temperatures will range from the upper 40s in the North Bay valleys to low and mid 50s across the remainder of the Bay Area. Tomorrow will become increasingly cloudy, with rain developing overnight into Friday morning. Highs tomorrow will range from upper 60s at the coast to near 80 inland. Friday, which is Halloween, is shaping up to be a wet and rainy day.
Concord
77
Oakland
72
Redwood City
76
San Francisco
69
San Jose
76
Santa Rosa
75Coast
Tonight: Partly Cloudy
Lows: Low 50s
Tomorrow: Sun and High Clouds
Highs: Mid to Upper 60s
East Bay
Tonight: Partly Cloudy
Lows: Low to Mid 50s
Tomorrow: Sun and High Clouds
Highs: Low to Mid 70s
East Bay Valleys
Tonight: Partly Cloudy
Lows: Low 50s
Tomorrow: Sun & High Clouds
Highs: Upper 70s to Near 80
North Bay Valleys
Tonight: Partly Cloudy
Lows: Upper 40s to Around 50
Tomorrow: Sun and High Clouds
Highs: Mid 70s
Peninsula
Tonight: Partly Cloudy
Lows: Mid 50s
Tomorrow: Sun and High Clouds
Highs: Low to Mid 70s
South Bay
Tonight: Partly Cloudy
Lows: Low to Mid 50s
Tomorrow: Sun and High Clouds
Highs: Mid to Upper 70s
Friday:
Wet and Rainy Halloween
Highs: Low 60s Coast to Upper 60s Inland