Lefty O'Doul's toy drive
A Christmas toy drive was underway at Lefty O'Doul's restaurant in San Francisco this morning in an effort to collect more than 10,000 toys in one day for children in need.
The toy drive started at 5 a.m. at 333 Geary St. and will go to 11 p.m.
"We have never seen it so bad," said Lefty O'Doul's owner Nick Bovis.
Bovis is asking shoppers and caring residents to drop off a toy and make this year's drive the most successful of all.
This year is the 14th year of Lefty O'Doul's drive.
Toys are being accepted from cars driving by the restaurant on Geary Street near Powell Street. From there, volunteers will be making deliveries all over San Francisco.
====================================================
SFO delays
Passengers on planes arriving at San Francisco International Airport today may be delayed up to two hours, airport officials said this morning.
Low cloud ceilings are expected to force SFO to begin a delay program at 9 a.m. with delays of up to 116 minutes, airport duty manager Linda Perry said. The program slows the arrival rate of planes landing at SFO to ensure passenger safety.
Officials expected planes arriving from airports within 1,600 miles of SFO to be affected, Perry said. That distance includes cities such as Denver and Salt Lake City.
Officials expect the delays to last until 5 p.m. Departing planes may be delayed as well.
====================================================
Hawaiian Airlines flight rerouted
Oakland International Airport officials said a Hawaiian Airlines flight from Sacramento was rerouted to Oakland this morning because of a mechanical issue.
Flight 19 took off from Sacramento toward Honolulu but changed course because of the mechanical issue, airport spokesman Keoni Wagner said.
Wagner said the rerouting is not because of an emergency.
The flight landed in Oakland around noontime.
====================================================
LGBT protesters march in San Francisco
Protesters marched up Market Street in San Francisco this morning to demand accountability and transparency for police following multiple recent deaths of unarmed black men at the hands of officers.
At about 8:30 a.m., protesters gathered at the San Francisco LGBT Community Center at 1800 Market St. and then walked to Octavia Boulevard and the off-ramp from U.S. Highway 101, where they blocked the street to traffic.
SF Queers 4 Black Lives, a group of lesbian, gay, bisexual and transgender people and their supporters, were among the marchers, protester Ammi Keller said.
Keller said the protest was an effort to "keep the pressure on during the holidays" following weeks of protests in the Bay Area recently.
The rallies followed the decision by grand juries not to indict police officers in the deaths of Michael Brown in Ferguson, Missouri, and Eric Garner in New York.
The group this morning updated their progress via the Twitter profile SFQueers4BL and posted videos of a large group of protesters placing a large pink triangle in the middle of the intersection of Market Street and Octavia Boulevard.
The group then moved up Market Street to the intersection with Castro Street and placed the pink triangle there while blocking traffic.
San Francisco police said the demonstration ended and all streets reopened to traffic shortly after 10 a.m.
====================================================
Man struck by van in Fruitvale
A man who was killed early Tuesday morning when he was struck by a van in Oakland's Fruitvale district has been identified by the Alameda County coroner's bureau as 53-year-old John Stout.
Police said Stout, an Oakland resident, appears to have been walking east in the roadway in the 3100 block of International Boulevard shortly after midnight when he was struck by the eastbound van. Paramedics pronounced him dead at the scene.
The van driver remained at the scene and is cooperating with investigators. Speed does not appear to have been a factor in the fatal collision and investigators do not yet know if drugs or alcohol played a role, according to police.
Anyone who has information about the collision is asked to call Oakland police at (510) 777-8570.
====================================================
Man arrested for stealing, selling Caterpillar excavator
Petaluma police arrested a 19-year-old Sonoma County resident Tuesday on suspicion of offenses including stealing and selling a Caterpillar excavator estimated to be worth $40,000 in October, police have announced.
Police arrested Tre Miller on suspicion of two counts of vehicle theft, two counts of grand theft, three counts of burglary, two counts of forgery and one count of identity theft.
Detectives from the department's investigations unit and officers from the Sonoma County Auto Theft Task Force started investigating the excavator theft from a job site on the corner of East Washington and Payran streets sometime on a weekend in late October.
Investigators determined Miller allegedly sold the excavator under false pretenses to an unwitting buyer in Sonoma County.
In two subsequent months of investigations, police allege Miller stole checks from homes as he worked for a moving company, used stolen credit cards to buy property and used forged checks and false pretenses to buy or attempt to buy vehicles from dealerships in five California counties, including three in the Bay Area.
Police arrested Miller without incident and booked him into Sonoma County Jail. His bail is $90,000.
====================================================
San Carlos robbery suspects arrested
San Mateo County sheriff's deputies arrested one man and two juveniles on suspicion of a robbery and attempted burglary in San Carlos on Tuesday afternoon.
Juan Cruz Diaz, 18, of Redwood City and two 17-year-old suspects were taken into custody in connection with two separate incidents, both in San Carlos, according to the sheriff's office.
At about 12:20 p.m., a resident in the 400 block of Shelford Avenue reported confronting three suspects inside his home.
The victim recalled being hit on the head with some type of object but did not report any serious injuries. He said the three suspects then ran out of his house, sheriff's officials said.
Deputies arrived at the scene within minutes, but were not able to locate the suspects.
About a half-hour later, a resident on Oak Creek Lane reported a suspicious vehicle in her driveway and an unknown person coming out of her backyard.
The resident was able to block in the suspects' car with her own car and dial 911.
When deputies arrived, they were able to detain all three suspects, who matched the description of the trio involved in the earlier robbery on Shelford Avenue.
Investigators obtained evidence linking the three suspects to both cases, although it was determined that the second incident was an attempted entry that was not completed.
Diaz was booked into the Maguire Correctional Facility in Redwood City and the two 17-year-old suspects were booked into the San Mateo County Youth Services Center.
Anyone with information about the incidents is asked to contact Detective Andrew Armando at (650) 363-4347 or via email at aarmandosmcgov.org. Anonymous witnesses can call the San Mateo County Sheriff's Office's Anonymous Witness Line at (800) 547-2700.
====================================================
San Jose burglary suspects arrested
Police arrested five suspects who allegedly burglarized a home in San Jose on Tuesday afternoon and were later found in a stolen car, a police spokesman said today.
The burglary was reported around 4 p.m. Tuesday in the 1700 block of Locksley Park Drive off of Hostetter Road, San Jose police spokesman Officer Albert Morales said.
Someone reported a break-in into their neighbor's home and gave a detailed description of the suspect vehicle, Morales said.
Officers responded and searched nearby areas and eventually found a vehicle on Florence Court matching the neighbor's description. Two adults and three juveniles were inside the car, which also contained property from the burglarized home, according to Morales.
Police determined the car had also been stolen out of San Jose and arrested the five suspects, whose names were not immediately available, on suspicion of burglary and possession of a stolen vehicle, Morales said.
====================================================
Stolen guns, property in Diamond Heights
San Francisco police have announced the arrest of four suspects who allegedly stole guns and other property from a home in the city's Diamond Heights neighborhood last week.
Raquel Sutter, 58, of San Francisco, Marina Lopez-Olsen, 48, of Daly City, Edward Olsen, 53, and Anthony Daher, 51, both of San Francisco, were arrested in connection with a burglary on Dec. 16 at a home in the 200 block of Gold Mine Drive, according to police.
Officers responded to a report of a burglary in progress and arrested three of the suspects at the scene while a fourth escaped, police said.
Investigators learned that a large amount of property had been stolen from the home, including a number of guns. They determined the
identity of the fourth suspect and got a search warrant for his residence, police said.
The next day, officers executed the search warrant and recovered seven shotguns, four rifles, three handguns, four pellet guns, a flare gun and a large amount of ammunition. Some methamphetamine was also recovered at the home, according to police.
The victims of the burglary later confirmed the guns were taken from their home, police said.
The four suspects were booked into jail on suspicion of burglary, receiving stolen property, weapons violations, possession of methamphetamine and conspiracy, according to police.
====================================================
Girl threatens mother with knife, chokes her
A 17-year-old girl was arrested Sunday in Carmel Valley after allegedly threatening her mother with a knife and choking her during an argument over a laptop computer, according to the Monterey County Sheriff's Office.
At 4:16 p.m. Sunday, deputies were dispatched to a home in the unincorporated area of Carmel Valley on a report from a woman who said her teenage daughter attacked her over a laptop she was holding, sheriff's Deputy Mike Shapiro said.
The woman's daughter held a kitchen knife in a threatening manner within arm's reach of her mother while demanding the computer using aggressive language, according to Shapiro.
When the parent went into another room to escape, the juvenile allegedly followed her and choked her with a shirt and then used her arm to put her mother into a chokehold, the deputy said.
The child also blocked her mother several times from calling 911 by taking away a cordless phone, Shapiro said.
The juvenile suspect then fled, but was located by deputies and detained. She refused to give a statement after receiving her Miranda rights against self-incrimination, he said.
Deputies arrested her on suspicion of robbery and assault with a deadly weapon, placed her into Monterey County's juvenile hall in Salinas and set her up for release to the custody of county Child Protective Services, Shapiro said.
The parent, who suffered minor visible injuries but declined medical treatment, will seek restraining orders, the deputy said.
====================================================
Neighbor assists in apprehension of theft suspects
An alert neighbor assisted in the apprehension of two juveniles suspected of theft Tuesday morning in Redwood City, according to police.
At approximately 9 a.m., police responded to a caller reporting a possible burglary in progress in the 100 block of E Street. The man said he had seen two unknown individuals enter a neighbor's backyard, police said.
Officers arrived within two minutes of the call and established a perimeter around the home. As the suspects exited, police said the pair tried to flee on foot but were captured after a brief pursuit.
Police say the suspects, both 14 years old, had stolen property from the residence in their possession.
The two juveniles were booked into the San Mateo County Juvenile Detention Center on suspicion of burglary.
Anyone with information regarding the burglary is encouraged to call Detective Jessica Gray at (650) 780-7129.
====================================================
Muni cable car lines down
San Francisco Municipal Railway's California and Powell-Hyde cable car lines are down this morning, Muni officials said.
Muni officials announced the service disruption at about 11:20 a.m. and said bus shuttles will take passengers along the routes.
No other information about the service disruption was immediately available.
====================================================
SF Superior Court's Unified Family Court judge announces retirement
The supervising judge of San Francisco Superior Court's Unified Family Court has announced her retirement effective next month, court officials said.
Judge Charlotte Walter Woolard will retire when her six-year term expires on Jan. 4, ending a 22-year tenure as a San Francisco judge.
Woolard was initially appointed as a judge in San Francisco Municipal Court in 1993 by then-Gov. Pete Wilson and was elevated by the governor to Superior Court two years later, court officials said.
During her time on the bench, she has served as presiding judge of the appellate division, presided over civil cases, as well as criminal ones including felony trials and juvenile hearings.
"It is difficult to leave the court after serving San Franciscans for nearly three decades, including my time as a prosecutor prior to my judicial appointment," Woolard said in a statement. "I have been honored to share the bench with an exceptional assembly of brilliant and compassionate jurists."
Woolard's retirement leaves three vacancies on the 52-member San Francisco Superior Court bench.
====================================================
Weather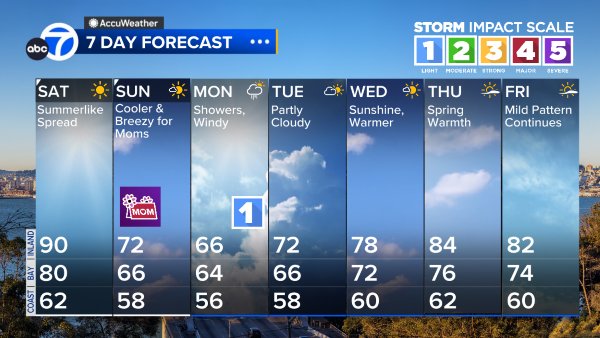 As a cold front sweeps through the area this evening, clearing skies will lead to a cool overnight period in the Bay Area. Lows in the low 40s to low 50s. Christmas Day features wall to wall sunshine and breezy winds, gusting over 25mph at times. Highs in the mid to upper 50s.
Santa Rosa
58
San Francisco
58
Oakland
59
San Jose
57
Concord
57Coast
Tonight: Clearing Skies
Lows: Low 50s
Tomorrow: Sunny
Highs: Upper 50s
North Bay
Tonight: Clearing Skies
Lows: Low to Upper 40s
Tomorrow: Sunny
Highs: Mid to Upper 50s
East Bay
Tonight: Clearing Skies
Lows: Upper 40s to Lower 50s
Tomorrow: Sunny
Highs: Upper 50s
Inland
Tonight: Clearing Skies
Lows: Low to Upper 40s
Tomorrow: Sunny
Highs: Mid to Upper 50s
Peninsula
Tonight: Clearing Skies
Lows: Upper 40s
Tomorrow: Sunny
Highs: Upper 50s
South Bay
Tonight: Clearing Skies
Lows: Mid to Upper 40s
Tomorrow: Sunny
Highs: Mid to Upper 50s
Friday
Sunshine is in full force for Friday and the gusty winds begin to weaken. Highs in the mid 50s to Lower 60s.