FRESNO COUNTY, Calif. --
Mandatory evacuations have been issued as efforts to put out the Rough Fire continue in eastern Fresno County. The wildfire has grown to more than 119,000 acres and is 29 percent contained.
The firefighting effort is growing as well. More than 2,200 personnel are battling the flames.
As the smoky fire spreads, many residents of the mountain communities are on their way out. A mandatory evacuation order is in place, and while the flames are still miles away from homes, the smoke is heavy.
"Scary, it's hard to breathe. We've been here three days already, and it's hard to breathe," said Manny Gonzalez of Dunlap.
The evacuation order includes the St. Nicholas Greek Orthodox Monastery. A small staff, however, remains in place. An evacuation center has been set up in Sanger for those who need it, and it will also accommodate their pets.
"We basically take care of their pets so they can take care of themselves while they are being evacuated," said Mary Reimer of the Central California Animal Disaster Team.
While many residents are leaving, more firefighters are arriving; nearly 2,200 are now fighting the Rough Fire, and their job is not getting any easier.
"Once again, we are having a really hot day, relatively low relative humidity. That combined with the terrain is just pushing this fire at a pretty rapid spread," said Paul Garnier of the Fresno Fire Department.
The Fresno County Sheriff's Office says most people in the affected areas are complying with the mandatory evacuation order. The order doesn't mean everybody has to leave. Able-bodied adults can stay, but children or anybody with a disability must be removed from the area.
EVACUATION CENTER
Sanger Community Center - 730 Recreation Ave. Sanger, CA
Evacuation Map
-
Evacuations are along the blue line. Authorities are starting at Millwood Road and moving east.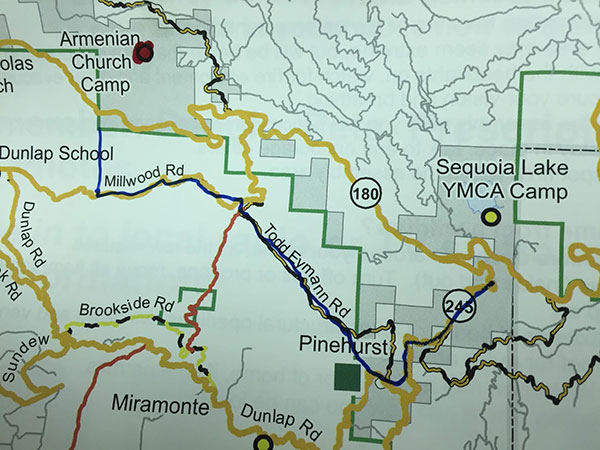 The Central CA Animal Disaster Team Activates Emergency Animal Shelter in Sanger, CA For Household Pets Affected By Rough Fire
The Central California Animal Disaster Team has been deployed by the Fresno County Office Of Emergency Services to assist with displaced small and large animals due to the Rough Fire.
Small animal evacuation shelter will be open for pets of families under mandatory evacuation orders:
CCADT has activated an emergency animal shelter for household pets at the same location where Red Cross has activated a human shelter - Sanger Community Center - 730 Recreation Ave. Sanger, CA. The shelter will be open on Friday, September 11th for residents under MANDATORY evacuation orders.
Large animal assistance.
CCADT is coordinating efforts with the Fresno County Sheriff's Office to evacuate large animals. If you need assistance with evacuation and sheltering for large animals (livestock, horses, etc.), please contact the Central CA Animal Disaster Team at 559-433-WOOF (9663).
Updates on changes available on the
CCADT.ORG
website or our Facebook page:
https://www.facebook.com/CCADT1
Donations are needed
: General monetary donations are GREATLY needed at this point. In kind donations cannot be taken because the shelter needs to remain mobile. To donate please visit:
http://www.ccadt.org/donate.html
Please work with emergency responders and follow all guidelines.
It is important to follow the evacuation guidelines with your pets. Safety is the number one priority for everyone. Please visit our website for help with evacuating with your pet and for items that should be kept in your pet's go bag.
Rough Fire Progression Map