A major typhoon hit Taiwan overnight, and just several hours later a plane crashed, killing at least 47 people.
Investigators are still trying to figure out what went wrong, but the tail end of the storm is suspected to be a major factor in the plane crash that occured in a residential area of Taiwan. Taiwan's Civil Aeronautics Administration says the TransAsia plane was carrying 54 passengers and four crew.
This video
shows rescuers at the scene of the crash.
AccuWeather meteorologist Anthony Sagliani tweeted an image showing what the radar looked like as the plane flew through the storm: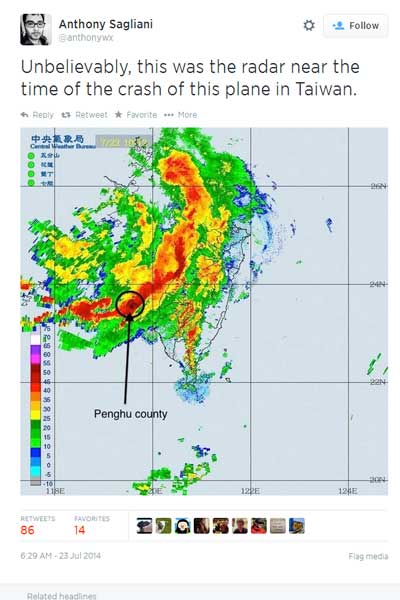 Taiwan's weather agency said Typhoon Matmo had gusts of 108 kilometers (67 miles) per hour and was moving at 20 kph (12 mph). The Fujian province's flood control headquarters said nearly 300,000 people had been evacuated ahead of the storm.
People across Taiwan posted
harrowing footage
of the high gusts and heavy rains on Instagram.
The Associated Press contributed to this report.