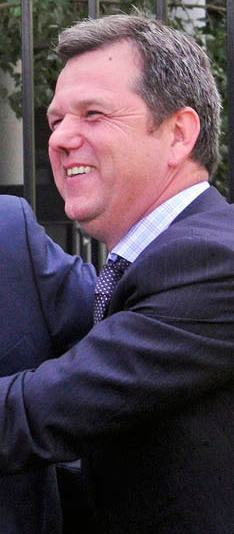 Centerplate, the catering company that operates the concession stands at the San Francisco Giants ballpark and Levi's Stadium in Santa Clara is parting ways with its CEO after a dog abuse scandal.
Desmond Hague, who was caught on surveillance video abusing his friend's puppy in an elevator, has resigned.
The footage from an apartment building in Vancouver shows Hague kicking the Doberman puppy and then yanking it up by a leash.
Centerplate announced in a statement Tuesday that Joe O'Donnell, chairman of the board of directors for the company, has been appointed to the role of acting president and CEO.
"We want to reiterate that we do not condone nor would we ever overlook the abuse of animals," said O'Donnell in the statement. "Following an extended review of the incident involving Mr. Hague, I'd like to apologize for the distress that this situation has caused to so many; but also thank our employees, clients and guests who expressed their feelings about this incident. Their voices helped us to frame our deliberations during this very unusual and unfortunate set of circumstances."
The Niners issued a statement to
ESPN.com
after the dog abuse scandal first broke. They wrote: "The San Francisco 49ers organization condemns the abuse of animals and was disturbed to learn of the recent news regarding Des Hague. We believe his actions are not reflective of the efforts and service provided by the hundreds of Centerplate employees working to present our fans with a tremendous experience at Levi's Stadium."
Centerplate says Hague will donate $100,000 to a foundation for animals.
He still faces potential criminal charges in Vancouver.