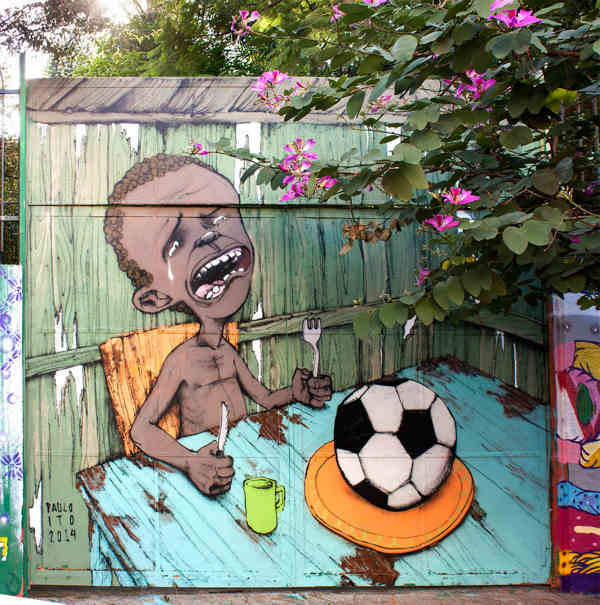 Image by Paulo Ito. See more on Flickr.
Street artist Paulo Ito has done some popular artwork before, but he's never received more attention than right now. He painted this mural on the door of a schoolhouse in So Paulo's Pompeia district. Since then, it has been shared and liked over 40,000 times and has taken off in Brazil.
You don't need to know much about Brazil to understand this simple yet poignant image: a starving, weeping child with nothing to eat but soccer. Brazil has recently come under scrutiny for spending billions on the World Cup while starvation and poverty remain dominant issues in the public discourse. While we're on the subject, here are some other controversies stirred up in the wake of this and previous World Cups.
1. The Anthem: Even international superstars like Jennifer Lopez and Pitbull couldn't save this year's official World Cup song, panned by critics and Brazilians alike for being chock-full of cliches and a generic, boring beat.
2. The Arenas: Brazil has spent record amounts on new and improved stadiums, inciting anger from residents who believe the money could be better spent.
3. The Transportation: There have been mass protests over Brazil's floundering transportation system. It's extremely crowded even on a normal day, as seen in the video below. Add World Cup fans to the mix and things could get out of control.
4. The Protests: Speaking of the protests, anti-World Cup demonstrations have drawn around 2 million people.
5. The Violence: From drug-infested slums and a high general crime rate to institutional clashes, the infrastructure of Brazil is not set up for so many unsuspecting tourists. If traveling to the World Cup, exercise caution and try not to wander around alone.
Paulo Ito's mural may be a harbinger of what is to come - a huge backlash against World Cup spending. Brazil has high hopes that all this controversy won't deter the nearly half a million football fanatics who will flood into the nation, come June.