June 13, 2014 (CHICAGO) --
The greatest sporting tournament on the planet is underway in Brazil. And on Opening Day the host nation's greatest star was THE star.
Forward Neymar scored the tying goal, and got the game winner after a gift from the Japanese referee Yuichi Nichimura. He called a penalty and gave a yellow card to Croatia's DeJan Lovren for holding "Fred" in the goal box area. Replays on ESPN showed that no penalty should have been called. Neymar tip-toed with the ball and then blasted a shot off the hands of Croatian keeper Stipe Pletikosa for the winner in the 71st minute.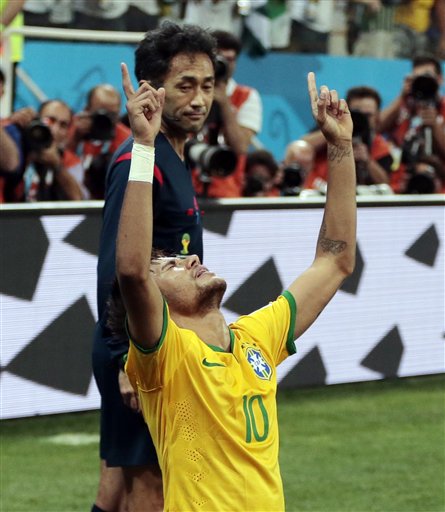 Assistant referee Nagi Toshiyuki from Japan watches as Brazil's Neymar celebrates his second goal on a penalty kick during the group A World Cup soccer match between Brazil and Croatia, the opening game of the tournament, in the Itaquerao Stadium in Sao Paulo, Brazil, Thursday, June 12, 2014. (AP Photo/Ivan Sekretarev)
Oscar scored in the 90th minute and Brazil wins the opener 3-1. Brazil's next match in Group A will take place next Wednesday against Mexico. And speaking of Mexico, they're up first against Cameroon at 11 AM CT. This will be another close to the vest matchup. I will pick Mexico to win 2-1.
Then at 2 PM CT, the match of the day features the number one team in the tournament, Spain taking on that great team from the Netherlands, Spain wins this one 2-1, and then at 5 PM CT Chile faces Australia, this is a tossup but I'll go with the Chileans by a 2-nothing victory.
Have a great Friday everyone and enjoy the World Cup on ESPN and ABC.
World Cup Blog Archive
Since joining ABC7 in 1982, Jim Rose has become a major force in Chicago sports broadcasting. He currently serves as sports anchor/reporter for ABC7 News in Chicago's top-rated 4:00 and 6:00 p.m. newscasts. He is an avid fan of the World Cup! Learn more about Jim