June 14, 2014 (CHICAGO) --
Day two of the FIFA World Cup was rife with bad refereeing and a first-class butt kicking by the Netherlands over the top ranked team in FIFA, Spain.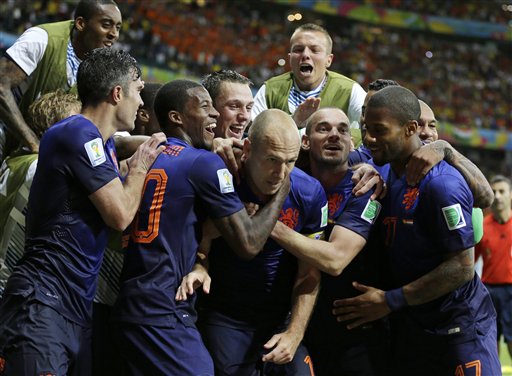 Netherlands' Arjen Robben, center, celebrates with his teammates after scoring his side's fifth goal during the second half of the group B World Cup soccer match between Spain and the Netherlands at the Arena Ponte Nova in Salvador, Brazil, Friday, June 13, 2014. (AP Photo/Natacha Pisarenko)
Spain took an early lead with Xavi Alonso's goal in the 27th minute on a penalty kick. But then the men of Orange came roaring back. Robin van Persie knocked home a beautiful header in the 44th minute followed 9 minutes later by Arlen Robben, and then the rout was on. Stefan De Vrij, Van Persie and then Robben knocked Spain's hopes of going unbeaten into next year. 5-1 was the final and now the Dutch control Group B.
In Mexico's game against Cameroon, the refereeing was absolutely HORRIBLE. Wilmar Roldan of Columbia better not show his face in Mexico City EVER. Giovani Dos Santos was robbed twice of goals in which the referee said he was off sides. Guaranteed he was not. Oribe Peralta was the man of the match for me, he scored the game winner in the 61st minute and was just a busy bee all over the pitch. And they played this game in a steady rain that was torrential at times.
In game three Chile took a 2-zip lead over Australia but in the end it was Chile 3, Australia 1.
Saturday, 4 matches take place. At 11am CT, FIFA's 8th ranked team, Columbia, faces 12th ranked Greece. I like Columbia in that one. Then at 2pm CT 7th ranked Uruguay will battle 28th rated Costa Rica, no brainer here, Uruguay wins. At 5pm CT the match of the day has 10th ranked England against perennial rival Italy, rated 9th, I'll take the English in this one and to cap it off at 8pm CT 23rd ranked Ivory Coast will meet 46th ranked Japan, how about I NOT go out on a limb and tell you that Cote d'Ivoire will get the 3 points.
The first two games are on the flagship network ABC and the Watch ABC App, the last two on the leader in sports television ESPN, enjoy!
World Cup Blog Archive
Since joining ABC7 in 1982, Jim Rose has become a major force in Chicago sports broadcasting. He currently serves as sports anchor/reporter for ABC7 News in Chicago's top-rated 4:00 and 6:00 p.m. newscasts. He is an avid fan of the World Cup! Learn more about Jim