Imagine applying for a job online where you get the attention you deserve. It's the next generation of job search and it's happening right now at
JobJournal.com
!
JobJournal.com
site uses micro-fees to improve results for both jobseekers and employers.
(Why the fees?)
It's a totally new type of job board designed to eliminate the majority of problems that
frustrate both sides
in the online employment process.
Exclusive job listings
Many employers are posting exclusive positions on Job Journal that otherwise may be found only by word-of-mouth networking, and job posts are protected from being hijacked by other job boards.
No more black holes
Job Journal keeps you in the loop on your application status so you know whether or not an employer is considering you for a position.
Are you an employer?
Imagine
posting your job openings online
where only qualified applicants apply! Here are some helpful
recruitment resources
.
VIDEO: The Next Generation of Online Recruitment
UPCOMING JOB FAIRS:
The East Bay's HIREvent (Emeryville)
Thursday, August 25, 2016, 12 p.m. - 4 p.m.
Hilton Garden Inn
1800 Powell Street, Emeryville, CA 94608
San Francisco's HIREvent
Wednesday, September 21, 2016, 12 p.m. - 4 p.m.
Holiday Inn Civic Center
50 Eighth Street, San Francisco, CA 94103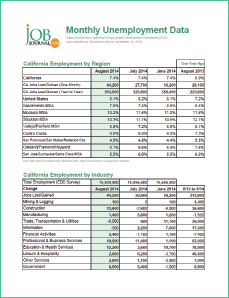 Northern California Unemployment Data
What are the unemployment rates in your region and industry? You can get updated every month on the number of jobs added or lost. Check out
the monthly stats
to learn more!
CAREER RESOURCES
Jobseeker Resources
Employment News from Around the Web
JobWire - Job Market Update
CAREER ARTICLES AND TIPS
Job Searching
A Better Resume
Preparing for a Job Fair
Job Searching for Teens
Dressing for Interviews
CAREER ADVICE
Advice from The Career Pros
Edgy Advice from The Brazen Careerist
Featured Columnist - Peter Weddle
Featured Columnist - Valerie Hausladen
Job Journal has been helping employers find exceptional people and job-seekers find outstanding opportunities for over 30 years.