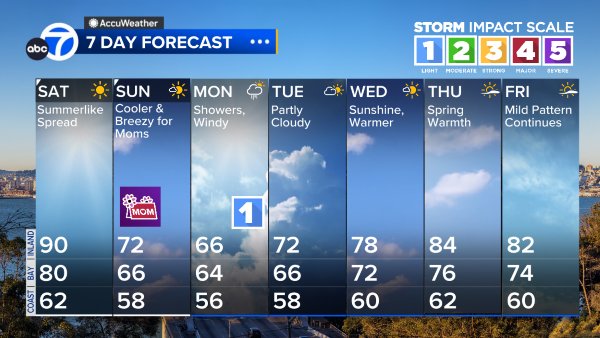 VIDEO:
Meteorologist Mike Nicco has your AccuWeather forecast
Storm Door Remains Opens
Fog, drizzle, light rain and isolated pockets of moderate rain for our morning commute today with mild temperatures, lower to upper 50s.
The steady rain tapers to periods of rain this afternoon. A mild and humid breeze boosts our afternoon temperatures into the lower 60s at the Coast with middle to upper 60s for the Bay and Inland neighborhoods. The storm remains a 1-Light on our exclusive ABC 7 Storm Impact Scale.
The strongest part of this storm arrives this evening and continues overnight. Moderate to heavy rain falls with an isolated thunderstorms and breezy conditions. The Storm Impact Scale increase to 2-Moderate. This will be the last morning of mild lows, lower to upper 50s. .
Thursday:
Rain tapers by the afternoon hours. The sun will peak through the clouds from time to time as we enjoy relatively dry weather before our next system arrives Friday. Be ready for cooler highs.
Concord: 67/56
Fremont: 66/56
Oakland: 65/56
Redwood City: 66/57
San Francisco: 64/55
San Jose: 68/58
San Rafael: 63/55
Santa Rosa: 63/54
WATCH LIVE: Track the storm with Live Doppler 7RELATED: The ABC7 News Storm Impact Scale explainedCoast
TODAY: Light Rain
Highs: 60 - 62 Degrees
TONIGHT: Moderate Rain
Lows: 53 - 56 Degrees
East Bay
TODAY: Light Rain
Highs: 64 - 66 Degrees
TONIGHT: Moderate Rain
Lows: 54 - 57 Degrees
East Bay Valleys
TODAY: Light Rain
Highs: 66 - 68 Degrees
TONIGHT: Moderate Rain
Lows: 53 - 57 Degrees
North Bay Valleys
TODAY: Light Rain
Highs: 63 - 65 Degrees
TONIGHT: Moderate Rain
Lows: 51 - 55 Degrees
Peninsula
TODAY: Light Rain
Highs: 64 - 66 Degrees
TONIGHT: Moderate Rain
Lows: 54 - 58 Degrees
South Bay
TODAY: Light Rain
Highs: 65 - 68 Degrees
TONIGHT: Moderate Rain
Lows: 53 - 58 Degrees