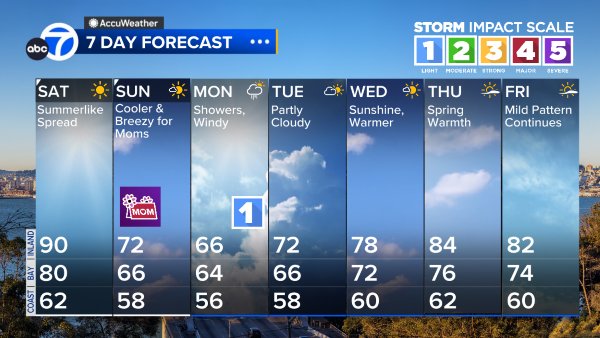 VIDEO:
Meteorologist Mike Nicco has your AccuWeather forecast
Heaviest Rain this Morning
Drenching rain falls during our morning commute today. Watch out for standing water and breezy conditions near the Coast and on our bridges. The storm ranks 2-Moderate on our Storm Impact Scale. Temperatures begin in the upper 50s to lower 60s and stay there through the morning. A sharp cold front creates more showers and thunderstorms late this morning through the afternoon hours. Stout southerly breezes between 30-45 mph becoming northerly once the front passes. Temperatures drop into the middle to upper 50s this afternoon. You will need an umbrella and sunglasses today.
RELATED: The ABC7 News Storm Impact Scale explained
Clearing clouds this evening open us to thick fog formation overnight. Temperatures will be significantly cooler tomorrow morning, upper 30s to upper 40s.
Friday:
Scattered light showers mainly stay in the North Bay until late in the afternoon when they begin spreading south. The storm decreases to a 1-Light on our Storm Impact Scale. High remain below average in the middle to upper 50s.
Concord: 60/42
Fremont: 60/43
Oakland: 59/46
Redwood City: 59/43
San Francisco: 58/47
San Jose: 61/43
San Rafael: 58/43
Santa Rosa: 59/38
WATCH LIVE: Track the storm with Live Doppler 7Coast
TODAY: Rain then Showers
Highs: 55 - 57 Degrees
TONIGHT: Foggy
Lows: 41 - 46 Degrees
East Bay
TODAY: Rain then Showers
Highs: 58 - 60 Degrees
TONIGHT: Foggy
Lows: 43 - 48 Degrees
East Bay Valleys
TODAY: Rain then Showers
Highs: 60 - 62 Degrees
TONIGHT: Foggy
Lows: 39 - 44 Degrees
North Bay Valleys
TODAY: Rain then Showers
Highs: 58 - 60 Degrees
TONIGHT: Foggy
Lows: 37 - 42 Degrees
Peninsula
TODAY: Rain then Showers
Highs: 58 - 60 Degrees
TONIGHT: Foggy
Lows: 43 - 48 Degrees
South Bay
TODAY: Rain then Showers
Highs: 59 - 61 Degrees
TONIGHT: Foggy
Lows: 39 - 44 Degrees