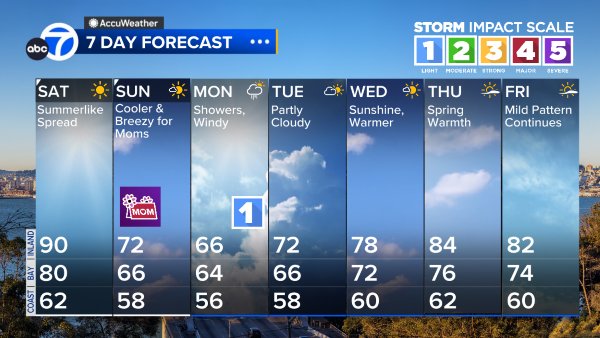 VIDEO:
Meteorologist Mike Nicco has your AccuWeather forecast
Chance of Showers through Weekend
First things first, it's chilly to cold this morning. Temperatures range from the lower 30s Inland to middle 40s in San Francisco and Coast. These are up to 25 degrees cooler than yesterday morning.
A cold core system slides south from the Gulf of Alaska today and lingers for the weekend. Both today and tomorrow scattered showers develop in the North Bay during the morning and slide south during the afternoon and evening hours.
By Sunday, the chance of showers tapers to just isolated coverage. The storm ranks a 1-Light on our ABC7 Storm Impact Scale. Total rainfall ranges from .10" in the South Bay to .33" in the North Bay. The snow level starts at 4,000' today and drops to 3,000' by Sunday. Mendocino County has the best chance of experiencing thunderstorms. Lake County has the best chance of seeing snow.
RELATED: The ABC7 News Storm Impact Scale explained
This is not an all-day rain event. The majority of outdoor activities will remain dry, especially Sunday. You will need a jacket as high temperatures remain cooler than average, middle to upper 50s.
Concord: 59/45
Fremont: 60/45
Oakland: 59/46
Redwood City: 60/45
San Francisco: 58/45
San Jose: 61/46
San Rafael: 58/43
Santa Rosa: 56/39
WATCH LIVE: Track the storm with Live Doppler 7Coast
TODAY: Scattered Showers
Highs: 55 - 57 Degrees
TONIGHT: Mostly Cloudy
Lows: 43 - 47 Degrees
East Bay
TODAY: Scattered Showers
Highs: 58 - 60 Degrees
TONIGHT: Mostly Cloudy
Lows: 43 - 48 Degrees
East Bay Valleys
TODAY: Scattered Showers
Highs: 58 - 60 Degrees
TONIGHT: Mostly Cloudy
Lows: 41 - 46 Degrees
North Bay Valleys
TODAY: Scattered Showers
Highs: 56 - 59 Degrees
TONIGHT: Mostly Cloudy
Lows: 38 - 43 Degrees
Peninsula
TODAY: Scattered Showers
Highs: 58 - 60 Degrees
TONIGHT: Mostly Cloudy
Lows: 44 - 49 Degrees
South Bay
TODAY: Scattered Showers
Highs: 59 - 61 Degrees
TONIGHT: Mostly Cloudy
Lows: 42 - 47 Degrees