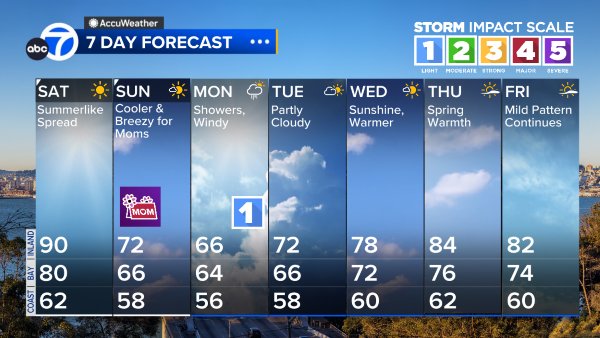 VIDEO:
Weather Anchor Spencer Christian's forecast
Tonight will be partly cloudy early, with increasing clouds overnight. There will also be areas of fog in the North Bay and inland East Bay. Overnight lows will be in the upper 30s to low 40s.
Rainy and windy conditions will develop in the North Bay in the early morning hours, and the rain and wind will spread southward and eastward covering the entire Bay Area by midday.
This is a storm of moderate intensity, and it ranks "2" on the ABC 7 Storm Impact Scale. Tomorrow's high temperatures range from the mid to upper 50s. Scattered showers will linger into Thursday, and we can expect sunnier, drier, and milder days over the weekend.
Concord
57
Oakland
57
Redwood City
58
San Francisco
56
San Jose
61
Santa Rosa
54Coast
Tonight: Partly Cloudy/Patchy Fog
Lows: Low 40s
Tomorrow: Rainy & Windy
Highs: Mid 50s
East Bay
Tonight: Partly Cloudy/Patchy Fog
Lows: Near 40
Tomorrow: Rainy & Windy
Highs: Mid to Upper 50s
East Bay Inland
Tonight: Partly Cloudy/Areas of Fog
Lows: Near 40
Tomorrow: Rainy & Windy
Highs: Upper 50s
North Bay
Tonight: Increasing Clouds/Rain by Morning
Lows: Upper 30s
Tomorrow: Rainy & Windy
Highs: Mid 50s
Peninsula
Tonight: Partly Cloudy
Lows: Near 40
Tomorrow: Rainy & Windy
Highs: Mid to Upper 50s
South Bay
Tonight: Partly Cloudy & Chilly
Lows: Upper 30s to Low 40s
Tomorrow: Rainy & Windy
Highs: Near 60
Thursday:
Scattered Showers
Highs: Mid 50s Coast to Upper 50s Inland