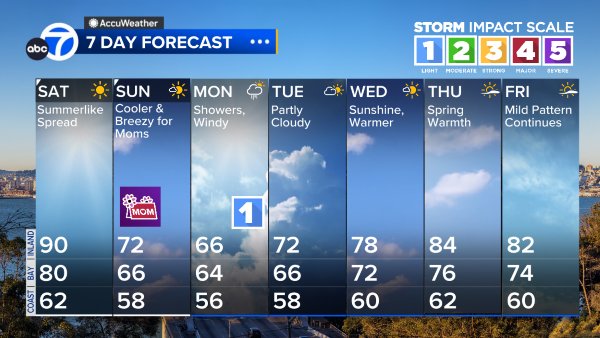 VIDEO: Meteorologist Mike Nicco has your AccuWeather forecast
Tonight will be mostly clear inland, with patchy fog near the coast and bay. Overnight lows will be mainly in the mid 40s. Tomorrow will be sunny and mild, with highs ranging from around 60 at the coast to upper 70s inland. Warmer days will follow over the weekend, as inland temperatures reach into the mid 80s; and the warmth will hold on into early next week.
SMALL CRAFT ADVISORY Bay
: Today 9 a.m. - Friday 3 a.m.
SMALL CRAFT ADVISORY Ocean
: Today 9a.m. - Friday 3 a.m.
Concord
77
Oakland
68
Redwood City
71
San Francisco
64
San Jose
74
Santa Rosa
76Coast
Tonight: Partly Cloudy
Lows: Mid 40s
Tomorrow: Sunny, Breezy, & Mild
Highs: Around 60
East Bay
Tonight: Partly Cloudy
Lows: Mid to Upper 40s
Tomorrow: Sunny & Mild
Highs: Upper 60s
East Bay Valleys
Tonight: Mostly Clear
Lows: Mid 40s
Tomorrow: Sunny & Mild
Highs: Upper 70s
North Bay Valleys
Tonight: Mostly Clear
Lows: Around 40
Tomorrow: Sunny & Mild
Highs: Mid 70s
Peninsula
Tonight: Partly Cloudy
Lows: Mid to Upper 40s
Tomorrow: Sunny & Mild
Highs: Around 70
South Bay
Tonight: Mostly Clear
Lows: Mid 40s
Tomorrow: Sunny & Mild
Highs: Mid 70s
Saturday:
Sunny & Warmer
Highs: Mid 60s Coast to Low & Mid 80s Inland