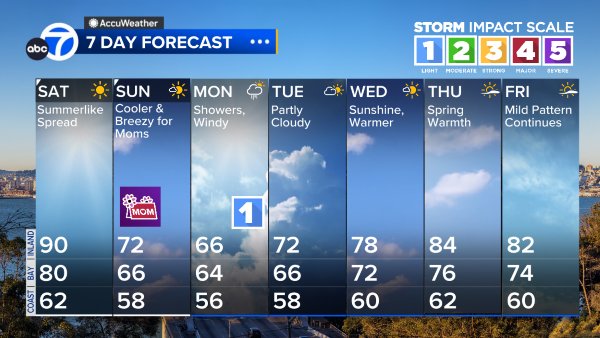 Weather anchor Spencer Christian
has your local AccuWeather forecast.
Tonight will be partly cloudy with widespread areas of fog and spotty early morning drizzle. Low temperatures will be mainly in the mid 50s. Tomorrow will be mostly sunny, with highs ranging from near 60 at the coast to low 80s inland. The weekend will bring a slight drop in temperatures on Saturday, followed by minor inland warming on Sunday. Overall, no significant change in our current weather pattern is likely in the next few days.
SMALL CRAFT ADVISORY
: Today 1 p.m. - 9 p.m.
Concord:
80
Oakland:
68
Redwood City:
72
San Francisco:
63
San Jose:
76
Santa Rosa:
75Coast
Tonight: Areas of Fog
Lows: Low to Mid 50s
Tomorrow: Partly Cloudy
Highs: Near 60
East Bay
Tonight: Areas of Fog
Lows: Mid 50s
Tomorrow: Mostly Sunny
Highs: Upper 60s to Low 70s
East Bay Valleys
Tonight: Patchy Fog
Lows: Mid 50s
Tomorrow: Mostly Sunny and Mild
Highs: Low to Mid 80s
North Bay Valleys
Tonight: Patchy Fog
Lows: Low 50s
Tomorrow: Mostly Sunny
Highs: Mid to Upper 70s
Peninsula
Tonight: Areas of Fog
Lows: Mid to Upper 50s
Tomorrow: Mostly Sunny
Highs: Low to Mid 70s
South Bay
Tonight: Patchy Fog
Lows: Mid to Upper 50s
Tomorrow: Mostly Sunny and Cooler than Average
Highs: Mid 70s to Low 80s
Saturday:
Partly Cloudy and Mild
Highs: Near 60 Coast to Mid 80s Inland