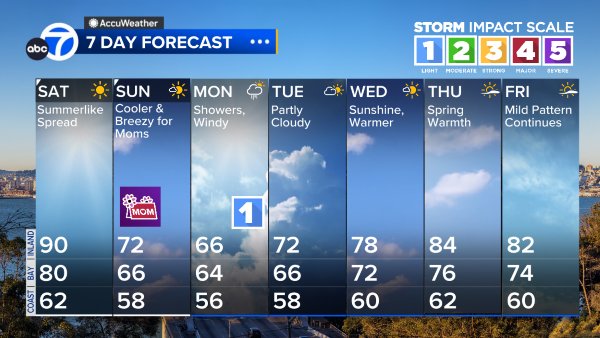 Weather Anchor Spencer Christian
has your local AccuWeather forecast.
WIND ADVISORY
: Today 11 p.m. - Tomorrow 10 a.m.
Tonight will be clear, with breezy conditions near the coast and bay and gusty winds over the hills. Overnight lows will be mainly in the upper 40s to low 50s. Tomorrow and Sunday will be sunny and warm, with highs ranging from low 70s at the coast to mid 80s inland. A cooler pattern will develop on Monday, followed by increasing clouds later next week.
Concord
84
Oakland
78
Redwood City
78
San Francisco
74
San Jose
79
Santa Rosa
83Coast
Tonight: Clear & Breezy
Lows: Upper 40s
Tomorrow: Sunny & Breezy
Highs: Upper 60s to Low 70s
East Bay
Tonight: Clear & Breezy
Lows: Around 50
Tomorrow: Sunny & Mild
Highs: Upper 70s to Near 80
East Bay Valleys
Tonight: Clear
Lows: Upper 40s to Around 50
Tomorrow: Sunny & Warm
Highs: Low to Mid 80s
North Bay Valleys
Tonight: Clear
Lows: Mid 40s
Tomorrow: Sunny & Warm
Highs: Low to Mid 80s
Peninsula
Tonight: Clear & Breezy
Lows: Around 50
Tomorrow: Sunny & Mild
Highs: Upper 70s to Around 80
South Bay
Tonight: Clear
Lows: Upper 40s to Around 50
Tomorrow: Sunny & Mild
Highs: Upper 70s to Around 80
Sunday:
Sunny & Warm
Highs: Low 70s Coast Mid 80s Inland