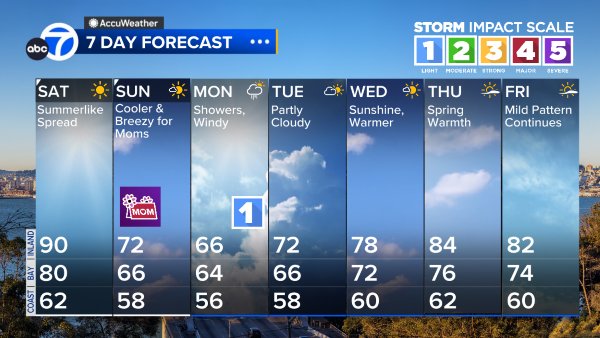 SMALL CRAFT ADVISORY
: Today 11 a.m. - 9 p.m.
Tonight will be mostly clear and pleasantly cool. Overnight lows will be mainly in the mid to upper 50s. Tomorrow will be sunny, breezy, and cooler than average. Highs will range from low 60s at the coast to low 70s near the bay and upper 70s inland. A strong warming trend will begin Saturday and continue into the middle of next week.
Concord
77
Oakland
71
Redwood City
72
San Francisco
67
San Jose
73
Santa Rosa
77Coast
Tonight: A Few Patchy Low Clouds
Lows: Upper 50s
Tomorrow: Mostly Sunny & Breezy
Highs: Mid 60s
East Bay
Tonight: Mostly Clear
Lows: Upper 50s
Tomorrow: Sunny & Breezy
Highs: Low to Mid 70s
East Bay Valleys
Tonight: Mostly Clear
Lows: Upper 50s
Tomorrow: Sunny/Cooler than Average
Highs: Mid 70s to Near 80
North Bay Valleys
Tonight: Mostly Clear
Lows: Low 50s
Tomorrow: Sunny/Cooler than Average
Highs: Mid to Upper 70s
Peninsula
Tonight: Mostly Clear
Lows: Upper 50s
Tomorrow: Sunny & Breezy
Highs: Low to Mid 70s
South Bay
Tonight: Mostly Clear
Lows: Mid to Upper 50s
Tomorrow: Mostly Sunny/Cooler than Average
Highs: Low to Mid 70s
Saturday:
Sunny & Warmer
Highs: Upper 60s Coast to Mid 80s Inland