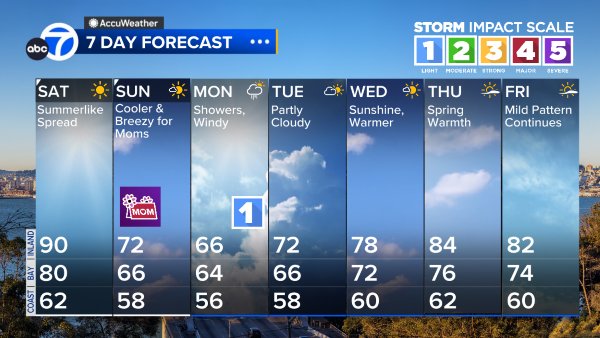 VIDEO:
Weather Anchor Spencer Christian's forecast
Tonight will be partly cloudy and chilly, with overnight lows ranging from upper 30s inland to low 40s near the coast and bay. Tomorrow will be partly cloudy to mostly sunny, with highs ranging from mid-50s at the coast to near 60 inland.
Our next storm will arrive late Wednesday, bringing light to moderate rain and gusty wind. This storm ranks "2" on the ABC 7 Storm Impact Scale. Showers will linger into Thursday morning, but we can expect sunnier and milder days Friday through Sunday.
Concord
57
Oakland
57
Redwood City
57
San Francisco
56
San Jose
60
Santa Rosa
56Coast
Tonight: Partly Cloudy & Chilly
Lows: Low 40s
Tomorrow: Mostly Sunny
Highs: Mid 50s
East Bay
Tonight: Partly Cloudy & Chilly
Lows: Near 40
Tomorrow: Mostly Sunny
Highs: Mid to Upper 50s
East Bay Inland
Tonight: Partly Cloudy & Chilly
Lows: Upper 30s
Tomorrow: Mostly Sunny
Highs: Upper 50s
North Bay
Tonight: Partly Cloudy & Chilly
Lows: Mid 30s
Tomorrow: Mostly Sunny
Highs: Mid to Upper 50s
Peninsula
Tonight: Partly Cloudy & Chilly
Lows: Near 40
Tomorrow: Mostly Sunny
Highs: Mid to Upper 50s
South Bay
Tonight: Partly Cloudy & Chilly
Lows: Upper 30s to Low 40s
Tomorrow: Mostly Sunny
Highs: Near 60
Wednesday:
Rainy & Windy
Highs: Mid 50s Coast to Near 60 Inland