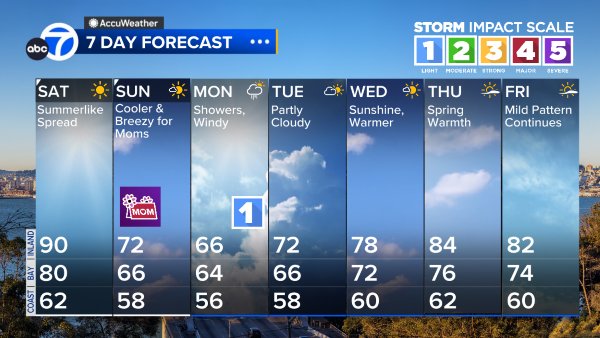 VIDEO: Meteorologist Mike Nicco has your AccuWeather forecast
We begin today with waves of scattered light showers. This trend continues until late this evening when it begins to taper. Rainfall amounts fall below .15 of an inch. I'm not expecting any damage or flooding that's why the wet weather system ranks 1-Light on our exclusive Storm Impact Scale.
The ABC7 News Storm Impact Scale explained
The chance of showers ends late tonight. We wake up mostly cloudy across the North Bay and cloudy elsewhere.
Holiday Weekend:
After waking up cloudy dry breezes bring a slow clearing trend from north to south tomorrow. Afternoon temperatures respond to the sunshine by warming two to eight degrees above today's levels.
The marine layer returns tomorrow night, but doesn't last long over our inland and bay neighborhoods Sunday morning. Highs climb another four to eight degrees.
Looks like summer for Memorial Day, with a 25 degree spread from the coast to inland neighborhoods. Can you remember the last time it warmed to 90 degrees?
Concord: 65/54
Fremont: 66/54
Oakland: 62/53
Redwood City: 65/55
San Francisco: 60/51
San Jose: 68/55
San Rafael: 63/52
Santa Rosa: 65/50
Coast
TODAY: Showers
Highs: 55 - 58 Degrees
TONIGHT: Becoming Cloudy
Lows: 48 - 53 Degrees
East Bay
TODAY: Showers
Highs: 62 - 66 Degrees
TONIGHT: Becoming Cloudy
Lows: 52 - 56 Degrees
East Bay Valleys
TODAY: Showers
Highs: 63 - 68 Degrees
TONIGHT: Becoming Cloudy
Lows: 52 - 56 Degrees
North Bay Valleys
TODAY: Showers
Highs: 63 - 66 Degrees
TONIGHT: Becoming Cloudy
Lows: 49 - 54 Degrees
Peninsula
TODAY: Showers
Highs: 61 - 66 Degrees
TONIGHT: Becoming Cloudy
Lows: 52 - 56 Degrees
South Bay
TODAY: Showers
Highs: 65 - 68 Degrees
TONIGHT: Becoming Cloudy
Lows: 52 - 56 Degrees