OAKLAND, Calif. (KGO) -- Fire crews are looking for a fire bug after firefighters just knocked down at least three fast moving brush fires in the Oakland hills, which they are calling suspicious. The fires are now contained.
The first fire started in the Dimond Canyon Park area shortly before 2 p.m., near Park Boulevard and Estates Drive. That fire quickly grew to four alarms and over 90 firefighters were on scene.
The toughest part about fighting these fires is the steep canyon crews have to climb down to get to the fire. It took about 300 feet of hose just to get down to the bottom of the canyon. When firefighters got to the bottom, they found the area was full of poison oak. Fire crews took hand lines and surrounded the fire; then it took CAL FIRE two airdrops of water to get the fire under control.
The first two fires were about half a mile apart. Around 3:30 p.m. fire crews found a third small fire up on a hill near a house, nowhere near the first two fires. Additionally, were two very small spot fires that were started as the result of an ember blowing off of one of the other fires.
Fire officials are calling the three main fires very suspicious in nature. They are asking people to be on the lookout and to immediately report any suspicious activity to police.
They have no suspect description and the fire investigator needs to officially determine that these fires are suspicious or that they are arson.
Fire trucks descended onto the nearby Montclair golf driving range on Monterey Boulevard to try to put out the flames from there, golf course manager Cliff Lee said.
Lee said the flames appeared to just be several hundred feet below the driving range.
"There's a bunch of smoke. It's pretty close, you can tell," he said.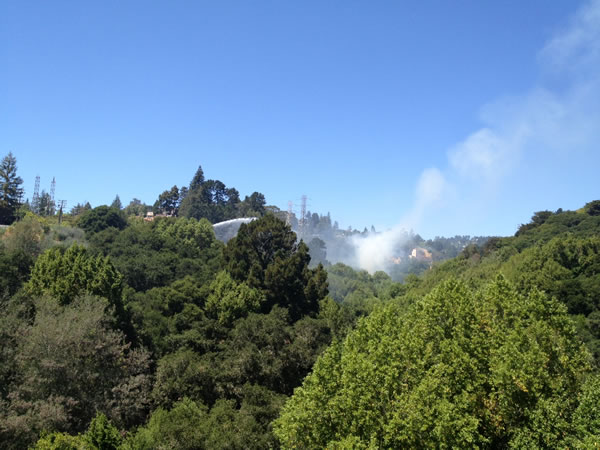 photo submitted by Carlos La Roche via uReport
He said employees and customers have not been evacuated so "everyone's rubbernecking."
Oakland police officers are currently assisting the Oakland Fire Department by providing traffic control. Drivers are being asked to avoid the area if possible and use alternate routes.
Stay with abc7news.com and watch ABC7 News online at 4 p.m., 5 p.m., and 6 p.m. for the latest details.Bay City News contributed to this report.