SAN FRANCISCO (KGO) -- El Nino is here, and the forecast is for heavy rain. The ABC7 News weather team has the power of Live Doppler 7 HD at their fingertips. Meteorologist Drew Tuma explains how it will keep your family safe during the severe weather season.
The rainy season is here and El Nino may make this winter a wet one. Fortunately for you, ABC7 News is the best place to track it. We have the strongest, fastest, most powerful storm tracking system in Northern California.
Click here to track the rain where you are on Live Doppler 7 HD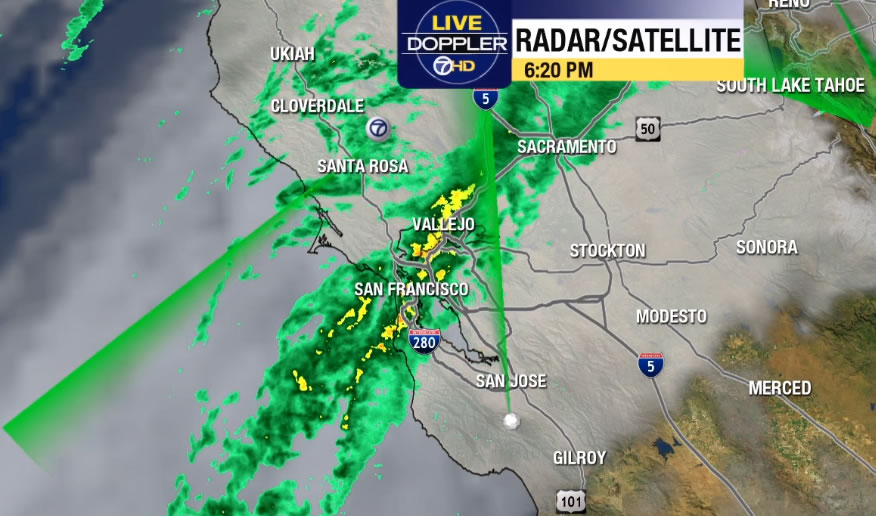 Our exclusive Live Doppler 7 HD radar sits high above the Napa Valley on Mount St. Helena. Live Doppler 7 HD is farther West than any other Doppler in the Bay Area. That means we can see storms off the coast, before those other Doppler radars even pick up a drop of rain.
The National Weather Service's Doppler is more than 100 miles South in the Santa Cruz Mountains. Together, we track storms as they move through the Bay Area. When rain is approaching, ABC7 News knows who will be impacted first. Live Doppler 7 HD is so powerful it can scan hundreds of miles in seconds and pick up even trace amounts of precipitation in your neighborhood.
The National Weather Service predicts a wetter-than-average winter in California because of a strong El Nino event. That's when the temperature of the Pacific Ocean near the equator rises slightly for a three month period.
Click here to watch the latest local AccuWeather forecast
This El Nino is one of the strongest on record. The warmer the water gets around the equator, the higher the chances of rain here in the Bay Area.
As Live Doppler 7 HD tracks rain in the Bay Area, we are able to show you how it turns into snow in the Sierra. Conditions for skiers have been great for this time of year.
Regardless of where you live, when severe weather threatens your neighborhood, Live Doppler 7 HD is your best source on air, online, and on your mobile device.
Want to know the current temperatures where you are? Want to see if a rainstorm is headed your way? Download the ABC7 News app, click on the menu icon at the top left corner and select the weather section on the bottom left. You can also send us your weather photos through the app.If you want to send us a weather photo or video from where you live, tag them on Twitter, Instagram, or Facebook with #abc7now.FUN FACT:
Live Doppler 7 HD has its own Twitter account. It helps keep an eye on current conditions and keeps an eye on tweets from our weather team.
Follow @LiveDoppler7HD on Twitter here
.
Written and produced by Ken Miguel