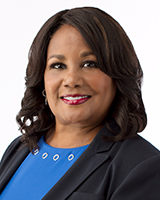 Carolyn Tyler anchors the ABC7 Sunday Morning News at 5 a.m., 6 a.m. and 9 a.m.. She's also a general assignment reporter for ABC7 News at 5 p.m. and 6 p.m. Tyler joined ABC7 in May 1986 and served as Weekend News co-anchor from 1989 through 1995.

During her 20 years of broadcast experience, she has produced several special reports including an Emmy-nominated series on the impact of the Civil Rights movement on Bay Area students. She was also nominated for an Emmy for her series on San Francisco's homeless crisis. Most recently Tyler received an Emmy nomination for her contributions to the ABC7 6 p.m. newscast.

Along with her colleagues at ABC7, Tyler shares two of the highest honors in Broadcast Journalism for coverage of the 1989 Loma Prieta Earthquake. The George Foster Peabody Award and the Edward R. Murrow Award recognize excellence in reporting.

Carolyn has received numerous community awards including the Rosa Parks Legacy Award in 2006 from the A. Philip Randolph Institute and the Media Award from the Bay Area Coalition of 100 Black Women.

Tyler has received specialized journalism training at Vanderbilt University and at the USC Annenberg School for Communication in collaboration with the Poynter Institute.

Tyler holds a Bachelor of Arts degree in Broadcasting from the University Of Wyoming.

Carolyn is a member of the Bay Area Black Journalists Association and is the founding co-chair of Friends Of Faith. Friends Of Faith is a non profit organization that raises funds and awareness for low-income breast cancer survivors in the Bay Area.

In 2007, Carolyn was honored by the National Academy of Television Arts and Sciences with the Silver Circle Award for her distinguished broadcasting career.

Carolyn currently covers the San Francisco City Hall beat.
---