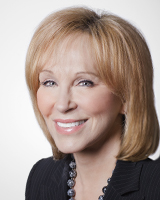 Lucky me to have this great job at ABC7!

I get to tell stories of the most interesting and challenging subjects one can imagine. My work has taken me around the world to Mexico, Kosovo (twice), Afghanistan (twice), South Africa, Korea, Israel, the West Bank, Vietnam and Peru!

I always try to do something that helps people. Along the way, I love the adventure, risk-taking, meeting new people and finding the connections to the Bay Area. My new role at ABC7/KGO TV allows me to travel a bit more for work to find those California connections that are changing the world.

I'm happy to say that in 2016, I was honored with my seventh national award from the Alliance for Women in Media. The top award is called the "Gracie."

A previous "Gracie" award from the same prestigious organization was for a story that came to me through social media. A mother was fighting to save the sight of her daughter's fiance. Our tweets reached a Good Samaritan who donated the money for the eye surgery so the young man could see and work and support his family!

2013 marked a milestone for me! Anchoring the 5pm news for 25 years!! I've been told that is a record for a woman in this market! It's hard to believe. I am so grateful that our viewers have placed their trust in me for so long.

Most of my work focuses on children and family issues as well as the environment. I didn't start out wanting to be a reporter. I wanted to become a teacher and in a way, it seems that I am able to do that with my job now. It was a journey to get here, but well worth it.

My parents taught me the value of hard work, perseverance and public service. Mom stayed home and raised 7 children, while Dad served in the U.S. Army for more than 20 years, retiring as a Lt. Colonel. I am the eldest daughter, so I got plenty of experience changing diapers, feeding babies and baby-sitting! My husband and I do not have our own children, but we've had 10 young people and children of all ages live with us at different times during our marriage.

My dad's work took us all over the world, including two tours in Germany. Dad also served in Vietnam and Korea. I changed schools more than a dozen times before high school! That part was tough, always leaving friends and learning to make new friends quickly. It all prepared me for life in TV!

When I was 18, my parents gave me a suitcase and told me if I wanted to go to college, I would have to find a way! And I did: Thank you City College of San Francisco and San Francisco State University. Sometimes I could only take one or two classes a semester while working my way through school. Student loans helped as well.

My college advisor told me there were too many teachers, so I had to choose another career path. I saw two women on television at that time and it was such a rare thing, that I summoned my courage and called them for an interview for a college paper. Much to my surprise, they said yes!

One of those women worked at Channel 7, as it was called back then. I was hooked. I wanted to be a news reporter! But, no one would hire me. I was rejected for volunteer entry level jobs 19 out of 20 times. A fantastic woman at an NBC radio station finally said I could work for her if I worked for free for 50 hours a week. I think she thought I would say no. I took the job and worked for 5 months for free while going to school. I was very, very poor. I eventually got a paying job as a receptionist and then worked my way into the newsroom.

Finally, I was hired at the station where I always wanted to work: ABC7 KGO-TV! I started as the night reporter and worked my way to the anchor desk and host of "Beyond the Headlines."

The story that will stay with me forever is the 1989 Loma Prieta earthquake. I was the first local reporter on the air, within 10 minutes after it happened. Our station's generators kicked in, while other stations couldn't get on the air right away. ABC had been covering the World Series game at the time, so we had a Blimp with a live camera flying over San Francisco. Our station led the bay area coverage and after it was all over, we received hundreds of letters from viewers thanking us for being there for them. That's when I truly understood how vital television is in providing public service. I am part of the news team honored with two of the highest awards in broadcasting: the George Foster Peabody Award for coverage of the Loma Prieta earthquake and the Radio Television News Directors Association Edward R. Murrow Award for the earthquake of '89 coverage.

I mentor people of all ages. I consult with dozens of non-profits to help them raise awareness and money through broadcasting and on social media.

In 2003, I co-founded a program to remove landmines in war torn countries. It's the "Roots of Peace Children's Penny Campaign." Bay Area school children helped raise 50 million pennies to remove landmines in Afghanistan. The money also helped build two schools there and repair four others. The campaign is expanding to Israel and the West Bank and Vietnam.

I have reported for years on two organizations that help children with life-threatening illnesses: The Taylor Family Foundation and The Okizu Foundation. Our stories encouraged viewers to donate and help the foundations build brand new summer camps years ago. We are very proud of that continuing partnership.

I started at ABC 7/KGO-TV in 1979 and I feel like the Bay Area is my big, extended family. Sometimes people come up to me and say "I grew up watching you and I feel like I know you." I treasure those comments...so keep them coming! You can find me on Twitter, Instagram and Facebook.

Cheryl Jennings has also been honored with nine Emmys. She is the host of the Emmy Award winning community affairs program Beyond the Headlines with Cheryl Jennings. She also files special assignment reports for ABC7/KGO TV.
---