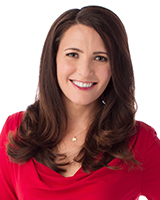 Hello bright lights of San Francisco! I feel so lucky to be doing what I love in this a beautiful and dynamic city. I was actually born in the Bay Area (in Berkeley) but grew up in San Juan Capistrano in Southern California riding horses and raising goats for 4-H.

I discovered the thrill of television news at CPTV, the campus TV station at Cal Poly San Luis Obispo, where I earned my degree in Journalism.

I began my career in television as a producer at KCOY in Santa Maria, CA. Later, I started reporting at KIEM in Eureka and then moved on to News 14 Carolina in Raleigh, NC. I ultimately returned to KCOY as an anchor and reporter. I was co-anchoring five evening newscasts when I left for ABC7 News in October of 2011!

In North Carolina, I covered hurricanes. In Santa Maria, I covered the Michael Jackson child molestation trial, and a few years later, the pop star's death. I've been inside a space launch complex at Vandenberg Air Force Base and talked rodeo and politics with Steve Ford, son of President and Betty Ford, at Steve's Central Coast ranch. But in this business, you've never "seen it all."

I live in San Francisco and enjoy jogging along the Marina Green to Hoppers Hands. One of my three sisters also lives here. She is my best friend and city tour guide. (Hi Emily!)

Our parents still live in SJC and it is one of my favorite vacation destinations!

If you have a story idea for me, or just want to say hello, find me on Facebook. I also love to tweet!

Katie is an anchor and reporter for ABC7 News.
---