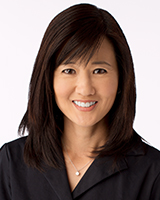 I grew up in Los Angeles, but I always wanted to end up in the Bay Area. My love affair with San Francisco began while I was a student at U.C. Davis. My friends and I would drive across the Bay Bridge and each and every time, the view of the city would take my breath away. I told myself, "Someday, I'm going to end up here." Almost 10 years later, after having worked for different television stations in various cities (Monroe-LA, Sacramento, and Seattle), I finally could call the Bay Area home. ABC7 News offered me a job in 2003 and to this day, I feel really lucky that I'm able to do what I enjoy in a city that I love.

My passion for news developed during middle school. I would watch the 4 p.m. news every day when I got home from school. I admired the reporters and envied how they were always close to the action. I later joined the newspaper staff in high school and became the news editor. I was actually pretty good and won first place in a regional journalism competition. At that point, there was never really a question of what I wanted to be when I grew up.

I've been in the TV news business for 17 years now and throughout my career, I've been given the opportunity to cover some major national stories, including the 2000 Florida election recount, the Virginia Tech massacre, the September 11th attacks in New York City, and the tenth anniversary in Shanksville, PA. In 2006, I was honored to receive a Kudos award for best reporter from the American Women in Radio and Television, Golden Gate Chapter.

What are the stories that you love to see from around the Bay Area? Let me know on Twitter.

Lilian currently works as a general assignment reporter is usually seen on ABC7 News at 11 p.m.
---