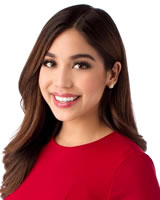 I'm a Bay Area native who could not be more thrilled to be home! I love this community, and it's a privilege to anchor and report #whereyoulive.

Storytelling is what matters to me. Like so many people, my family has been profoundly touched by Autism. At a very early age, I remember hearing that journalism at its best can give "voice to the voiceless." It resonated deeply within me, and it's still what drives me today.

I graduated Phi Beta Kappa and magna cum laude from the USC Annenberg School for Communication and Journalism, with a double major in Broadcast Journalism and Health Promotion & Disease Prevention. I was honored with an Emmy in 2015.

I'm coming to KGO after anchoring and reporting at KGTV in San Diego. The day-to-day of hard news is the bread and butter of reporting, but it's those amazing individuals whose stories stick with you. A 13-year-old soccer goalie named Kasey was one of those people -- battling cancer and fighting to survive for her family. I fell in love with her sweet spirit, and so did our viewers. After we told her story, it was amazing to watch Kasey go on to meet her celebrity idol and receive thousands of dollars to help with her medical bills.

This current chapter brings me home to my family, where my heart is. Growing up in the bay, in our house, we relied on KGO for breaking news. ABC7 is my family's station, and now I can truly call it my own.

When I'm not working I love spending time with my little dog Tchaikovsky, and I also love cooking! It's when I feel most connected to my Greek and Chinese roots.

I live and breathe social media, so I hope you drop me a line. Please keep in touch and follow me on Twitter, Facebook and Instagram. I could not be prouder to be back in my hometown, and I look forward to hearing from you!
---