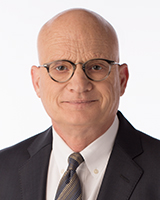 Wayne Freedman came to ABC7 in 1991 from CBS News, where he traveled the country while producing and reporting a weekly segment called, Only In America for CBS This Morning. He has lived, worked, and reported out of San Francisco since 1981.

Wayne has received 51 Emmy Awards along with multiple Edward R. Murrow awards---many of them for writing. The National Press Photographers Association has honored him several times for his videography and editing.

His book, IT TAKES MORE THAN GOOD LOOKS TO SUCCEED AT TELEVISION NEWS REPORTING, now in its Second Edition, is required reading for major college journalism programs in the United States, Canada, and Europe.

Wayne Freedman earned his first regular byline in 1968, when he began a weekly column about life in middle school for what is now the Los Angeles Daily News. That same summer, he made his first money in television by working as a grip on an ABC Sports profile segment about heavyweight boxing champion Sonny Liston. It happened to be in San Francisco.




"I had a little help getting that job," says Wayne, who has deep roots with ABC. His father, Mike Freedman, began with the network in 1948, and pioneered the use of live, hand-held video cameras for coverage of news and sporting events.




"Dad took me into the field almost as soon as I could walk," says Wayne. "He told me that if I wanted to work in television, I should do the news. They don't cancel the news."




At ABC7, Wayne has done a little of everything, and a lot of it. In 1992, the station sent him alone to Moscow, where he produced and reported about Russia's Second Revolution. He has covered major hurricanes, earthquakes, fires, national elections, Superbowls, World Series, NBA Finals, NASA space missions, and traveled Route 66. Twice, he has crossed the country by train, visiting small towns and taking the pulse of America following the September 11th attacks.

"My philosophy is to find, small stories within large ones, and large stories in the small ones," says Freedman. "Those are the most telling."

Several times, Wayne's stories from ABC7 have appeared on ABC's World News Tonight.




Most days, you will find Wayne covering news stories with a still camera in his hand. His photographs from behind the scenes appear daily on Twitter @WayneFreedman. on Instagram as waynefreedmanabc7, and on his Facebook page.

Wayne Freedman graduated from UCLA in 1977 with a degree in Political Science.

In 1978, he completed his Masters Degree in Journalism from The University of Missouri at Columbia.

In his spare time, Wayne golfs competitively, and photographs golf courses. He is a member of the Golf Writers Association of America, and also a Panelist for Golf Digest Magazine, rating Top 100 courses across the nation.

Wayne and his wife live in Marin County. Their daughter resides in New York City.
---