DANVILLE, Virginia -- Authorities in Virginia and North Carolina are searching for a convicted sex offender who kidnapped a 7-month-old girl from her mother at knifepoint, police said Monday.
UPDATE: Virginia baby found safe, sex offender father arrested
Danville, Virginia, police said Emma Grace Kennedy was taken by her father, 51-year-old Carl Ray Kennedy, at a Kwik Stop. The gas station is about three hours southwest of Richmond on the North Carolina border.
Virginia State Police issued an Amber Alert and said the infant is believed to be in "extreme danger."
Danville police Lt. Michael Wallace declined to release the name of the girl's 32-year-old mother because the department typically does not identify victims.
Authorities said Carl Kennedy is registered as a sex offender in North Carolina. He's currently out of jail on a $250,000 bond on a drug distribution charge.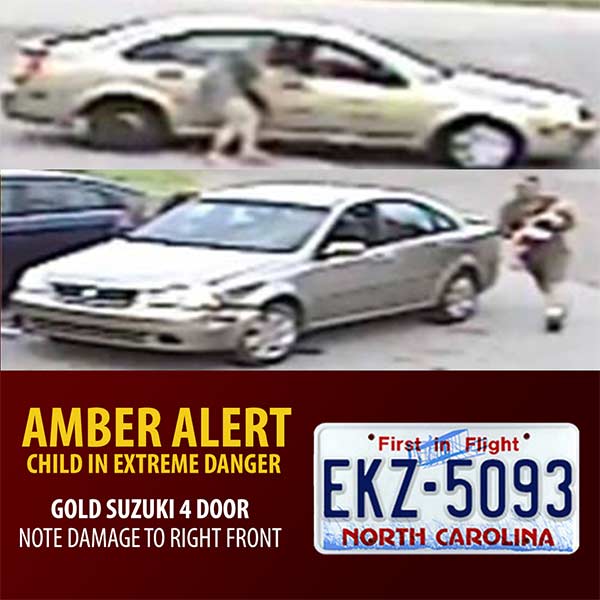 North Carolina's sex offender registry says Kennedy committed the misdemeanor crime of sexual battery. That means he engaged in sexual contact with someone against his or her will or with someone who was mentally disabled or physically incapacitated, according to the state's criminal code.
Asheboro is in Randolph County, where Sheriff's Capt. Bernie Maness said authorities had no information on his whereabouts. He said authorities are checking out tips from people about places he's been seen in the past.
Emma Grace Kennedy is about 2'2 tall, weighs 18 pounds, has blonde hair, blue eyes, and has a small scar on her left cheek.
Emma was last seen wearing a light blue onesie with dots and a white rabbit on the left leg and matching headband.
Carl Kennedy is described as 5'8", weighs 170, has gray hair, green eyes, a left ear piercing, and tattoos on both arms, consisting of skulls, an eye, pit bull, and a wizard.
Kennedy was last seen wearing a brown t-shirt, gray shorts, and black and white Sketchers.
The pair may be in a gold Suzuki with NC license tag number EKZ-5093.
The vehicle also has a Johnny's Auto Sales emblem on the trunk.
Officers believe Kennedy is armed with a knife.
Those with any information are asked to call the Danville Police Department at (434) 799-6510 or 911.
The Associated Press contributed to this report.