In honor of Black History Month, ABC7 celebrates the amazing achievements in black culture and history here in the Bay Area.
Attend the Professional BusinessWomen of California's 26th Annual Conference on March 10th and hear from Nobel Peace Prize winner Leymah Gbowee, the inspiring leader of the Women of Liberia Mass Action for Peace. This powerful yet nonviolent women's movement brought together Christians and Muslims to make a pivotal stand to end Liberia's civil war in 2003. Leymah is a trained social worker, the founder of the Gbowee Peace Foundation Africa, and the mother of six children. Her 2012 TED Talk has been viewed by nearly 1 million people! She is a frequent guest on major television networks and was recently profiled on The New York Times' Op-Docs series by filmmaker Errol Morris, who called her "a modern day Joan of Arc." #whereyoulive #abc7celebrates #blackhistorymonth #pbwc #leymahgbowee #nobelpeaceprize
February 27 - Esterlina Vineyards BHM celebration
Napa Valley's Esterlina Vineyards is the nation's largest African American vintner. A true family affair, Mario Sterling and his four sons started the winery in 1998. Their award-winning wines have been served in the White House on several occasions, and are nationally recognized by Wine Enthusiast and Wine Spectator with scores above 90 points. You can experience Esterlina Vineyards and Winery this Saturday, 2/28, at their inaugural Black History Month celebration in Healdsburg, benefitting three local charities. Photos courtesy of Esterlina Vineyards. #whereyoulive #abc7celebrates #blackhistorymonth #esterlinavineyards #everettridge #blackownedbusiness
February 24 - Tabia African American Theatre Ensemble
Don't miss "Before It Hits Home", a powerful, award-winning, provocative play on the impact of AIDS presented by the Tabia African American Theatre Ensemble at the School of Arts and Culture in San Jose. The play is a complex and thought provoking look at the effect of AIDS on one young man, his lovers, and his family. It is often raw and candid, and is ultimately about conditional and unconditional love. All too often, HIV/AIDS is considered a taboo topic, making it easy to ignore. Through this creative play, their hope is to generate open discussion and educate our community on awareness, prevention, testing, and treatment. Get your tickets today for the upcoming shows, Feb. 27th through March 1st.
February 23 - Oakstop Gallery's Legacy Exhibit
This year, Oakstop Gallery's Legacy Exhibit celebrates the 46th anniversary of the original Black Artists on Art book series by Dr. Samella Lewis, the leading historian of black fine art in the country. The exhibit serves as the launch of a campaign to create new books in the Black Artists on Art series featuring hundreds of contemporary black artists. Now in 2015, Samella Lewis's grandson, Unity Lewis is teaming up with Trevor Parham, founder and owner of Oakstop Gallery to continue the legacy of Black Artists on Art with a completely new lineup of contemporary artists. Their intention is to collaborate with other black artists throughout the United States to create a nationwide movement celebrating the legacy and value of black fine art. Abba Yahudah of Got Brand Solutions was the first artist to join forces with Unity and Trevor and has taken on the role of designing the new Black Artists on Art books. Show your support for Unity, Trevor, and Abba as they move forward to continue the Black Artists on Art legacy!
February 22 - Rhonel Roberts
Meet Rhonel Roberts, a brilliant artist and San Francisco resident for over 30 years. Since childhood, Rhonel loved drawing and painting which ultimately led him to study art at the University of the Pacific. Today, his creations are inspired by Paris, Africa, vibrant colors, and music. You can see more of Rhonel's work at Chez Rhonel Gallerie located in the historic Hunters Point Naval Shipyard, where he has created his art since 2003. Paint on, Rhonel!
February 21 - Oakland Health Wellness Fair/Festival of Wellness
Dr. Vera Singleton, a naturopathic doctor dedicated to natural health options, and Claudia Noble-Livingston, owner of Cultivating Gardens, a local business focused on creating sustainable, edible, urban gardens in small spaces, are just 2 of many guests today at the African American Museum and Library at Oakland's Festival of Knowledge. Together, they aim to remind everyone that "We Are What We Eat" and that our diets heavily affect the way we perform in school, work, and our overall sense of well-being. Knowledge is power! So remember to stay informed, eat right, and exercise regularly! Photos courtesy of AAMLO.
February 20 - Midpeninsula Open Space BHM Celebration
Celebrate Black History Month with Midpeninsula Regional Open Space (@MROSD) in the beautiful outdoors at this free family event tomorrow, February 21st from 11am-2pm! Enjoy guided hikes, children's activities, bird-watching, kid's crafts, environmental education activities, refreshments, and exploration of the Ravenswood Open Space Preserve. Catch the California Buffalo Soldiers, East Palo Alto Mayor Lisa Yarbrough-Gauthier, as well as other special guests set to attend! Breathe in the fresh Bay Area air and spend the day nurturing your family, friends, and Mother Earth! Photos courtesy of Midpeninsula Regional Open Space.
February 19 - Michael Morgan, Oakland East Bay Symphony
Celebrating his 25th year as Music Director and conductor of the Oakland East Bay Symphony, Michael Morgan has been a visionary and leader in the world of classical music, creating a new kind of symphony orchestra with high energy and broad appeal. His innovative, engaging and community-centered concerts are a national model, and he is widely acclaimed for having his finger on the pulse of the complex, diverse culture consumers of the Bay Area. His concerts often feature new and crossover music by artists not usually associated with symphony orchestras like Carlos Santana, Narada Michael Walden and, Friday, February 20, at the Paramount Theatre, a new jazz violin concerto by Grammy-winner Mads Tolling. The Oakland Tribune called Michael Morgan's Oakland East Bay Symphony, "The most fun Symphony in America." Photos courtesy of MarcoSanchez.net.
February 18 - Abraham.In.Motion: Pavement
Don't miss one of the hottest new talents on the American dance scene, Kyle Abraham/Abraham.In.Motion, as he creates a moving and powerful portrait of urban life consumed by gang and police violence in Pavement. Choreographer Kyle Abraham reflects the bold era of 90's hip hop, while examining a culture plagued by discrimination and genocide. Depicted in this show are dance movements to represent violence, love, male bonding, arrests, and physical and emotional pain. Get your tickets for shows tomorrow, Feb. 19th, Friday Feb. 20th, or Saturday, Feb. 20st at YBCA! Photos courtesy of Steven Schreiber.
February 17 - The Village Project SF, Mardi Gras
Join the fun in celebrating Mardi Gras San Francisco Style! With great music, creative costumes, good food, and colorful beads, get as close to New Orleans as you can without having to leave the Bay Area! Delight your senses as you witness colorful street artists, performers, and a masquerade ball that serves as a fundraiser for The Village Project's after school program. The Project raises funds for their free 8 week summer enrichment & reading camp that serves at-risk youth residing in public & subsidized housing in the Western Addition. Get your party on and head over to the Fillmore District and embrace the history of the neighborhood today beginning at 5pm! Photos courtesy of The Village Project SF.
February 16 - CAUV
For over 35 years, Community United Against Violence (CUAV) has built safety, leadership, and love within queer and trans communities of color in San Francisco. Not only do they fight for the dignity of black queer and trans lives through wellness services and community organizing, but as part of the larger social justice movement, they also seek to create truly safe communities where everyone can thrive. Today, CUAV reminds everyone to show healthy love to each other and to ourselves. Find out how you can get involved and be a part of their life-saving mission! Photos courtesy of CUAV.
February 15 - Petaluma Museum: A Tribute to Dr. Maya Angelou
Dr. Maya Angelou once said, "I've learned that people will forget what you said, people will forget what you did, but people will never forget how you made them feel." Join the Petaluma Library and Museum today, as they remember her life and inspiration through her poetry and other works. Don't miss this celebration of her incredible influence and legacy! Photos courtesy of the Petaluma Library and Museum.
February 14 - Dr. Marcus Foster
Have you heard of Dr. Marcus Foster, the first African-American Superintendent of the Oakland Unified School District? He was a strong advocate of effective urban schools as a key to social mobility regardless of the social and economic background of the students. In 1973, Dr. Foster was assassinated by the Symbionese Liberation Army (SLA) because of their erroneous belief that he supported oppressive security measures. His death devastated the community of Oakland as they lost their hope and momentum toward the end to inequality in Oakland schools. Now, the NAACP reminds our community that education of our children in Public Schools is the new critical civil rights arena by honoring this great man during Black History month, with a special program on Feb. 16th. Join the celebration & remember this great hero! Photos courtesy of the Oakland NAACP.
February 12 - Pascal Bokar AfroJazz Ensemble
Celebrate Valentine's Day with the Pascal Bokar AfroJazz Ensemble at Savanna Jazz in San Francisco on Feb 13th & 14th. This unique AfroJazz ensemble, with West African dancers and percussionists, showcases a lively mix of guitar, piano, upright bass, drums and West African percussion. Guitarist, composer, and professor of Jazz and World Music at the University of San Francisco, Pascal Bokar synthesizes American Jazz and its African musical and spiritual roots through a deep cultural connection. Photos courtesy of Pascal Bokar.
February 11 - United Negro College Fund"
On February 14th, this upcoming Saturday, the United Negro College Fund is set to hold their signature Masked Ball event at the Marriott Marquis in downtown San Francisco. Each year, UNCF recognizes the work of corporations and individuals who have made significant contributions to UNCF's work. UNCF actively seeks to improve the educational outcomes of African American and other minority students who deserve a quality, affordable college education. Check out a few of last year's honorees alongside Mayor Ed Lee, and find out how you can get involved! Because just like UNCF says... "A mind is a terrible thing to waste." Photos courtesy of Terrell Lloyd, RTL Photography.
February 10 - Brava Theater
San Francisco's Black Arts History hits the Brava Theater Center stage with "Mighty Real: A Fabulous Sylvester Musical", a foot-stomping, dancing in the aisles tribute to the legendary "Disco Queen" Sylvester. Broadway star Anthony Wayne and company bring to vivid life the ground-breaking performer and activist for the LGBT and HIV/AIDS communities. Get your tickets now for "Mighty Real", on stage at Brava from February 11 to March 1.
February 9 - "The Art of Living Black"
Experience these amazing art pieces at "The Art of Living Black" exhibit at the Richmond Art Center. This annual exhibit was founded 19 years ago by the late sculptor Jan Hart-Schuyers and late painter Rae Louise Hayward after their realization that black artists were not being represented by galleries in any significant way. This year's exhibition showcases a broad range of works by more than 75 artists from throughout the Bay Area. Pieces pictured here are by artists Dana King, Yolanda Holley, Julee Richardson, Lawrence Buford, and Lorraine Bonner. Don't miss this exciting exhibit before February 27th!
February 8 - Osteoporosis awareness
Meet Renea Lacey and Herb Grevious. Both of them are living with osteoporosis and work with American Bone Health to raise awareness about the disease. Renea says, "I always associated osteoporosis with the elderly. I had a medical condition that required long term use of a medication that depleted my bones. Now I make sure to get enough calcium and exercise to keep my bones strong." Herb previously served on the board of American Bone Health because he felt it was important to get the word out. With the help of American Bone Health, they both have found new ways to keep moving and minimize effects of the disease. Anyone can be at risk for osteoporosis, so it's important to eat right and be active to lessen the risk. Stay strong, Bay Area! Photos courtesy of American Bone Health.
February 7 - Oakland Raiders, city officials read to Oakland students
Over this past week, more than 100 volunteers read aloud to students at 41 Oakland public schools during the Oakland Public Education Fund's African American Literature Read-In. Commemorating Black History Month, the reading events celebrated books by and about African Americans, and rallied the community to connect with Oakland public schools. Readers from the Oakland Raiders, the Police Department, City Council, and more brought smiles and adventures to many Oakland students! Remember to share the joy of reading with the children in your life, too! Photos courtesy of Oakland Public Education Fund and Oakland Unified School District.
February 6 - Pastor Michael McBride
Meet Pastor Michael McBride, also known as "Pastor Mike." For over a decade, Pastor Mike's commitment to holistic ministry can be seen in leadership roles in both the church - where he founded and leads The Way Christian Center in Berkeley - and community organizations such as NAACP, ACLU, and The Racial Justice Coalition of CA. He also currently leads the national campaign known as the Lifeline to Healing Campaign, a program devoted to preventing violence and imprisonment of young people of color, and transforming lives for the better. Hear him speak tonight, Friday, February 6th, at the 2015 African American History Month Flag Raising Ceremony in San Jose at the City Hall Rotunda! Photos courtesy of Pastor McBride.
February 5 - Weather Anchor Spencer Christian
Today we are combining our celebration of National Weatherperson's Day and Black History Month by congratulating ABC7's own weather genius Spencer Christian, who has over forty years of experience in broadcast journalism! Spencer says, "The reason I love weather so much is that it is the only element in a newscast that everyone is interested in. Weather affects decisions we make every day-how we dress, when and where we travel, planning outdoor activities, social engagements...everything!" Thanks for always keeping us ready for what to expect when we step outside, Spencer! Share your favorite Spencer stories with us here!
February 3 - Famed photojournalist Jeffrey Blankfort
These photos are just a glimpse into the fight against the injustices historically faced by the African American community, all taken by famed photojournalist Jeffrey Blankfort. Starting this Friday, 2/6, you can see a collection of his powerful work that vividly details the struggle for civil rights, paired with historical references from the Black Panther Party's official historian, Billy X Jennings. Don't miss the "Fight the Power" exhibit on display at the African American Arts & Culture Complex in San Francisco. Get inspired to make a difference! All images courtesy of Jeffrey Blankfort.
February 3 - Dr. Jewelle Taylor Gibb,clinical psychologist
Oakland resident Dr. Jewelle Taylor Gibbs is a clinical psychologist, a college professor, an author, and an advocate for at-risk youth and low-income families. In 1993 Dr. Gibbs was the first African American professor to hold an endowed chair in the nine-campus system of the University of California. And she and her husband of 58 years, Dr. James Lowell Gibbs, were among the first African American professors to be chairs of their departments simultaneously at UC Berkeley and Stanford University. Dr. Jewelle Gibbs shares some of her amazing personal history in her newest book, "Destiny's Child: Memoirs of a Preacher's Daughter," including the tale of how she dated Martin Luther King, Jr. and even introduced him to his future wife, Coretta Scott King!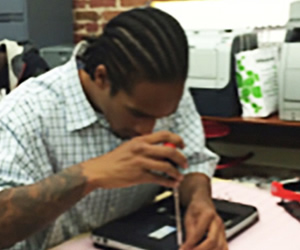 February 2 - Jordan Wood, "Mission Techies" Program
From incarceration to a career in IT, Jordan Wood is a young man on a mission to improve his life! The Mission Economic Development Agency (MEDA) - an organization dedicated to providing much-needed resources for low-income families to increase their wealth with asset growth - helped Jordan get into the "Mission Techies" program. There he's learning about computers and technology skills, like networking and coding. Jordan says, "My record will make me work harder than the rest, but I now know what to expect when I'm entering the workforce...I feel I can maintain hope for my future and earn a living in the tech industry."
February 1 - Eason Ramson, Former 49er and mentor
Happy Super Bowl Sunday! You may know Eason Ramson as a former San Francisco 49er, but today he proudly serves as the Senior Director for Youth and Teen Programs at the Bayview Hunters Point YMCA. After winning Super Bowl XVI, his intense struggle with substance abuse landed him 10 years in prison. Now, his largest victory is getting clean, creating the non-profit organization Pros And Cons For Kids, and becoming a mentor for kids that other people had given up on. At the YMCA, he has helped hundreds of kids seek education after high school and continues to create a safe place for them to turn. Celebrate Black History Month with Eason and the Bayview Hunters Point YMCA events every Tuesday from 5 to 7:30pm this month!