NAPA COUNTY, Calif. (KGO) -- The County Fire burning near Lake Berryessa has now scorched 90,288 acres. So far, the fire is 73 percent contained.
Cal Fire says firefighters are working aggressively to mop up and strengthen control lines. Unburned pockets of fuel continue to burn within the interior of the fire. Higher temperatures, lower humidities and winds are expected to continue this week.
Damage inspection teams continue to make progress surveying areas where fire activity has diminished.
MAPS: A look at the 'County Fire' in Yolo County
At least 2,500 people have been told to evacuate as the so-called County Fire continues to spread, said Anthony Brown, a spokesman with the California Department of Forestry and Fire Protection.
PHOTOS: County Fire burning near Lake Berryessa
Brown said the blaze started nine days ago and is surging through rugged terrain northwest of Sacramento amid hot and dry weather.
So far this year, wildfires have burned at least 4,200 square miles in the United States, according to the fire center. That's a bit below last year's acreage to date - which included the beginning of California's devastating fire season - but above the 10-year average of 3,600 square miles.
Cal Fire officials say their goal is to have full containment of this fire by July 12, 2018, which is two days more than they originally predicted.
EVACUATION ORDERS, ROAD CLOSURES:
Mandatory evacuations:
Area west of State Highway 16 to the Yolo-Lake County line, north of County Road 40 and south of the Yolo County line.
West of State Highway 16, to Berryessa Knoxville Road, South of Old County Road 40, and North of County Road 53
Road closures:
State Highway 16 has been closed between State Highway 20 and Rumsey Hall.
Berryessa Knoxville Road,from the Pope Creek Bridge to the Napa/Lake County line
Cooperating Agencies:
California Department of Corrections and Rehabilitation, Cal OES, California Highway Patrol, California Conservation Corps, Yolo County OES, Yolo County Sheriff, Solano County Sheriff, Napa County Sheriff, PG&E, Bureau of Indian Affairs, Yocha Dehe Wintun Nation, Bureau of Land Management, United States Forest Service, and California National Guard.
The fire
sent smoke across the Bay Area
, as far west as Petaluma and as far south as San Francisco and Redwood City, according to the National Weather Service in San Francisco.
CAL FIRE map of the "County Fire"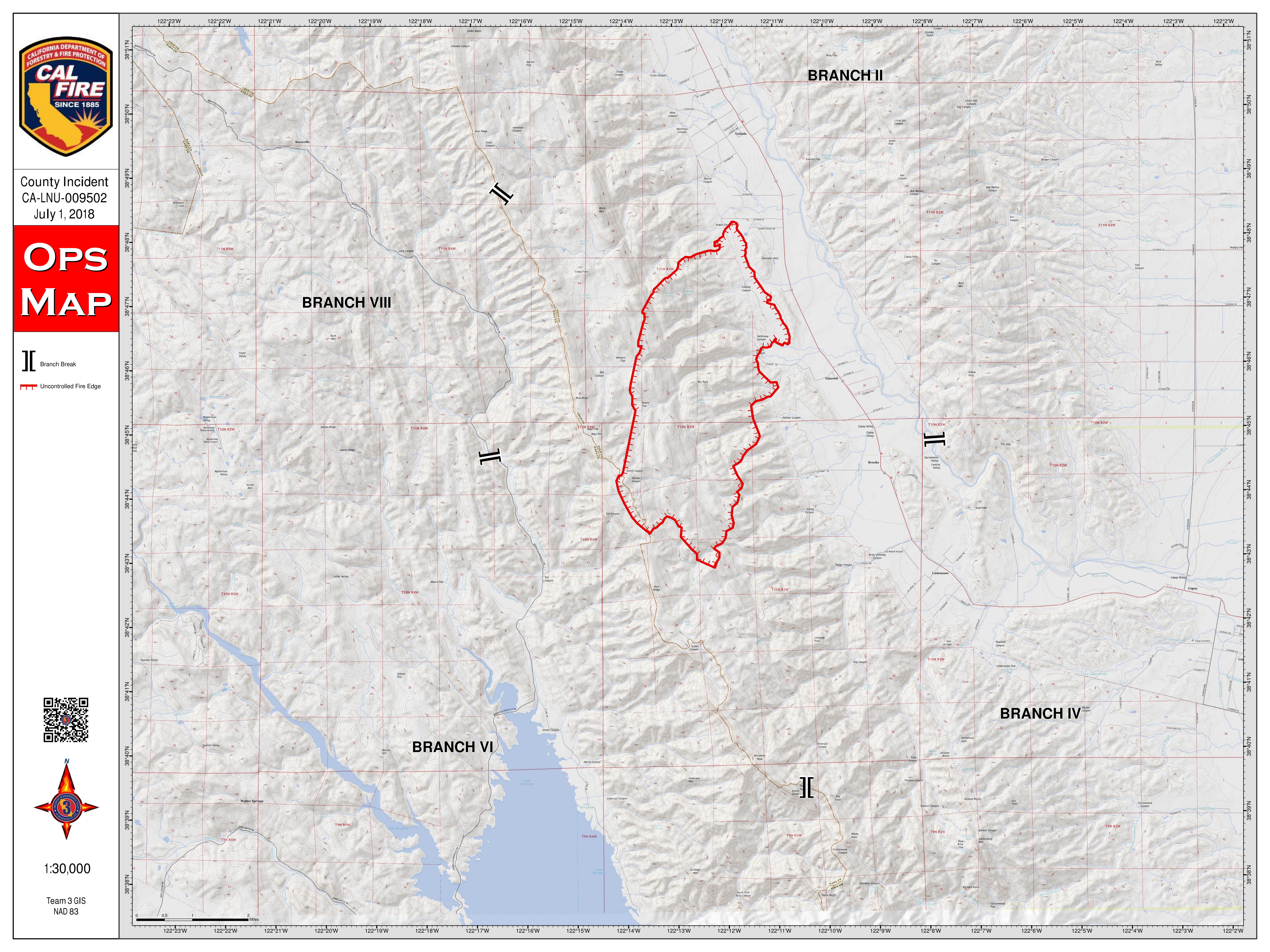 The Associated Press contributed to this story.