NAPA COUNTY, Calif. (KGO) -- The County Fire burning near Lake Berryessa has grown to 82,700 acres in the rough, mountainous terrain of Yolo and Lake counties and is now threatening over 1,000 structures. So far, the fire is 25 percent contained.
MAPS: A look at the 'County Fire' in Yolo County
Over 2,800 firefighters are still battling the blaze that nearly doubled in size on Monday.
Most of the action, today, will happen around the small town of Guinda, on State Highway 16, which lies near the eastern side of the fire.
PHOTOS: County Fire burning near Lake Berryessa
"The fire laid down, last night," said Cal Fire spokesman Israel Pinzon. Crews worked all night building containment lines along the fire.
The massive blaze was choking skies with ash and smoke, prompting some officials to cancel Fourth of July fireworks shows and urge people to stay indoors to protect themselves from the unhealthy air.
At least 2,500 people have been told to evacuate as the so-called County Fire continues to spread, said Anthony Brown, a spokesman with the California Department of Forestry and Fire Protection.
Brown said the blaze started Saturday and is surging through rugged terrain northwest of Sacramento amid hot and dry weather. "The weather is better than what we had last weekend. But it's still hampering our efforts and it's an area of concern," he said.
So far this year, wildfires have burned 4,200 square miles in the United States, according to the fire center. That's a bit below last year's acreage to date - which included the beginning of California's devastating fire season - but above the 10-year average of 3,600 square miles.
Because of the Independence Day holiday, authorities are also concerned about the possibility of campfires or fireworks starting new fires because of the dry, hot conditions.
Cal Fire officials say their goal is to have full containment of this fire by next Tuesday, July 10, 2018.
EVACUATION ORDERS, ROAD CLOSURES: Mandatory evacuations:
Residences served by Highway 128, between Monticello Dam and Pleasant Valley Road.
West of State Highway 16, to Berryessa Knoxville Road, South of Old County Road 40, and North of County Road 53
North of Highway 128
South of County Road 23
East of Berryessa Knoxville Road
West of County Road 89, South of the community of Esparto, however agricultural equipment will be permitted
Evacuation Advisory:
North of Quail Canyon Road
South of Highway 128
East of the Blue Ridge mountains
West of Pleasant Valley Road
East of Capell Valley Road
North of State Highway 128 from Capell Valley Road, East to the Napa County line
North of State Highway 128 in Yolo County, not including the City of Winters
South of County Road 23
East of Berryessa Knoxville Rod
West of County Road 89, South of the community of Esparto, however agricultural equipment will be permitted
For questions regarding Yolo County evacuations or advisories, please dial 2-1-1 For questions regarding Solano County evacuations or advisories please dial (707) 398-8261
Evacuation center: Guinda Grange Hall in the Community of Guinda 16487 Forest Ave. Guinda, CA 95637
Road closures:
Northbound County Road 87 from Highway 128, Berryessa Knoxville Road, from the Pope Creek Bridge to the Napa/Lake County line, Eastbound Highway 128 at Markley Resort, Westbound Highway 128 at Pleasant Valley Road, Pleasant Valley Road, South from Highway 128 remains open to serve traffic into Solano County
Cooperating Agencies:
California Department of Corrections and Rehabilitation, Cal OES, California Highway Patrol, California Conservation Corps, Yolo County OES, Yolo County Sheriff, Solano County Sheriff, Napa County Sheriff, PG&E, Bureau of Indian Affairs, Yocha Dehe Wintun Nation, Bureau of Land Management, United States Forest Service, and California National Guard.
The fire
sent smoke across the Bay Area
, as far west as Petaluma and as far south as San Francisco and Redwood City, according to the National Weather Service in San Francisco.
CAL FIRE map of the "County Fire"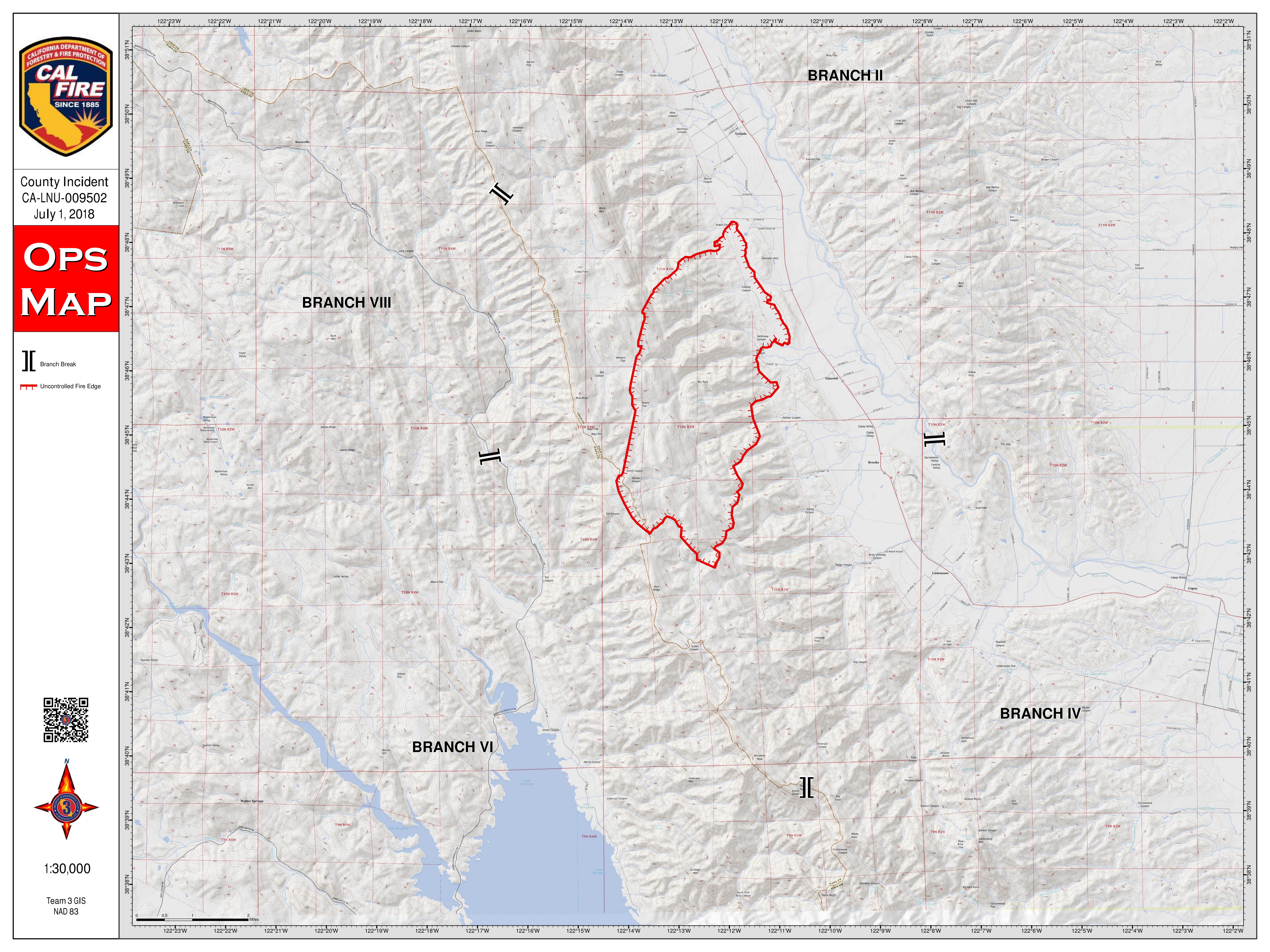 The Associated Press contributed to this story.