MORAGA, Calif. (KGO) -- Pope Francis will address the U.S. Congress on Thursday on his historic visit. It will be the first time any pope has spoken to Congress. Thousands of politicians and people have been invited to watch form the U.S. Capitol.
LIVE UPDATES: Pope Francis in the U.S.
There are nearly 70 million Catholics in the United States. So what will the pope say to the nation's leaders? ABC7 News checked in with theologians at Saint Mary's College of California in Moraga, who believe he will likely encourage the U.S. to adopt the themes of his papacy.
From the moment Pope Francis made his first public appearance at St. Peter's Square, there were signs this pope is different from his predecessors.
PHOTOS: ABC7 News covers Pope Francis' historic U.S. visit
"You see the clothes he wears, which there's pictures that been shown where his collar is fraying or his hems are falling, that would have never happened in some previous popes," Zach Flanagin, professor of theology and religious studies at Saint Mary's.
Even the name he chose, Francis, was a surprise. Saint Francis is the patron saint of animals and the environment. He worked tirelessly on behalf of the poor.
Brother Charles Hilken, director of the Cummins Institute for Catholic Thought and Culture at Saint Mary's, said, "Pope Francis hasn't yet addressed the American Church and the way that Americans think."
The most powerful Catholic in Congress, House Speaker John Boehner, R-Ohio, invited Pope Francis to speak to Congress.
"In his universal message to America and also to the world is looking at the future and he's looking at the good of young people and what's best for them," Brother Hilken said.
Flanagin said, "I imagine everyone in Congress will hear something they don't want to hear and probably everyone will hear something they do want to hear."
Many experts expect the pope to continue his unrelenting criticism of capitalism. He's called it the "dung of evil" and he'll likely urge the U.S. to do more to feed, house and care for the poor.
Flanagin added, "I imagine he will speak about the environment and the role we play, as both a leader and as a major consumer and pollution producer, in our culture and how we might address that."
The pope recently made news around the world when he called for faster action on climate change.
In a major policy statement he said, "Climate change is a global problem with grave implications: environmental, social, economic, political and for the distribution of goods." He wrote: "It represents one of the principal challenges facing humanity in our day."
"So when the pope issued this new encyclical on the environment, a number of people -- especially the more conservative American Catholic Church -- were unsure about what to do about that," Flanagin said.
The pope's address has the potential to create some awkward moments for some Republicans who have denied climate change for years.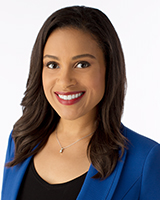 ABC7 News Anchor
Ama Daetz
is in Washington D.C. for the pope's
canonization of Father Junipero Serra
from California. Watch Ama's live coverage starting and join her as ABC7 News follows
Pope Francis on this historic trip
. Get her latest updates from
Twitter
and
Facebook
.
Click here for full coverage on Pope Francis' historic visit to the U.S.
Tap for coverage on iOS
.
Written and produced by Ken Miguel