SAN JOSE, Calif. (KGO) -- Three former San Jose State University students were sentenced Monday to probation and community service for misdemeanor battery against their roommate, whose neck was forced into a bike lock in 2013.
Logan Beaschler, 20, of Bakersfield, Joseph "Brett" Bomgardner, 21, of Clovis, and Colin Wyatt Warren, 20, of Woodacre, were roommates with Donald "DJ" Williams Jr. at an on-campus dormitory suite between August and October 2013.
The three men had forced a bike lock around Williams' neck twice and trapped him in a bathroom and bedroom, among other actions.
RELATED: 3 former SJSU students found guilty of battery against African American student
The defendants will serve two years of probation and 30 days in jail that can be served via a weekend work program in the respective counties where they live.
Before imposing the sentence, Santa Clara County Superior Court, Judge Thang Nguyen Barrett told the defendants that the actions they took against Williams were no longer a prank, but a criminal act.
The defendants, who are all white, had also been charged with misdemeanor commission of a hate crime by use of force on Williams, who is black.
The defendants had hung up images of swastikas and other racist symbols and called Williams derogatory nicknames such as "three-fifths," which refers to the way slaves were counted in the U.S. Census.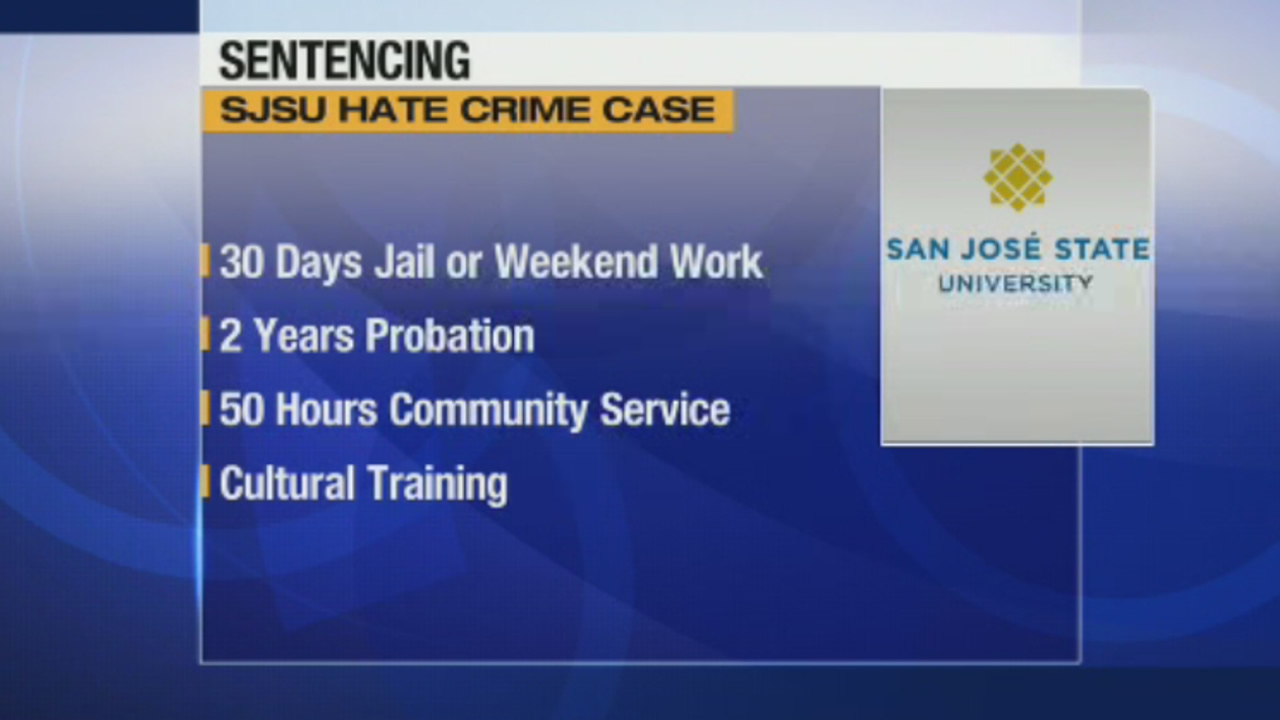 Last month, a jury convicted the trio of misdemeanor battery, but on the hate crime allegation, Bomgardner was found not guilty while a mistrial was declared for Beaschler and Warren.
Prosecutors last week announced they will not seek a retrial on the hate crime charges for Beaschler and Warren.
Barrett also ordered to 50 hours of community service with a nonprofit serving the African-American community, to complete a cultural competency class either on the African-American community or civil rights movement, and to pay $634 in restitution.
All the men were ordered to have no contact with Williams and to stay at least 100 yards away from him with the exception of court hearings.
The judge denied the Santa Clara County District Attorney's Office's request for the defendants to serve 120 days in county jail.
"I think anytime you call someone 3/5ths and put a lock around their neck, it's racially motivated," said Amani Bell, a who is a friend of the victim.
"I just want to thank everyone for their support and prayers, the outcry of the community let us know they're very impacted as we are," said Nancy Williams, the victim's mother.
Deputy District Attorney Carolyn Malinsky said outside of court that while the recommended jail sentence reflected the "significant emotional impact" of the crimes, she respected the judge's decision.
Malinsky had told the judge that Williams lived his first months of college in fear because of the defendants' actions, and testimony at trial corroborated the "violent, physical attacks" the victim faced.
Williams' mother, who was present in court today, read a letter discussing the "humiliation" her son experienced and the impact the defendant's actions have had on his life.
Beaschler and Warren were present at the Old Courthouse in downtown San Jose to receive the sentence. Attorney Sam Polverino appeared on behalf of Bomgardner, who wasn't required to appear under a waiver filed in court.
All the defendants' respective attorneys disputed the prosecutor's recommended sentence, arguing that their clients didn't have prior criminal histories.
In a brief statement at court, Warren apologized for what happened and said the actions were not racially motivated.
Warren's attorney Dek Ketchum told the judge that testimony at trial demonstrated his client didn't use any "disparaging words" to Williams.
After the hearing, Beaschler's attorney Chuck Mesirow said that Beaschler and his family continue to face financial and emotional challenges as a result of the case.
All three defendants have been banned from attending any University of California or California State University colleges.
A $5 million civil lawsuit filed by Williams is still pending against the defendants and SJSU, Mesirow said.
"There were no winners in this and I truly feel that my client has learned a very serious lesson," Mesirow said.
Bay City News contributed to this report.