FRESNO, Calif. -- Election Day is in less than one month and one proposition campaign recently sparked backlash from its opposed after sending out 2 million mailers to provide the "correct title" of Proposition 6.
Yes on 6 campaign sent out the leaflets across the state. It notified absentee voters of an "election ballot correction," which read "the correct title of Proposition 6 should read: Gas Tax Repeal Initiative."
RELATED: 2018 VOTER GUIDE: A look at all the California propositions
The leaflet also guides readers on a "yes" or "no" vote for Proposition 6, stating a "yes vote would repeal gas and car tax hikes" and "no would keep the gas and car tax increase in place."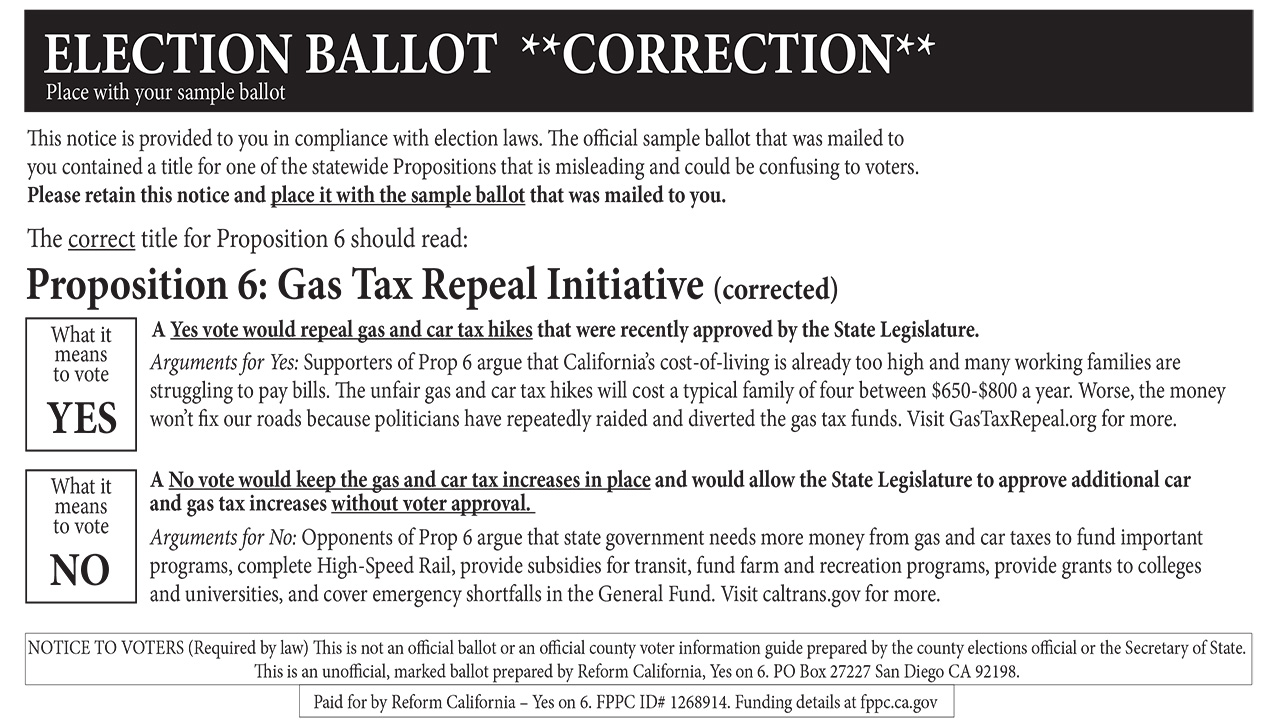 (Click here to view image larger)
The mailer ignited backlash from opposing campaign, No on 6, who stated the mailer would confuse voters due to its resemblance to an official election ballot or guide.
"This is just more deception from a campaign that is steeped in spreading misinformation. DeMaio's attempts to mislead voters are despicable," said Matt Cate, No on Prop 6 Co-Chairman.
Dave McCulloch, the Communications Director for Yes on 6, said "The Yes on 6 campaign sent these correction notices out because politicians are lying by intentionally putting a deceptive label on Prop 6 which is actually the gas tax repeal initiative."
Passage of Proposition 6 would repeal fuel taxes and vehicle fees, including the Road Repair and Accountability Act. It would also require voter approval for California lawmakers to impose increase, or extend fuel taxes or vehicle fees in the future.
For more stories and information about the upcoming election go to this page.