SAN FRANCISCO (KGO) -- It's a story of the spirit of Thanksgiving in San Francisco after Beth Kane's son-in-law found an unwelcome surprise.
"Justin went on his run, but he came back and found glass smashed and everything!" said Beth as she showed us the ground, still littered with some pieces of broken window outside her building in Pacific Heights.
EXCLUSIVE: San Francisco residents pleading with thieves to spare their vehicles
Crestfallen, Justin and Beth continued with their Thanksgiving meal in Pacific Heights and went back outside afterward to clean the mess up, only to find a sweet sign.
"Taped on the side of the window it says, 'Walking by your car and saw it was broken into. Sorry it happened to you, covered your open window with some plastic since it's due to rain tonight. Happy Thanksgiving.' Isn't' that nice?" said Beth with a smile.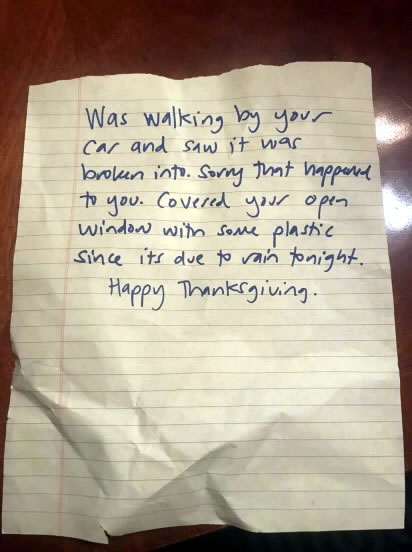 "We just want them to know what amazing impact their kindness had on both of us and on our grandchildren and our neighbors," Beth said. "The simple act brought such joy. It's like a ripple effect. It really reminds you of what it's all about. Not the broken part, but the good note part!"
Take a look at the full story by ABC7's Dion Lim here.