Looking to get out and about this week without breaking the bank? Here are five ideas for what to do in San Francisco for $20 or less.
Hoodline offers data-driven analysis of local happenings and trends across cities. Links included in this article may earn Hoodline a commission on clicks and transactions.
---
Leftover In China: The Women Shaping the World's Next Superpower
From the event description:
Forty years ago, China enacted the one-child policy, only recently relaxed. Among many other unintended consequences, it resulted in both an enormous gender imbalance -- with a predicted 20 million more men than women of marriage age by 2020 -- and China's first generations of only-daughters... Now living in an economic powerhouse, enough of these women have decided to postpone marriage -- or not marry at all -- to spawn a label: "leftovers." Unprecedentedly well-educated and goal-oriented, they struggle to find partners in a society where gender roles have not evolved as vigorously as society itself, and where new professional opportunities have made women less willing to compromise their careers or concede to marriage for the sake of being wed.
When:
Thursday, June 21, 6-7:15 p.m.
The Carter Center's Hrair Balian: Reducing Global Conflict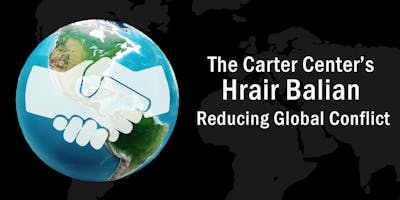 From the event description:
In a world that often seems beset by turmoil, come for an important discussion of how ongoing dialogue can significantly reduce reducing violent confrontation and aid desperate populations. The Carter Center was founded in 1982 by former U.S. President Jimmy Carter and his wife, Rosalynn, in partnership with Emory University, to advance peace and health worldwide. A nongovernmental organization, the center has helped to improve life for people in more than 80 countries by resolving conflicts and advancing democracy, human rights, and economic opportunity. Hrair Balian leads the Carter Center's conflict resolution efforts ...and has worked in the Balkans, Eastern Europe, the independent states emerging from the former Soviet Union, the Middle East, and Africa, serving in intergovernmental organizations (the United Nations and the Organization for Security and Cooperation in Europe) and nongovernmental organizations (International Crisis Group and others).
When:
Thursday, June 21, 6:30-7:30 p.m.
Cheaper Than Therapy: Stand-up Comedy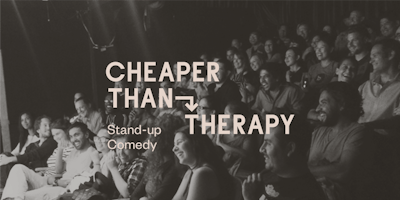 From the event description:
Have the best Bay Area comedians fill your prescription for comedy at Cheaper Than Therapy. You'll get a healthy dose of laughs every Thursday, Friday, Saturday, and Sunday at San Francisco's historic Shelton Theater. In the heart of Union Square, Cheaper Than Therapy is convenient to get to, whether you live in the Bay Area or are just visiting... Each show features comedians Eloisa Bravo, Scott Simpson, and Jon Allen. A rotating selection of Bay Area comedians and visiting comics also grace the stage. Please arrive at the theater by 9:45pm, and check in with the box office. The bar opens at 9pm, and the show starts at 10pm. The theater has a full bar with no drink minimum. Come early for cheap drinks and great seats!The show always ends by 11:30pm, so there is plenty of time to catch the BART or Muni. After the show, we encourage everyone 21+ to party with us at Chelsea Place, a neighborhood bar around the corner.
When:
Thursday, June 21, 10-11:30 p.m.
DISCWOMAN San Francisco (Pride Friday) at 1015 Folsom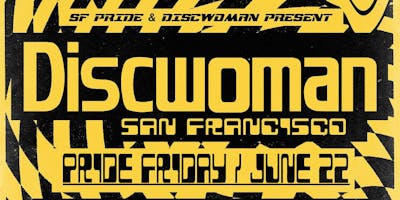 From the event description:
Founded by Frankie Decaiza Hutchinson, Emma Burgess-Olson and Christine McCharen-Tran, Discwoman is a New York-based platform, collective, and booking agency that showcases and represents talent in electronic music. Started as a two-day festival in September 2014 at Bossa Nova Civic Club, Discwoman has since produced and curated events in 15+ cities--working with over 250 DJs and producers to-date.
When:
Friday, June 22, 10 p.m.- Saturday, June 23 3 a.m.