SAN FRANCISCO (KGO) -- With
Super Bowl 50
just around the corner, some San Francisco supervisors plan to introduce an emergency measure aimed at getting the city's money back.
It calls for San Francisco to be fully reimbursed for any taxpayer money used for increased city services.
WATCH VIDEO: San Francisco city leaders: Super Bowl is worst deal ever
San Francisco city leaders recently found out that Santa Clara is being reimbursed for city services like police and fire, so now at the eleventh hour when they're getting ready to close streets and set up in the area for the celebration, they want to renegotiate.
In football a Hail Mary is a last minute attempt to score and that's what three San Francisco supervisors are hoping to do. They want to score a new deal that would require the Super Bowl Host Committee to pay for any and all city expenses. "Just today we heard from the department of technology that the cost is estimated is to be $200, 000 more than the budget analysts predicted. How many other departments have hidden costs as well," San Francisco Supervisor John Avalos said.
Avalos was one of the main critics of America's Cup, which ended up leaving taxpayers on the hook for more than $11 million. Right now, the city puts the
Super Bowl 50
costs at $5 million. "We're facing a $100 million deficit in the coming year, $5 million here, $5 million there and we could solve that budget deficit," San Francisco Supervisor Aaron Peskin said.
WATCH VIDEO: Super Bowl events will impact San Francisco for nearly three weeks
San Francisco Mayor Ed Lee's spokesperson Christine Falvey said the current arrangement is fiscally responsible. "We know San Francisco, its residents, its businesses are going to benefit. And we know that we're going to generate more sales tax, more hotel tax, more business tax," she said.
But some street artists who usually set up shop near Justin Herman Plaza worry they'll lose out to make way for Super Bowl City. "They've been kicked out of their spots without any compensation and without any representation," street artist Michael Trachiotis said.
There are 10 temporary artists spots elsewhere on Market Street and so far 90 people have applied, but the others may be left out in the cold.
The Super Bowl will take place on Feb. 7 about 40 miles south of San Francisco. But the run up to the game includes more than a week of events in the city.
Part of one of the city's most heavily traveled crosstown routes, the southbound Embarcadero, will be shut down from Jan. 23 to Feb. 12, the
San Francisco Chronicle
reported. The area will play host to Super Bowl City, a giant theme park, food court and concert venue, starting Jan. 30.
Elsewhere in the city, the Moscone Center will host NFL Experience featuring Super Bowl rings and youth football clinics. "It's going to be crowded. There is going to be traffic, and there are going to be streets closed," Charlotte Shultz, a member of the Advisory Group for the Super Bowl 50 Host Committee, told the Chronicle. "We're a city that knows how to either take that in stride or complain about it."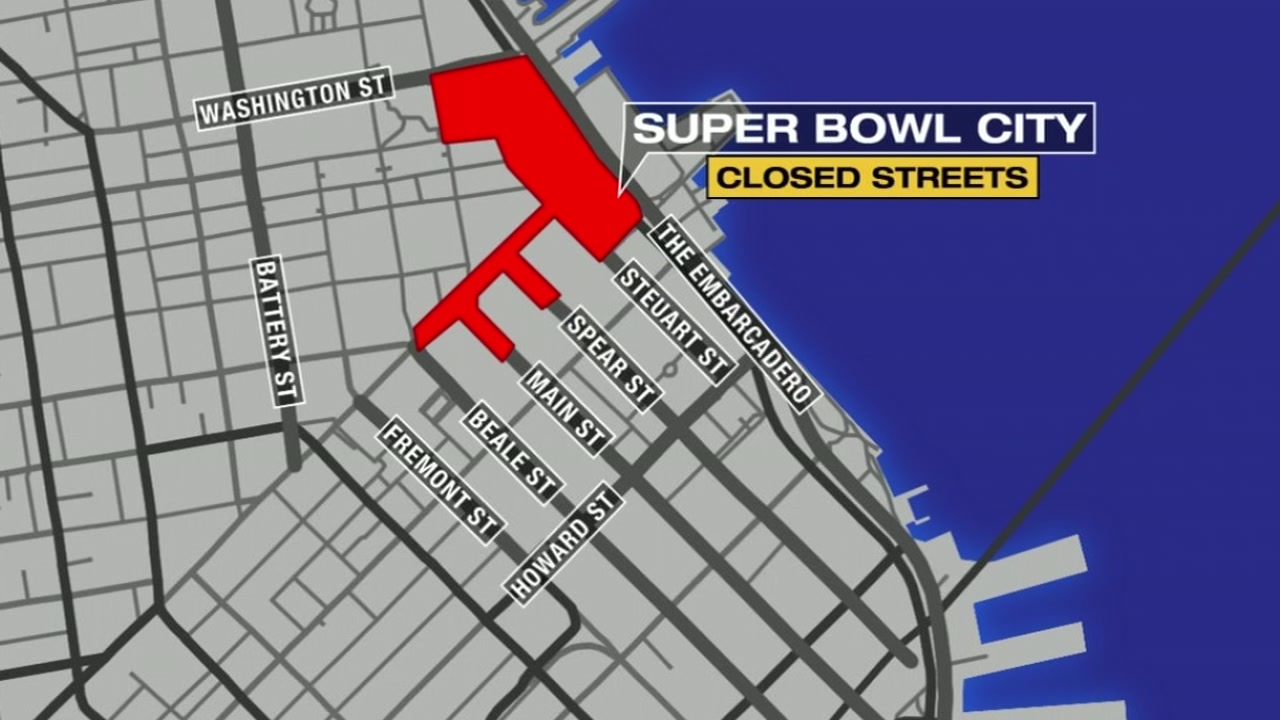 City officials are suspending parking permits for several construction sites downtown and also banning metered parking on some streets. They are urging people to take public transit, though neither Bay Area Rapid Transit nor the Golden Gate Bridge, Highway and Transportation District plan to add additional service, the Chronicle said.
Click here for full coverage of Super Bowl 50.
The Associated Press contributed to this story.