SAN FRANCISCO (KGO) -- The
Super Bowl
may be in Santa Clara, but Super Bowl City is in San Francisco at Justin Herman Plaza. And construction along the Embarcardero is in full swing. It's going to be a challenge navigating around the city for the next three weeks. And not just for commuters, but also delivery drivers and emergency personnel. Monday morning's commute saw a massive backup on Battery Street due to closures.
RELATED: Super Bowl 50 traffic and transit resources
San Francisco resident Jake Andrews was on Battery Street Monday morning trying to get south of Market. He left an hour and a half early to make sure he could drive less than a mile for a work assignment, and said he got stuck in traffic for about 45 minutes.
Justin Jennings, from Oakland, says he traveled three blocks in about half an hour.
"We had heard about the backup," he said. "They had a map that showed what streets were blocked off, but I didn't know it was going to be like this. This is a little bit ridiculous."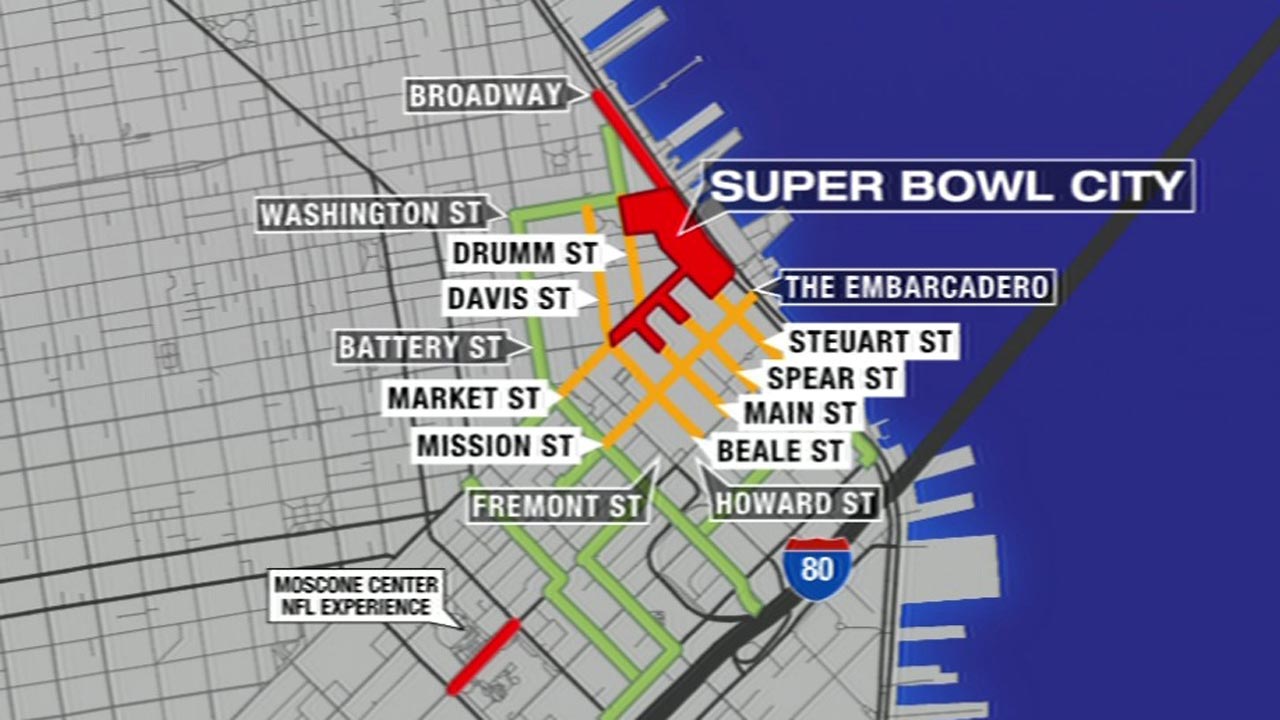 Drivers are being warned about the rolling detours on southbound Embarcadero, which begin at Broadway onto Battery Street, across Market Street, into the Financial District and Bay Bridge approaches. Starting Tuesday, Howard Street will be closed between Third and Fourth streets for the NFL experience at Moscone Center. Parking officers are out, trying to keep traffic moving and answering a lot of questions.
"They're frustrated," said parking control officer Michael Hayes. "A lot of the people that work in these areas are really confused. They want to know what is going on."
WATCH VIDEO: Bay Lights artist gives ABC7 demonstration ahead of relighting for Super Bowl
The closures are to make way for the ultimate fan village that is beginning to take shape. The foot of Market Street is barely recognizable, but the new Super Bowl City is. There will be two concert stages and even a football field for 1 million plus fans to gear up for the biggest game of all. Millions of fans will get the ultimate experience on January 30 when it opens. Super Bowl City will be free to the public with four security checkpoints to enter.
The NFL says this will be a fun interactive experience for fans, but commuters are voicing their frustrations.
"I don't like it, I wish we would have had a choice -- I wish we could have said no to it. I'm not a sports fan to begin with, but it's just going to create chaos," said Oakland resident David Julian.
Dia Ates works in the Financial District and had no idea this was happening on Monday. After seeing the gridlock, she had some advice for anyone in the Bay Area who's curious about seeing Super Bowl City when it's finished.
"Take BART or swim over," she said with a laugh. "I wouldn't drive. It's too busy. It's already crowded already as it is."
WATCH VIDEO: Super Bowl may be the best time to buy a new TV
ABC7 News checked in with the local fire stations about emergency crews getting through the construction. Trucks can use special gates and Muni lanes to get through with lights and sirens. But on their way back to the station, they're going to be stuck in traffic along with everyone else.
One way commuters are avoiding the gridlock is to stay off the roads all together. The ferries quickly became a popular alternative to the traffic mess. Hordes of commuters filled the San Francisco Bay Ferry on Monday morning. The same thing happened in Vallejo.
"The boat was full, max capacity," said ferry commuter Ross Woody. "They left people on the dock. Yeah, and nowhere to sit."
Fellow ferry commuter Julie Zidek-Carter added, "They actually maxed out, turning people away. And they had extra buses. So instead of taking the ferry, you had to take the bus."
WATCH VIDEO:
Super Bowl City businesses, parking lots gear up for big crowds
Ferry riders had one more obstacle to get through on their way to work -- Super Bowl City construction at Justin Herman Plaza.
Riders are being reminded to give themselves extra time to walk to work.
The detours for Super Bowl City will be in place for up to three weeks.
Click here for full coverage of Super Bowl 50, and click here to download the ABC7/Waze app to help navigate around the Super Bowl City construction.